KapiHospital is a 2D Browser-Based simulation – MMO set in a hospital arena filled with sick and dying patients that you'll be asked to nurse back to health. You can now run your very own hospital. Patients with strange diseases, and alternative medicine you've never seen before: the first economic simulation situated in a hospital! KapiHospital is enormous, featuring 18 individual sick rooms, 77 illnesses, 77 cures and 2 cities. Your goal is to diagnose the patients and nurse them back to health through the use of mini-games and puzzles.
KapiHospital Key Features
Treat Crazy Patients – Patients suffering from bullfrog burbs or barfritis will turn to you here – because you are the only one who knows the perfect remedy for every ailment! Humorous and bustling with funny characters, this free browser game makes you head of your very own clinic. Of course you're not on your own there: a caring nurse will take your patients' temperature and change their bandages, a busy cleaning lady will uphold your hospital's hygienic standards with an iron… erm… mop, while nurse Olga keeps track of all incoming and outgoing patients.
Expand Your Hospital – Clear your clinic of all useless lumber and build X-ray and EEG rooms! Brawny builders will take care of all construction works and Professor Fluffling – the wise mentor of this online game – will always come to your aid and offer his advice.
Work Together – Kapi Hospital is haunted by mischievous Dr. Knievel who sends out alien armadas to abduct patients! Stick together and found doctors' associations to coordinate your actions and collect donations for various in-game-contests: This browser-game is all about the community.
Gaming Fun For Everyone – The beauty is in the details: Bustling animations make your online hospital come to life, and you'll turn from hospital-management-newbie to a veritable expert in treating weird diseases and mad patients in no time. There is so much to discover – join up and play Kapi Hospital without any downloads, directly in your browser!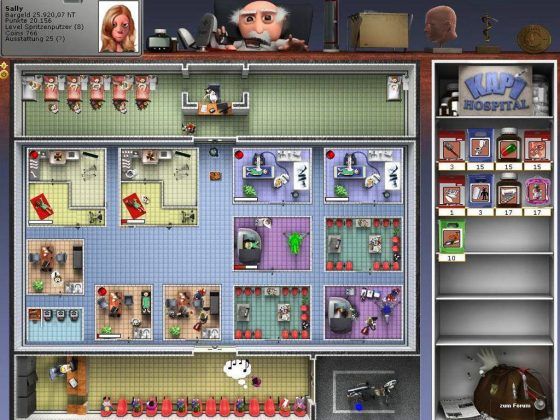 Related: Browser, Free to play, Simulation
Read more about Kapi Hospital
Unfortunately, there are no articles for this game... Yet.