ZMR Lazerdrone Giveaway – North America Only!

Zombies Monsters Robots, better known as ZMR is an online multiplayer third-person Shooter developed by Yingpei Games and published by En Masse entertainment.
Zombies Monsters Robots is a seat-of-your-pants third-person shooter that pits players against everything but the kitchen sink of enemies, maps, and game modes. The invention of teleportation gates opened the door for extra-dimensional creatures to cross into our world. No place on Earth is safe from a host of bizarre enemies that will stop at nothing to see the end of all mankind.
This is the world of ZMR.
Zombies Monsters Robots Features:
More enemy types than your body has room for
Intense multiplayer game modes
Freakish boss fights
Deep customizations of guns and gear
Immersive third-person action
Monthly content updates
From the undead, to cyborgs, to supernatural, to mutants, to rival corporations, to dinosaurs with freakin' lasers strapped to their backs, prepare yourself for anything to pop up in your sights. Fight with up to 16 players in campaign, competitive, and wave-based survival modes across a wide range of maps. Upgrade your firepower with an arsenal of weapons, each of which includes up to 8 moddable slots, so you can tailor your mayhem however you like. ZMR also promises regular monthly updates with more enemies, weapons, maps, and modes— which means that there's always new battles to fight!
Read more about ZMR in the developer interview!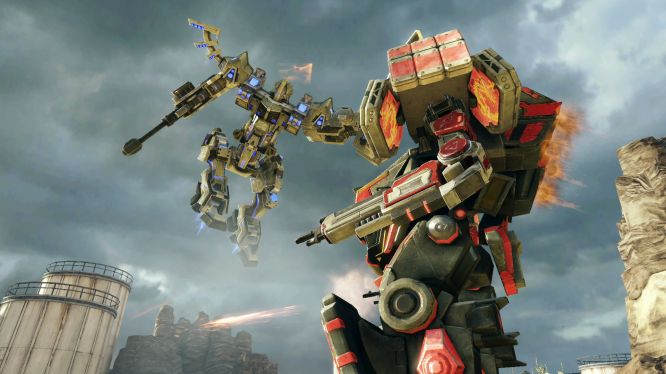 Sign up to MMOGames
Register to our website.
Verify your email.
Once it's verified, head on over to the Giveaway section and claim your Key!
What do you get from the key:
Redeem your key to get the following items in Zombies Monsters Robots (ZMR):
Lazerdrone Mk.I – Looking like a menacing, mechanical squid, the Lazerdrone wields a pair of industrial drilling lasers to carve up anyone you don't like! This item is normally unlocked at level 20, but you can gain immediate access through this giveaway!
Drone Mod Box – Contains one random drone skill mod: either an "Ammo Drop," "Grav-Field," "Power Surge," or "Self-Destruct."
Plasma Core (×5) – Each plasma core you apply to a drone contributes toward increasing the drone's Ability level, which improves its base abilities: life, damage, range and the ammo boost it provides you.
To redeem your key, follow the steps below:
Go to https://account.enmasse.com and create a new En Masse account or log into an existing one.
Click the "Redeem Code" button from the "Account Overview" page.
Enter your code and hit "Submit".
Launch ZMR and log in. If you haven't installed ZMR, download it from: http://zmr.enmasse.com/download.
Claim your items from your in-game mailbox (from the Social menu on the left-side of the screen).
Items in your mailbox expire after 30 days so make sure to claim them to your inventory before you lose them!
Giveaway End Date: April 28, 2015
All codes expire on April 30 at 11:59 p.m. PDT.
Get your key now!