Paladins Skye Operative Skin Giveaway

Paladins is a free to play team-based shooter with strategy elements and deep character customization through it's unique use of collectible cards. These cards amplify and augment a character's core set of abilities in many interesting ways. Paladins is free-to-play for PC and current-generation consoles, and it's just entered open beta! Some of the newest features of the Paladins open beta include a new user interface, new match lobby, a third map ("Enchanted Forest"), the ability to mix head, body, and weapon skins on each champion, and a new ranked Competitive queue with leaderboards. To celebrate Paladins' progress through beta and towards launch, Paladins and Hi-Rez Studios have teamed up with MMOGames to bring you this Paladins Skye Operative Skin Giveaway! Claim your key now and get the special limited Operative skin for Skye, the mysterious crossbow-wielding assassin!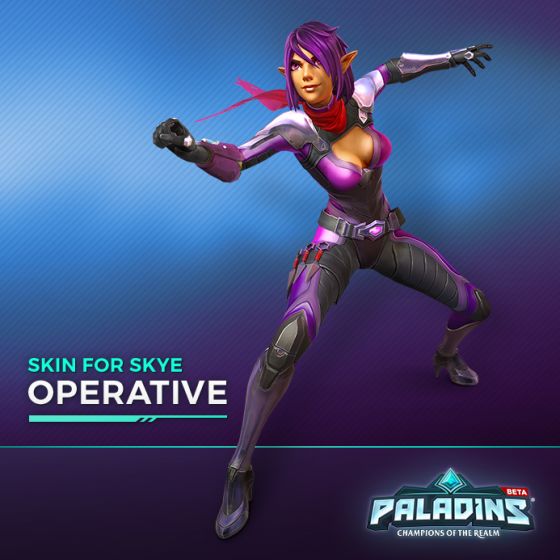 What You Get From The Paladins Skye Operative Skin Giveaway
Unlock of the special Operative skin for Skye!
Sign Up To MMOGames To Claim Your Key
Register to our website.
Verify your email.
Once it's verified, head on over to the 'Giveaway' section and claim your free key!
How To Redeem Your Paladins Skye Operative Skin Giveaway Key
Since the game is played through Steam, you must have the Steam client installed. If you do not, go here to install Steam.
Download and install the game client for Paladins, if you do not already have it.
Launch the Paladins client software and log in
Enter the in-game store and select "Redeem Codes"
A text box will appear. You must enter the code manually, as the copy/paste function does not work yet in-game. Be careful!
Follow the onscreen instructions to complete the process.
Enjoy Paladins and your new Skye skin!
This is a limited code giveaway to be given out on a first-come-first-serve basis. It will run as long as there are keys available, or until the conclusion of the Paladins open beta. If you have any issues, please contact us.
Get your key now!
There are keys available!