Get your The SKIES Early Alpha Access key!

Based on the novel "The SKIES", the multiplayer game is centered on a real-time evolving experience in which each player's action causes a change in the world, including relationships with characters, factions and other events. Players can engage in battle across the mountains in the West and the desert in the East as well as cities in the North and South. The SKIES features an original multi-level economy system and a multi-tiered resource production system that depend on the player actions in game, a non-linear storyline where players can combine online games and a single pass, and a world that evolves and scales over time. The SKIES is joining the world game industry not as a typicall MMORPG that users got used to seeing. It has elements of FPS and RPG that are customized to fit the huge multiplayer open game world.
The main aim of the developers is to build a complicated multi-level economic system which entirely depends on players' actions. In this world production and profit-making is totally different from the threadbare games players are used to, these systems are more convenient for a player and at the same time they make the game world richer and more captivating. Do you want to get resources or produce materials? Manage your own business or work at the factory? You can start your own production, hire people and manage them, hand out wages. You're free to do anything you like.
Another aim is to create interesting dialogues based on the game role system. If you character's intellectual abilities are not well-developed, some options would be unavailable for you. So you character should watch his actions and words to have positive attitude of other characters. If you have bad reputation, people won't trust you.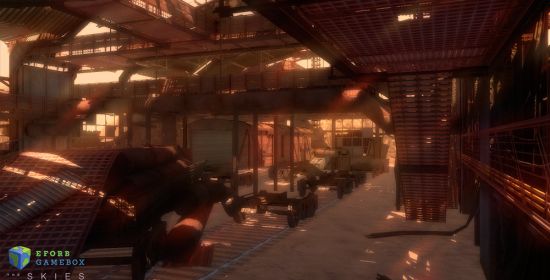 Sign up to MMOGames
Register to our website.
Verify your email.
Once it's verified, head on over to the Giveaway section and claim your Code!
Instructions on how to redeem The SKIES early Alpha Acces Key!
Go to the website of The SKIES and login.
Click on the download Alpha button
Enter your personal access key
Choose the version you want to download
Register in the game (your game account will be the sam as your website account
Remember this is an Alpha. The SKIES would love to receive your feedback and bug report on their forum. This is also the place where you can ask questions and rely on their help if something goes wrong. They also created a category on their forum where you can find all the necessary information on alpha testing. http://skiesmmorpg.com/forums/forum/open-alpha-testing-forum/
What to expect from the first alpha testing?
Interface (at the level of mockups)
Manual animation of characters
About 10 types of weapon
Clothes: ordinary; leather armor
Resources, materials, products production
Training location
Kimari
Dungeon
PvP fights
Fire-Arms, short-range weapon, fistfights
Intellect infleunces dialogues
Parameters influence quests
Bots: Chicken, mad dogs, ditcher
What is going to be added to the alpha version next
Final training story
Some quests functional
female character
haircuts & tattoos
interface
PvP arena interface & graphics
Groups
Clans
The use of drugs & food
Languages localization except English & Russian
Character's abilities
Passive skills
Hand craft
Characters animations and NPC mockup
The final Kimari decoration
Optimization of resources
3 more armor sets
Display of clothes from the 1st person
Missile weapon
Traps
Capture of flag and territory
Techno-Weapon
The final extension of dialogues after checking functionality
Bots: Wolves
Bots: Lytch, Skinny
Bots: Walkers
Bots: Gangsters
Damage and repair weapons and armor
As you can see there is a lot to do already and more coming soon! So what are you waiting for? Try The SKIES Early Alpha right now!
Get your key now!