Conquer Online is a free to play 2.5D Isometric MMORPG featuring traditional open-world PVP, a fast levelling system and several character classes, each with multiple specialization paths. Conquer Online is sent in a fantastic world based on the ancient Orient, a world of mystery and mysticism, a world that is yours to discover. To celebrate 13 years of fun fantasy gaming, as well as the introduction of the brand new and very versatile Windwalker class, Conquer Online and MMOGames have teamed up to bring you the Conquer Online Gift From The Wind Giveaway. Get your key, and get your hands on a big batch of new class weapon, items, Conquer Points and more!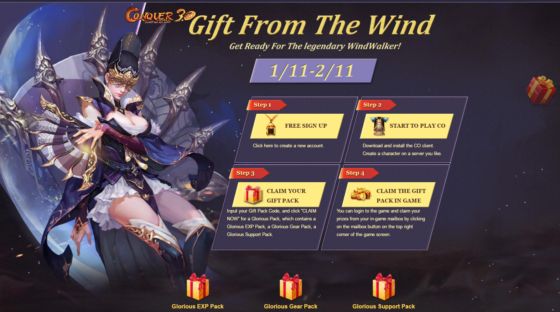 What You Get From The Conquer Online Gift From The Wind Giveaway
EXP Ball x7
Double EXP Potion x7
Praying Stone x1
Meteor Scroll x7
+1 Stone x7
+2 Steed x1 (Random)
Conquer Points x500
Selectable Garment Box
New Class Weapon
Sign Up To MMOGames To Claim Your Key
Register to our website.
Verify your email.
Once it's verified, head on over to the 'Giveaway' section and claim your free key!
How To Redeem Your Conquer Online Gift From The Wind Giveaway Key
NOTE: The keys from this giveaway are only valid for new accounts, which have registered via the following steps.
Visit the Conquer Online Gift From The Wind page and sign up for Conquer Online.
Download and install the game, login, and create a new character.
Return to the Conquer Online Gift From The Wind page and submit your character info and giveaway key to claim your gift pack.
Login to Conquer Online and claim your prizes from your in-game mailbox by clicking on the mailbox button on the top right corner of the game screen.
Enjoy Conquer Online!
*This is a limited code giveaway to be given out on a first-come-first-serve basis. It will run as long as there are keys available, or until February 11, 2017. If you have any issues, please contact us.