Felspire is a free-to-play fantasy MMORPG for your browser that aims to leave the grind behind and let you dive straight in to the action, whether you wish to PvP or join up with friends to conquer the games many dungeons and world bosses. The choice is yours.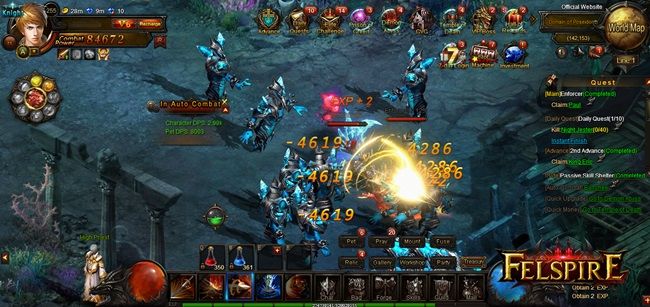 At the beginning of time, no body knows how the world was created nor how it devolved into utter chaos. When the Gods came to this world, some of them brought order and prosperity and the others brought disorder and war. The devastating war between the Gods had consumed most of their power. The Gods eventually abandoned this world. Peace and security were absent following the Gods' abrupt departure. In desperation, faithless people started to fight against each other. The once prosperous world is in chaos again. Dark creatures and demons from the abyss also began to invade human's world.
Luckily, a few men of uncommon valor and fortitude have decided to join hands and fight against the evil creatures to bring peace back to the world once again. What lies before them — endless danger, conspiracy and darkness, let's wish them good luck…
What You Get
50 B.Diamonds x1
Lv 1 Refine Stone (Bound) x5
Lv 1 Pet Feed (Bound) x3
HP Pack (S) x1
How to claim your gift code
First, you'll need to register a Felspire account if you haven't already. Don't worry, the game is completely free to play!
Log in to Felspire and create a character
Click on the Hall of Rewards icon (upper right corner) and open the Gift Code tab
Paste in your code and get your free gift!
Sign up to MMOGames to claim your key
Register to our website.
Verify your email.
Once it's verified, head on over to the 'Giveaway' section and claim your free key!