This Giveaway Has Run Out Of Keys. Thank You!
Fractured Space is a team-based space combat game with the fast paced action of a shooter and the tactical options and big-picture thinking of a strategy game. Powered by the Unreal 4 engine, Fractured Space puts players in command of immense spacegoing warships who slug it out in close quarters battles for dominance and glory. Play solo, co-op PvE or 5-v-5 PvP. The intensity of a shooter combines with the tactical decision making of a MOBA as you battle to capture the enemy team's base. To make sure that you show up to the battle in style and well-prepared, Fractured Space has teamed up with MMOGames to bring you the Fractured Space Cadet Pack Giveaway! Get your key now, and get some platinum, credit boosters, and three exclusive ship skins!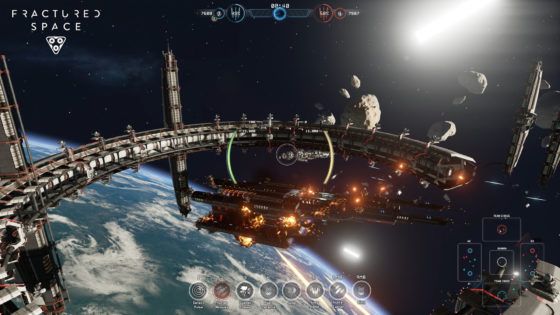 What You Get From The Fractured Space Cadet Pack Giveaway
500x Platinum
20x Credit Booster
3x Exclusive Ship Skins for the USR Pioneer, the Zarek Venturer, and the TDS Sentinel.
Sign Up To MMOGames To Claim Your Key
Register to our website.
Verify your email.
Once it's verified, head on over to the 'Giveaway' section and claim your free key!
How To Redeem Your Fractured Space Cadet Pack Giveaway Key
Since the game is played through Steam, you must have the Steam client installed. If you do not, go here to install Steam.
Since the game is free to play, you just need to login to your Steam account and press play.
Launch the Steam client software and log into your Steam account.
Click the Games menu.
Choose Activate a Product on Steam.
Follow the onscreen instructions to complete the process.
Enjoy Fractured Space!
This is a limited code giveaway to be given out on a first-come-first-serve basis. It will run as long as there are keys available. If you have any issues, please contact us.