The Exiled, formerly and widely known as Das Tal is a PvP Sandbox MMORPG by Fairytale Distillery, an independent studio based in Munich, Germany. The Exiled is a fast-paced Sandbox MMORPG that focuses on player interaction. Full Loot and Open PvP creates a game of 'risk vs. reward' where you weigh up your options before engaging others. PvP is never restricted, but cooperation is always rewarded.  A class-less character system allows you to shape your character to fit your playstyle. From PvP to crafting to settlement building, The Exiled is raising the bar for sandbox MMOs. To help players get a taste of the action as soon as possible, Fairytale Distillery has teamed up with MMOGames to bring you The Exiled Alpha Access Key Giveaway! Get your key now and get into the game!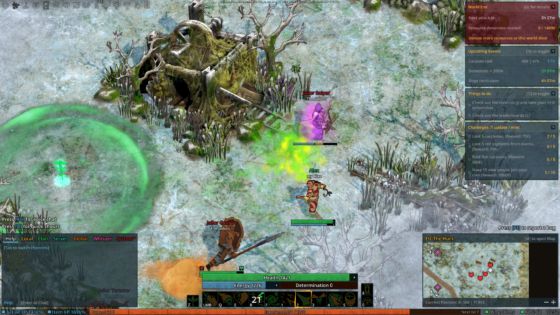 What You Get From The Exiled Alpha Access Key Giveaway
Access to the closed alpha test period for The Exiled, starting December 1st, 2016, and ending December 21st, 2016.
Sign Up To MMOGames To Claim Your Key
Register to our website.
Verify your email.
Once it's verified, head on over to the 'Giveaway' section and claim your free key!
How To Redeem Your The Exiled Alpha Access Key
Go to http://www.the-exiled.co/download and download the game patcher for your operating system.
Un-zip the patcher to a folder of your choice.
Run the launcher(.exe) to patch the game client.
When done patching click "play".
Select your screen resolution and details.
Press "Play!" again.
In the login screen click "New Account".
Pick a user name and password.
Now enter your alpha key (copy & paste works) in the "Registration Key" field.
Back in the login screen click "login". Your account name and password should be filled in.
Enter your email address (twice).
Click "Send verification mail".
Go to your email inbox and click the confirmation mail in the email from "Fairytale Distillery team".
Now go back into the game and you can create your character.
NOTE: These keys are only valid for the alpha test period from December 1st, 2016 to December 21st, 2016.
*This is a limited code giveaway to be given out on a first-come-first-serve basis. It will run as long as there are keys available, or until December 21, 2016, the conclusion of the Alpha Test Period to which these keys provide access. If you have any issues, please contact us.