MMOgames has two different end of the year award types that it hands out every year. The first is from you the reader. We open up the opportunity for you all to vote on your favorite games throughout December. The other type is selected by the MMOGames journalists who have spent the year pouring over every news story and trying out every beta we've been able to get our hands on. But even in the awards selected by the journalist there is the opportunity for your vote to matter.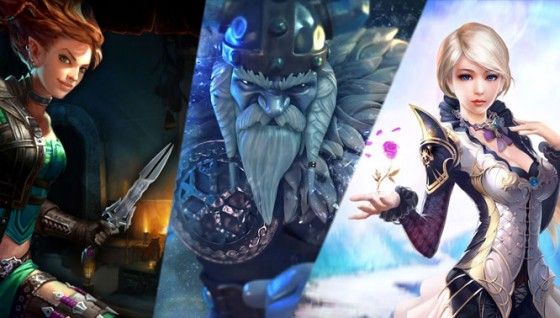 With that in mind we invite you to the 2015 Reader's Choice Award. We picked just a small handful of the amazing games that were either in the news this year or released something big like an expansion or major update. This is by no means a complete list, so if your favorite game isn't on the list, or you think there's a game that deserves to be there leave us a comment and we'll get it added to the list. Voting for the 2015 Reader's Choice Award will only be available until December 14th, but you will be able to place a vote every day.
Below is a short summary of what each game we've selected has been up to this year to explain why it deserves a spot in our list.
Ark: Survival Evolved
Ark: Survival Evolved seemed to come out of nowhere this year. It first caught our attention when it reached out to the disappointed community of another dinosaur survival game. Since then things have only been getting bigger and better, with new dinosaurs coming out regularly and adding the ability to play as a dinosaur in November we wonder how much better Ark: Survival Evolved can get.
Echo of Soul
Echo of Soul spent much of the first half of the year as a quiet MMORPG from the East that there wasn't a whole lot of information on. Aeria Games proved they knew what they were doing. MMORPG fans were ravenous. Every scrap of information on the game was devoured and when it came time for beta it was one of the most hotly sought after keys all year. The adoration continued through beta and the understated launch.
Elder Scrolls Online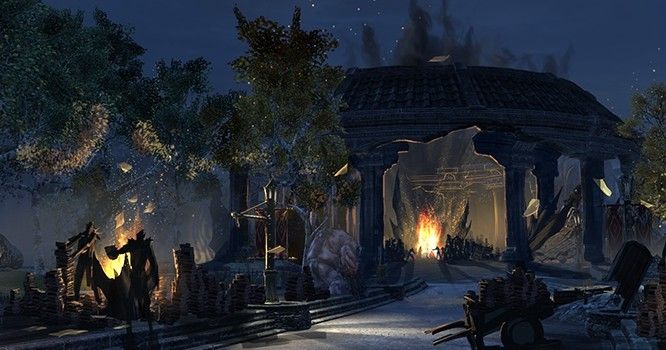 This was a massive year for Elder Scrolls Online, not only did they release the console version of game but they also relaunched as a buy to play game. This has done massive things for the game and some would argue further proof that the subscription model is dead. After launch they released two DLC packs which have expanded the game even further. 2015 was a great year for Zenimax and fans of Elder Scrolls Online.
Elite Dangerous
Half way through December last year Elite: Dangerous launched. Too late for most awards sadly. But for that reason it's easy to lump it in with the 2015 games. Fans of the game are currently awaiting the start of Season 2 of the game with the release of their first expansion Elite Dangerous: Horizons. It's expected sometime in the holiday season, though no release date has been pinned down just yet.
EVE Online
Though much of this year's news has been focused on CCP's other EVE based titles; Gunjack and Valkyrie, EVE Online itself has kept on trucking with regular updates every few months to keep players on their toes. If you want an idea of all the things EVE has done this year just head over to the voting area for the award for Best EVE Online of 2015. Yes, it's a thing and yes we do explain why it's a thing.
Final Fantasy XIV
The first expansion of Final Fantasy XIV launched this year, Heavensward was a massive hit and as of writing this patch 3.1 is only a few days old. 3.1 brought with it some amazing quality of life improvements while Heavensward itself introduced a little bit of something for players of all types. 2015 was good to fans of FFXIV.
Guild Wars 2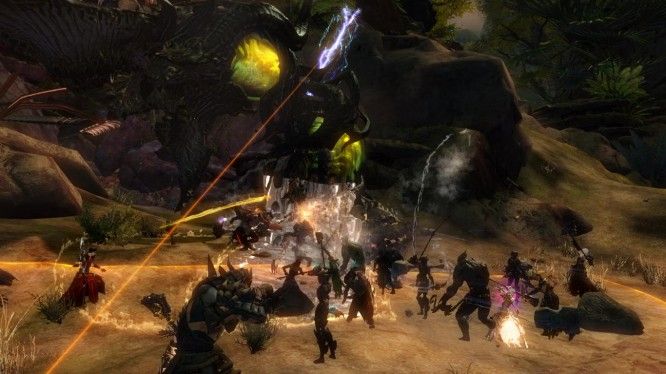 Heart of Thorns was the expansion Arenanet swore they weren't making and Guild Wars 2 players are still trying to get a grasp on. The Guild Wars 2 expansion was so massive and covered so many different areas of the game that the official wiki created by the fans has had trouble keeping up. Though there are still some bugs to be worked out 2015 was the year that was building up to Heart of Thorns. The first raid was introduced along with a new class, massive zones, and guild halls. Heart of Thorns will keep Guild Wars 2 fans busy for quite some time.
Heroes of the Storm
This year saw the launch of Heroes of the Storm, possibly the biggest launch of the year. The first world championship tournament took place, and the insanely popular Heroes of the Dorm tournament took place with our very own news editor Nick Shively on the second place team. We were there for the launch party in London and had a blast. But it was Blizzcon this year that totally blew Heroes of the Storm players away. With a fantastic tournament and the introduction of Cho'Gall, a character controlled by not one but two players. Heroes of the Storm looks like it's only starting to pick up steam and it's already one of the top MOBAs out there.
Neverwinter
This year Neverwinter launched on Xbox One as well as putting out several modules which introduced beloved D&D characters and continued to expand the world. Things keep getting bigger and more exciting for the free to play MMO. Even though Underdark is only a few weeks old we're certain that the studio is looking towards the next expansion already.
Smite
Smite has taken the world by storm this year and become one of the most popular MOBAs on the market. It helps that that they broke into the console scene this year and offer a fresh twist on the genre. With an interesting cast of characters who are familiar rather than other MOBAs which came before it and had an entirely new lore, Smite offers a real world tie in by making gods the focus.
SWTOR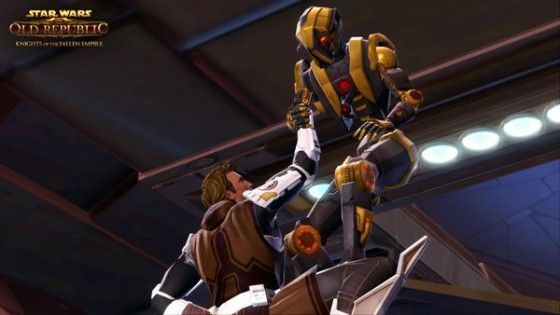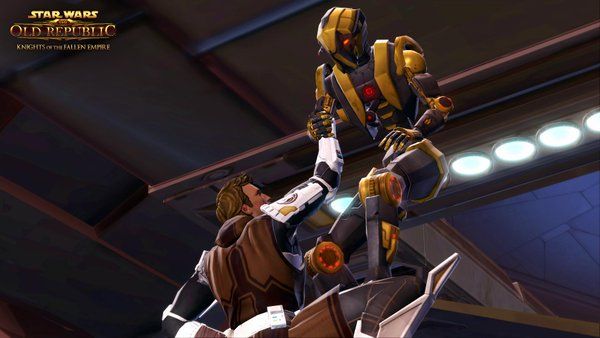 Bioware has returned to their traditional method of storytelling with this year's Star Wars The Old Republic expansion Knights of the Fallen Empire. It may be a little difficult to balance the storytelling with the nature of an MMORPG but the return to what made Bioware famous is all worth it.
TERA
This year TERA became the number one, most played MMORPG on Steam. Which is certainly something to be proud of. This year TERA also got an all new starting experience which replaced the Island of Dawn. If all of that isn't enough we're patiently awaiting the release of the Brawler class which is expected sometime in December.
Trove
There weren't any massive updates or releases for Trove this year, at least not yet anyway, there's still time for the new PvP Arenas to be introduced though! But that doesn't mean that it wasn't a great year for the game. With more than a million users active every month it would seem that people can't get enough of that awesome voxel action. Amongst the many new things this year were dragons, a new class, and with luck we'll see PvP too.
World of Tanks
World of Tanks is a refreshing change from the day to day fantasy life that most MMO players live in. With an amazing eSports scene, console coverage, and regular updates it's no wonder World of Tanks is so massively popular.
World of Warcraft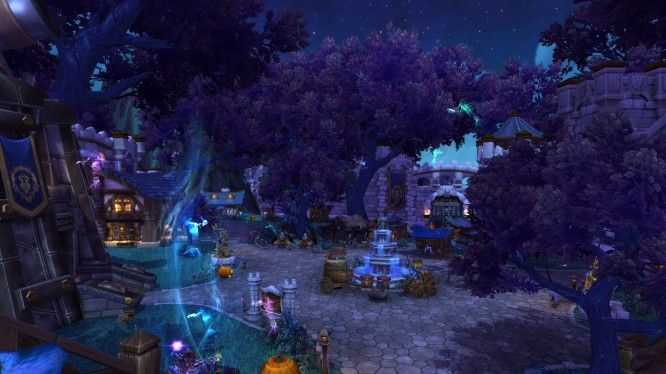 Ever since Gamescom in August the majority of the World of Warcraft discussion going on has been about Legion. The rest of the time people are talking about the upcoming film Warcraft or a moose. Subscriber numbers may be down but the hype for the next expansion is alive and well. If you can remember back before Gamescom the big controversy was flying. But that was fixed and WoW fans moved on to some pretty big patches and more talk about Legion.
As you can see it has been quite a year for online gaming. More games will of course be added to the voting portion of this as you tell us what games you think we missed out on. Be sure to check back every day to vote again.