Written by: Nick Shively, Assistant Editor, North America
During the past few years the MOBA scene has exploded, likely due to the genre's popularity among eSports organizations. However, this led to a massive influx of games and many haven't fared so well over the years. Here you can vote for the top MOBA of 2015. If there's one you'd like us to add to the list let us know in the comments.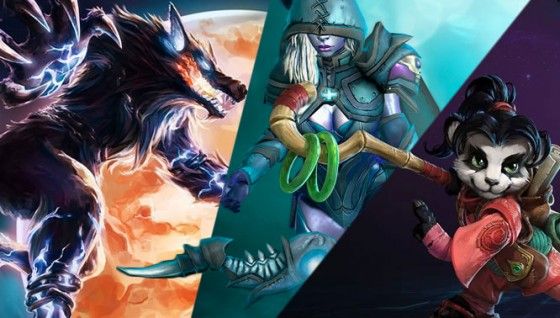 Call of Champions
The five-minute MOBA. Call of Champions is looking to redefine the MOBA genre on mobile devices. Instead of waves of minions, players must push orbs of death into the enemy towers to destroy them. By eliminating the PvE portion, Call of Champion allows itself to focus on intense, non-stop PvP action.
Even though Call of Champions only launched a few weeks ago it already feels well-polished and offers a unique variety of characters. Furthermore, each champion grows in power by unlocking new talents as you play them, which extends the life of the game and rewards players who put in more time. Currently, the game is free-to-play, but there's no way to buy power directly. Premium currency can purchase additional characters and increase experience growth, but all characters can be bought with earned gold as well.
Dota 2
Dota 2 acts as a revamped sequel to the original MOBA. It hasn't changed much in 12 years, but it definitely looks a lot better now than it did back on Warcraft III. During the past year, Dota 2 re-introduced itself as Dota 2 Reborn with a new interface, engine, and custom map making mode.
One of the things that Dota 2 is most known for are its over-the-top tournaments. The International has had the largest tournament prize pools for the past few consecutive years, and The International 2015 topped charts at $18 million. This year it was announced that there would be multiple major tournaments leading up to The International instead of only having one culminating event each year. The first one took place in November, 2015, with European team OG finishing first.
Heroes of the Storm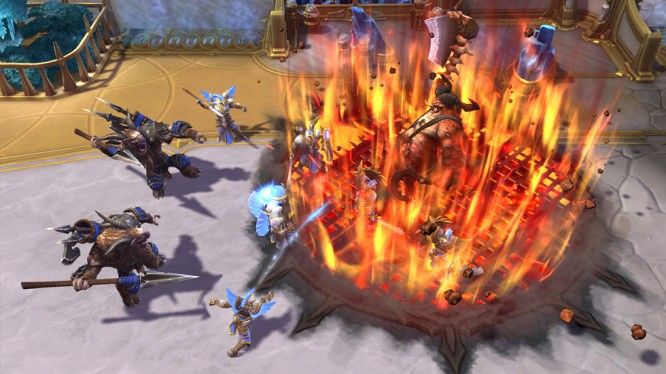 Heroes of the Storm had an exciting year between its official launch, Heroes of the Dorm, and its first million-dollar world championship. Incorporating many of the iconic characters from past Blizzard titles, Heroes of the Storm streamlined the MOBA experience to focus more on PvP and core objectives than farming for items. It initially entered closed alpha testing in 2014 and officially launched in June, 2015.
The Heroes of the Dorm college tournament began in March and concluded in April with UC Berkeley being crowned the winner. It made history by having the entire event aired on ESPN 2, despite producing relatively low ratings and has helped fuel college eSports. The first Heroes of the Storm World Championship concluded at BlizzCon 2015 with North American team Cloud9 taking first place and the $200,000 grand prize. Blizzard has many more plans for Heroes of the Storm in the future, and recently released the unique Cho'Gall character that requires two players to use.
League of Legends
Although Dota was the original MOBA, League of Legends was the first successful one to launch with a standalone client. It was simply at the right place at the right time and combined a free-to-play model with a low barrier of entry to dominate the market. Currently, League of Legends is the top grossing PC game in the world.
In 2015, League of Legends saw the end of Season 5 with SKTelecom T1 winning the World Championship, the banning of multiple sponsors, champion reworks, new player contracts, and a revamp of the entire game's lore.
SMITE
Currently, SMITE is unlike any other MOBA on the market. It combines third-person shooting mechanics while keeping core elements of the genre intact. Instead of simply right clicking on enemies, players have to aim every single ability and standard attack. This has led to some very unique character and abilities designs over the past few years.
While most other MOBAs have relied on PC gamers to be successful, SMITE become one of the first to effectively migrate to the Xbox One. Additionally, it has provided very consistent content updates by adding new gods, skins, items, and balance changes. This year at Gamescom, Hi-Rez revealed that the game finally hit the 10-million player mark. SMITE also has a very respectable eSports scene and the 2015 World Champion saw a prize pool of more than $2 million.
Strife
S2 Games knows a thing or two about making MOBAs. They created the first true DotA clone with Heroes of Newerth, which was sold to Garena Online earlier this year, and later began work on the more casual MOBA known as Strife. Strife keeps many of the standard MOBA elements, such as three lanes, items, progression, and the jungle, but makes things a bit more compact. Gold is shared by teammates in the same lane, heroes level faster, and the maps are smaller. This means more action without being punished at every turn. However, S2 Games hasn't released any updates or news about the game for quite some time.
Supernova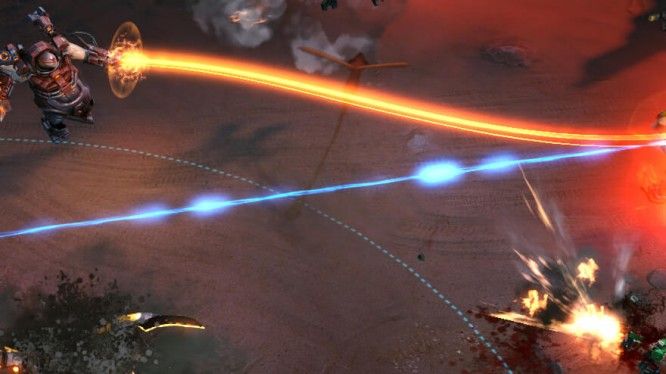 While many other MOBAs are attempting to streamline, or simplify, the genre to make it more available to the masses, Supernova is taking the game back to its RTS roots. In Supernova, players control massive, sci-fi robots that battle it out in a three-lane battleground. Many of the game's aspects are similar to League of Legends or Dota 2, but the key difference is the army behind the players.
In Supernova, each minion wave is dictated by the player's input. Before a match begins players can modify their armies based on what they have unlocked. This can ranged from standard infantry troops to massive warships. During the course of a game, the types of minions that spawn can be swapped and their armor and weapons can be upgraded. Supernova recently ended its second closed beta test.
Vainglory
While other games tried to dumb-down the MOBA experience for mobile devices, Vainglory did the opposite. It managed to keep all of the technical elements of the traditional MOBA intact while porting that experience to Android and iOS devices. It has a deep, complex item system, jungle, and multiple ways to build each champion.
Vainglory has been around on the Apple Store since November 2014 and became available for Android devices during 2015. Since then, it has seen unprecedented success as a mobile eSport with its first Worlds Invitational Tournament taking place in July, 2015.