We know now thanks to a new Netflix show that Snoop Dogg has a mural with Star Trek Online artwork on it hanging at his BLE Compound in Los Angeles. The mural was spotted by Twiiter user @justinhall who tweeted a picture from the show saying "Uh can anyone why it is that @SnoopDogg has a giant mural of Federation starships in his house? Folks I am absolutely stunned."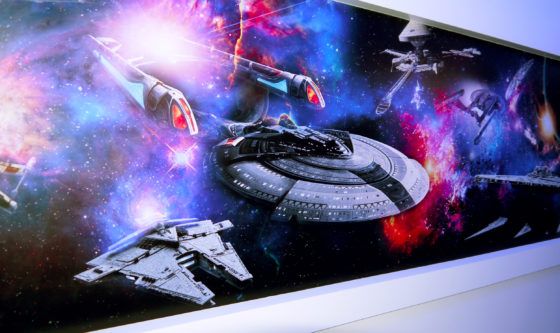 The picture is from Episode 1 of the new Netflix series Rhythm + Flow which has been out since October 9th. The mural is actually a massive custom wall graphic that was created by Gamut Media called Star Wars vs Star Trek. Snoop has never been shy about his love for Star Trek, he has previously released music through Star Trak Entertainment and he was an executive producer on Unbelievable!!!!! A parody that had more than 40 former Star Trek actors in it.
Star Trek Online saw the tweet and asked Snoop if he plays STO and has invited him to appear on their Stream. Fans meanwhile have started calling for Captain Snoop to be added to the game, voiced by the man himself of course. So far there has been no reply from him but we're going to be keeping our eyes peeled and our fingers crossed!
So there we have it, Snoop Dogg is officially a nerd and he's got the massive mural to prove it. There have also been rumors going around for years that he plays Star Trek Online or at least did at one point in time but we can't confirm them. What we do know is that his custom mural has Star Trek Online concept art on it and the whole thing looks totally badass.
How tf did PR pull this one off? @trekonlinegame @deevelop pic.twitter.com/2GRexbRIhw

— Jonathan (@Ardua) 30 October 2019
Source: Twitter, Gamut Media