Sea of Thieves is an action-packed multiplayer pirate adventure game developed by Rare and published by Microsoft for the Xbox One and Windows 10. Set sail on the seven seas, and experience the most thrilling adventure and excitement imaginable. The freedom of the pirate life awaits in Rare's next adventurous voyage! Prepare for an epic multiplayer experience in a treacherous shared world, where players carve out their legends. Get yer brace o' pistols and yer boarding sword, hoist the Jolly Roger, and set sail!
Sea Of Thieves Key Features
Fantastic Pirate World – Sail across varied seas and hand-crafted islands, battling enemies and unearthing the secrets of those that came before.
Be The Pirate You Want To Be – With musket loaded and grog in hand, the freedom of the pirate life awaits. What will your legend be?
An Epic Multiplayer Adventure – Crew up and set sail on memorable voyages. Make and break your pirate's code on the Sea of Thieves.
Brave The Danger – Plot your course and set sail for hidden riches. Navigate the perils of a fantastical world and the danger of rival crews.
Get The Treasure – Form a crew and voyage to treasure-filled islands, face legendary creatures and test your mettle in epic ship battles against other pirates.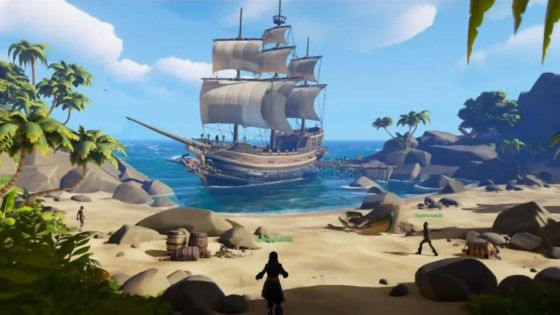 Related: Adventure, Pirates, Rare
Read more about Sea of Thieves