With the official release of The Elder Scrolls: Legends Alliance War, Sparkypants Studios has released its first full-fledged expansions since taking over the digital CCG from Dire Wolf Digital. Earlier this year, Sparkypants also released the Isle of Madness story chapter, which featured an interactive story (similar to how Hearthstone used to do Adventures) and a specific amount of cards at a set price. This was a great addition to the game, as it added a bit of flavor while granting players access to a set of 55 cards for a fair price that managed to supplement the previous card sets while adding the new 'double card' mechanic.
However, Alliance War is an entire expansion that introduces more than 100 cards (104 to be exact), four new game mechanics, and five new triple-attribute factions representing the Aldmeri Dominion, Daggerfall Covenant, Ebonheart Pact, Empire of Cyrodiil, and Guildsword. Surely this will shake up the meta!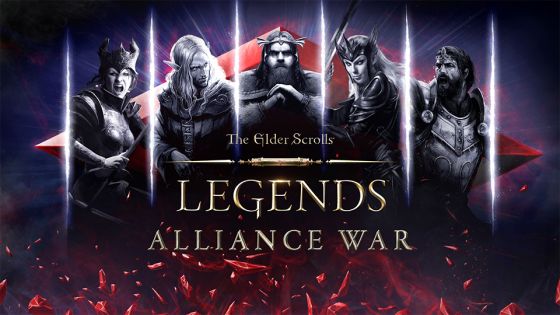 The Perfect Combination
With the introduction of the 5 new factions, it's now possible for players to make every 3-color attribute combination currently in the game. This leads to a lot of new creative combinations and lets players easily build decks around the strengths and weakness present in each attribute. However, the downside, similar to the Houses of Morrowind, is that 3-color decks require a minimum of 75 cards instead of the standard 50. When it comes to pulling out complex combos, or top decking the winning card, more is not better.
In order to compensate for an increased deck size, new triple attribute cards have been introduced and many of which are incredibly powerful or offer excellent value. For Example, Jorunn the Skald-King is a 5-cost Ebonheart Pact Legendary who is a 5/5, immune to silence, reduces friendly creature costs by 1, and makes enemy non-creatures cost 1 more. That's an incredible value, especially if he can stick around for more than 1 turn. However, even the lowly 2-cost Guildsworn Apprentice is a great 1/2 that has Prophecy, Guard, and draws a card.
All in all, each of the new factions comes with a set of complementary triple attribute cards that either carry excellent value or have powerful mechanics. Some of the cards do require proper setup, such as Ayrenn's Chosen, but many will likely become deck staples.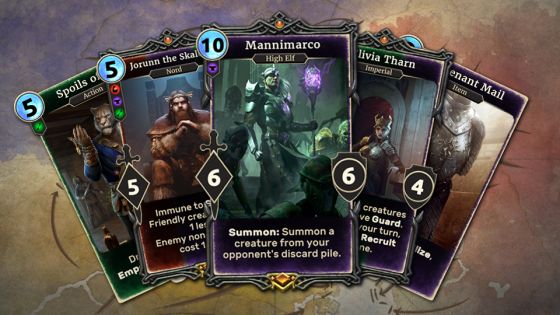 A Plethora of Abilities
Usually, new card keywords are introduced one or two at a time, but in Alliance War there are a total of four new mechanics to play with: Veteran, Empower, Expertise, and Mobilize. Veteran grants creatures a new ability after their first attack, Empower boosts a card in your hand when an opponent is damaged, Expertise buffs a card on the battlefield after playing an item, support or action, and Mobilize allows you to play an item to an empty lane attached to a 1/1 recruit.
While it's nice to have new toys to play with, a few of these mechanics are quite clunky while others require high rolling to be effective. We'll start by looking at Mobilize. In theory, it's nice to have an option to play an item without requiring a creature. However, this keyword limits an item's power in favor of flexibility because if it was too strong then mobilize items would be auto include in every deck. Most of the Mobilize items wouldn't be great played on the curve, either on a creature or attached to a recruit.
However, there are a couple that stand out, such as the Ebonthread Cloak that can be useful at all stages in the game by providing action immunity to important creatures. Cruel Axe could also see uses against aggressive decks either to trade early or pump up a guard creature. Unfortunately, the rest of the items just seem too costly to use, especially the shiny Covenant Masterpiece that does just about everything but isn't good enough in one area.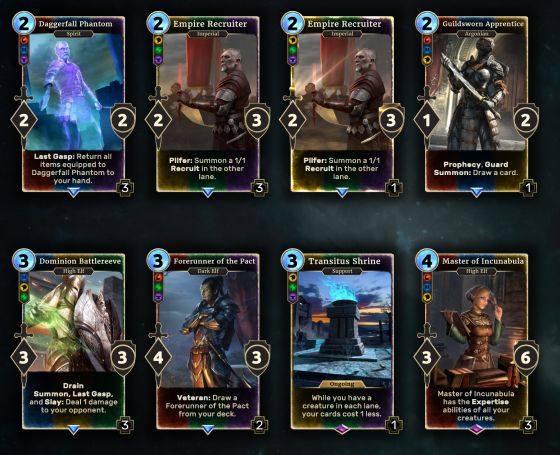 Veteran seems to be in a slightly better place than mobilize but is still a little awkward to play with. It gives creatures a bonus if they survive their initial attack, which means they're typically weak if played on the curve. There are some interesting options, however, such as the Pact Shieldbearer that increases the opponent's action costs by 4 the next turn. It doesn't have charge so your opponent has one turn to play around it by either killing it, or dumping actions that round, so its effectiveness can be marginalized by a good player. Then there's Invoker of the Hist, which completely restores your magicka after its first attack; definitely a high-roller's dream.
Then there's Expertise, which seems to be a little more conservative with its value swings. Most of the cards with Expertise are already decent on the curve and the bonuses are typically smaller such as +1/+1 or 2 damage to your opponent. There are some good value options including the 3-cost 4/3 Vanus's Scribe that reduces the cost of an action in your hand. Of course, there's also Vanus Galerion himself at 11-magicka that deals 3 damage, heals you for 3, and lets you draw 3 cards. It might be difficult to pull off, but if you do the game's probably over at that point.
Finally, we come to Empower. I found this keyword to be the best out of the bunch because it's attached to some very powerful cards and has even created a new deck archetype. Empower boosts cards in different ways based on how many times an opponent has been damaged. Spoils of War, for example, is a 5-cost action that lets you draw 2 cards. Normally, this would be terrible but its cost is decreased by 1 each time the opponent is damaged; in certain decks it's not difficult to cast this for free. Entire decks are being constructed around the new Soul Shred card, which mills the opponent's deck based on how many attributes they're playing and how much damage they've taken in a turn. With the right setup, it's possible to make your opponent discard their entire deck, and then all that's left is the cleanup.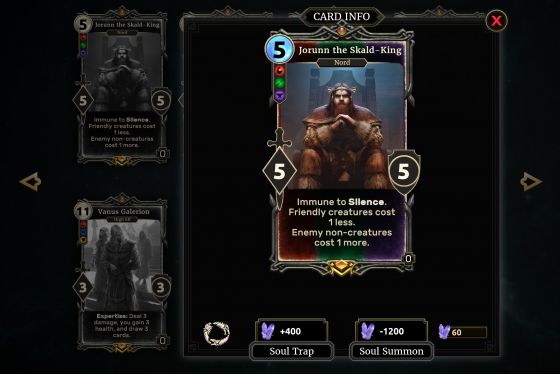 Challenges
Overall, Alliance War has introduced some powerful new cards, play options, and interesting mechanics, but the game itself still has a lot of room to grow. Furthermore, this set has fallen into the same trap as previous Elder Scrolls: Legends sets and has ignored most of the previous archetypes that were setup in past expansions.
This typically wouldn't be a problem, but each past set felt like it spread itself too thin and didn't give a lot of deckbuilding options for unique card types. Alliance War didn't include multi-attribute cards for any of the past combinations, nor was there a single dragon, factotum, double card, or card with exalt, plot, rally or betray keyword. It just feels like a waste to create all of these different card ideas and then only use them for a single set.
Thankfully, Sparkypants is picking up the pace this year and already have 3 more expansions planned out through 2019. Hopefully they'll start to minimize the amount of new keywords and card types and shift to fleshing out the vast amount that are already available in the game.
Related:
Bethesda
,
CCG
,
Sparkypants Studios
,
The Elder Scrolls: Legends