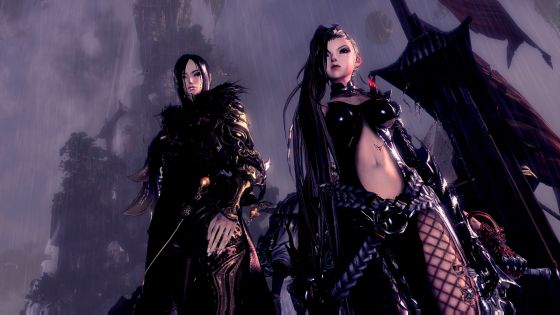 This week Beta Data says a fond farewell to Blade & Soul as it heads out of head start and straight into launch, at last. Now anybody in the West can download and play a fully localized Blade & Soul for free!
Meanwhile, those awaiting Black Desert Online will be pleased to hear that the second Closed Beta got itself a release date of February 18th, while you wait, why not play around with the character creator tool which they released for free. In addition, Daum gave everybody a hunk of "feedback on feedback" from the first Closed Beta over on the official Black Desert forums. This includes information, at last, about how the game's cash shop will work in the Western release, as well as feedback on PvP penalties.
If you've been eagerly awaiting the return of the Overwatch Beta, sorry to say that you'll be waiting a little while longer as it has been delayed until at least February. It's not all bad news, though, as this does mean that Blizzard get more time to work on tweaks and new features, including a progression system and an all new game mode with new maps created especially for it.
Paladins, however, should see new features much sooner. Some time today, in fact, as in a recent livestream, Hi-Rez revealed Ultimate abilities, beacons, new game modes, and a few other things, set to go live in the game's Beta January 22nd.
Just in case you're curious about Warhammer 40,000: Eternal Crusade's move to Steam Early Access, you can have a read of this F.A.Q. from Senior Producer Nathan Richardsson.
Also available as of this week is the Gigantic Beta 2.0, bringing EU servers, a progression system, cross-platform play, 24/7 server access, and lots more!
If you're more in the market for a new sandbox MMO, you may be interested in Titan Siege which entered Open Beta this week.
And we also heard of a few new games, this week! So get these on your radars, folk. Perhaps the biggest new game of the MMO community this week is John Smedley's new game, Hero's Song. Now on Kickstarter, this is a 2D open world rogue-like fantasy game with a ton of charm. They've even got in fantasy giant Pat Rothfuss and popular Twitch streamer CohhCarnage to help make the world as awesome as it can be!
If that doesn't tickle your fancy, perhaps Overpower will. A class-based medieval shooter MMO with MOBA-like combat. Also on Kickstarter, this game shows a lot of promise.
Or you could check out Trinium Wars, a new sci-fi MMORPG that will be coming to Steam Early Access on February 17th.
Perhaps The Black Death catches your eye with its medieval world under threat by plague that you must survive within as a blacksmith, a knight, or a trader. There's quite the variety for you to take a look at this week!
Notice anything missing? Get in touch and we'll take a look!
Find links to everything new to Beta Data this week and much more in the list below. Look for this icon: 

 to see everything we added this week.
Pre-Alpha and Alpha
Games in Pre-Alpha and Alpha are games in early testing, and are often under an NDA and require keys to access.
Early Access
Games that are in Early Access tend to require a purchase and/or access to Steam. Anybody can access games in Early Access but builds tends to be unstable as they are still under development.
Closed Beta
MMOs in Closed Beta are those which require a key to participate in, typically for a limited number of people and occurring prior to an Open Beta testing phase.
Open Beta
Open Beta is the phase in which anybody can take part at no cost, with no key required. These days, Open Beta tests tend to be a soft launch with no wipe.
Crowdfunding
MMO and MOBA related crowdfunding events taking place through Kickstarter, IndieGoGo, or open donations through a game's website.
Giveaways
We often have keys and items to give away that either offer access to a game in testing, or grant rewards in games still in testing. These will be listed here.

| | |
| --- | --- |
|  Clash of Avatars Newbie Packs | Giveaway |
| Eternal Dream Gift Pack Giveaway | Giveaway |
|  One Piece Online: Supreme Pirates (German/Spanish) | Giveaway |
| World of Fishing Shop Voucher Giveaway | Giveaway |
Related:
Alpha
,
Beta
,
Beta Data
,
Column
,
Crowdfunding
,
Early Access
,
Event (In Game)
,
Giveaway
,
Kickstarter
,
News