This week's Beta Data sees new game announcements, launches, and closures alike. The biggest one of the week needs no introduction, of course, The Division has been the talk of the town following its launch just a couple of days ago. While there have been issues and queues to use the computers, generally it has had a successful launch.
In less cheerful news came the announced closure of Fable Legends. This was not just a shock to all of us, but also to Lionhead Studios as well. The currently running Beta will be available to play until the end of the month before the servers go down.
Rising Thunder is another game that will not be returning to our screens after its studio was acquired by Riot Games. Instead, the devs behind Rising Thunder will be working on a brand new as-yet-unnamed title.
Hi-Rez Studios have been charging ahead with Smite's PlayStation 4 Beta and this week announced that the Open Beta would begin March 22nd. If you don't yet have access to the Smite PS4 Closed Beta, you can still jump in with one of our NA or EU keys!
Overwatch also announced an Open Beta this week for May 3rd (or 5th if you don't have Early Access), with a launch date of May 24th. Stuff is getting very real now!
The creators of Chivalry: Medieval Warfare, Torn Banner Studios, revealed their newest game will be a magic-based multiplayer FPS called Mirage: Arcane Warfare, slated for release for PC via Steam later this year.
EVE Valkyrie wraps up its Alpha test today to prepare for launch on March 28th. The team thanked backers for all of the feedback given to make the game launch-ready.
And we also gained two more Early Access games this week. Battle royale kill-or-be-killed survival game The Culling launched a little early on Steam and the Humble Store, and Labyrinth, the RPG card game from Free Range Games, joining the fun.
Notice anything missing? Get in touch and we'll take a look!
Find links to everything new to Beta Data this week and much more in the list below. Look for this icon: 

 to see everything we added this week.
Pre-Alpha and Alpha
Games in Pre-Alpha and Alpha are games in early testing, and are often under an NDA and require keys to access.
Early Access
Games that are in Early Access tend to require a purchase and/or access to Steam. Anybody can access games in Early Access but builds tends to be unstable as they are still under development.
Closed Beta
MMOs in Closed Beta are those which require a key to participate in, typically for a limited number of people and occurring prior to an Open Beta testing phase.
Open Beta
Open Beta is the phase in which anybody can take part at no cost, with no key required. These days, Open Beta tests tend to be a soft launch with no wipe.
Crowdfunding
MMO and MOBA related crowdfunding events taking place through Kickstarter, IndieGoGo, or open donations through a game's website.
Giveaways
We often have keys and items to give away that either offer access to a game in testing, or grant rewards in games still in testing. These will be listed here.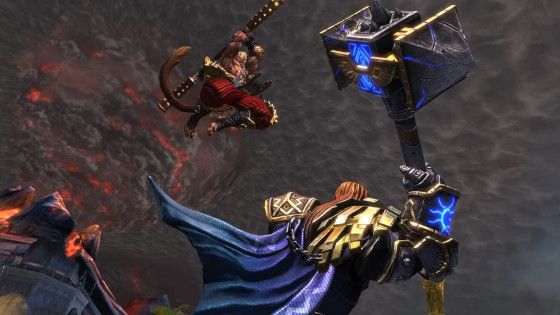 Related:
Alpha
,
Beta
,
Beta Data
,
Column
,
Crowdfunding
,
Early Access
,
Event (In Game)
,
Giveaway
,
Kickstarter
,
News