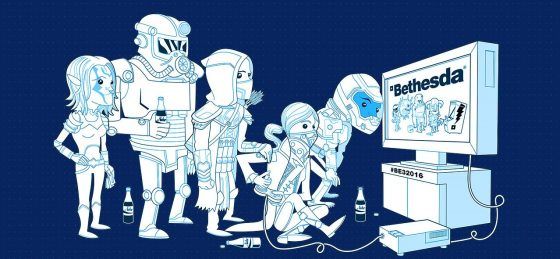 After some technical difficulties at the start, I was admittedly getting a little worried if Bethesda was even prepared to show something that could wow us. It's hard to follow up from last year's bomb drop that was Fallout 4 and the mobile runaway hit Fallout Shelter, but the flurry of rumors held out some hope that gamers will have plenty to get excited about in the near future. Hope no more, because boy were there a lot to get hyped over during this press conference.
It always helps to start off any press conference with a bang and that bang was none other than a new Quake. Following in the footsteps of Wolfenstein: The New Order and this year's Doom, Quake Champions brings back a beloved id Software IP in a big way. Having co-designer of the original Quake games Tim Willits exclaim, "Yes, Quake is back" was enough to get the audience pumped up. After the action-packed trailer, conversation immediately went towards multiplayer and the early impact that the franchise has had in esports. Quake Champions was interestingly enough classified as a competitive arena style shooter with a diverse range of characters to choose from. Sounds a lot like Bethesda may have been influenced a little bit by popular hero shooter Overwatch in this regard, just darker and bloodier. There are also plans to put together official tournaments and competitive events that should attract those with a competitive streak. More information is planned to be revealed in August. Until then, pack those Railguns.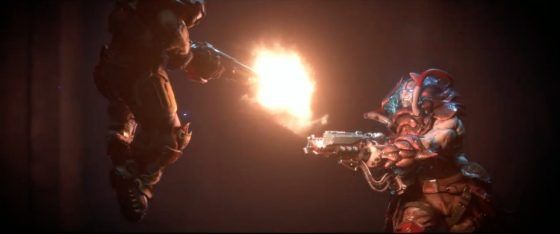 We were then treated to what looks like if you crossed Skyrim with Hearthstone in The Elder Scrolls: Legends. This strategy card game boasts single and multiplayer with battle and arena modes. There's also the promise of a story mode that should be about as robust as you can expect from a spinoff of this beloved franchise. There are also port plans later this year for Mac, Android, and iOS devices.
Switching off to Bethesda's other mega popular franchise Fallout, there was a reveal of new DLC. One of these is called Vault-Tec Workshop that is essentially the idea of Fallout Shelter placed into the base-building mechanics of Fallout 4. Even the trailer further below makes this observation in a not so subtle manner. Speaking of which, this was coupled with the announcements that Fallout Shelter will be coming to PC and new quests will be available for all platforms.
One of the bigger rumors going around was that we would see not a new Elder Scrolls game proper, but rather a full remaster of the previously released Skyrim, and that's exactly what we got. The lack of surprise took some of the air out of this announcement, but the video did a nice job going into technical detail as to why this remaster is worth checking out, even if you already spent 200+ hours playing Skyrim (like me) when it initially came out. As if that wasn't enough, mods will also be supported for the console versions. Prepare to see a lot more Macho Man dragons in glorious HD.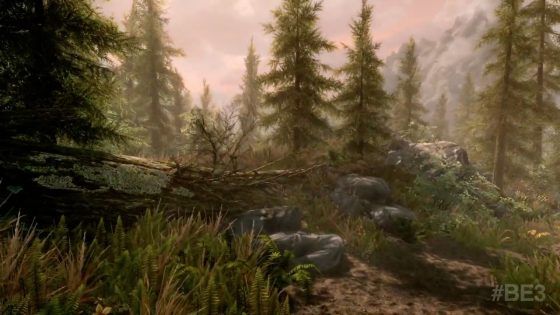 Another rumor, but a surprise nonetheless, was Prey. Technically the second game in the franchise, Bethesda clearly decided against placing a 2 in the title so as to avoid confusion with the amount of time passed since the original game's release. It's a smart move that makes this feel like a whole new IP. The trailer starts off with a man waking up to the same day over and over (a la Groundhog Day), but things turn dark very quickly after that. Sci-fi horror fans will look forward to facing a hostile alien threat that has taken over a space station all while our hero battles pink eye (not really, but he should really get that checked out). Expect Prey to be out some time next year for PC, PS4, and Xbox One.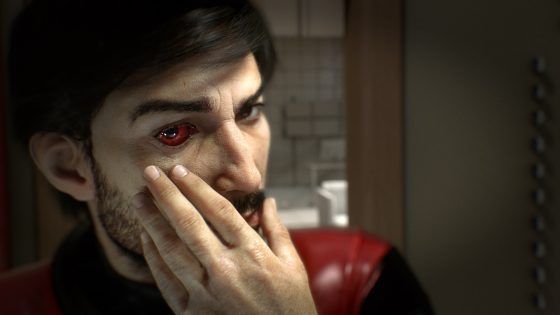 The conference then transitions to Doom, specifically the new DLC planned for release called Unto the Evil. Not a whole lot was revealed about this minus the fact we'll see more weapons, more demons, and more… well, Doom! For those who haven't experienced the latest game yet (and remember what shareware was), there was also the announcement that the first level can be downloaded for free right now on PC and consoles. Now that's a blast from the past!
Going back to the Elder Scrolls universe, we then deep dive into The Elder Scrolls Online. Some impressive accolades were mentioned at first, such as winning the 2015 MMOG of the Year award and that there are roughly 7 million users currently playing. A trailer then plays showing these achievements and more hard numbers that would make Todd Howard feel like a proud parent. Some DLC is revealed that focuses on assassin group the Dark Brotherhood. Now the clan with the biggest mommy issues in all of Tamriel will be sneaking, slicing, and dicing on consoles this Tuesday.
Speaking of Tamriel, one more major announcement (according to a very loud and very excitable woman in the audience) was revealed that turned out to be One Tamriel. This update essentially means that anyone who has passed the tutorial has all content available to them without any level restrictions. Now you can bring newbie friends along for the ride with very little resistance within the game.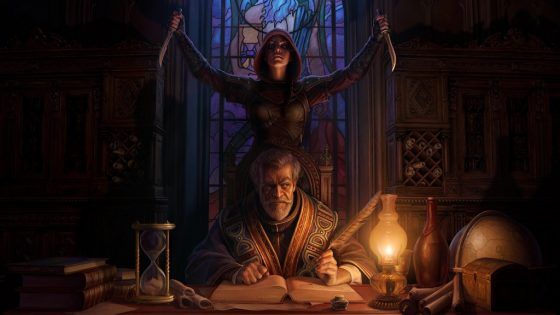 A pleasant surprise for the crowd in attendance was the push towards virtual reality. Dubbed as Bethesda VR, the announcement was made that not only Doom would be made available, but also Fallout 4. The latter reveal was coupled with the statement that this will be available on the HTC Vive, and how first person open world RPGs makes the most sense for a robust VR experience. It's hard to disagree there.
The final (and huge) showing during the conference was none other than Dishonored 2. Bethesda has pulled out all the stops for Arkane Studios with this franchise. The reveal of gameplay footage for the first time excitingly showed the blend of stealth, action, and exploration that people loved in the first game. This time, however, players will be exploring a new area called Karnaka. Running on the Void engine, everything in the game looks absolutely beautiful and was even classified as "a painting in motion" according to Bethesda.
As shown in the last trailer, players will now have a choice between the original masked man Corvo and female protagonist Emily Kaldwin. Players can tackle their objectives and take out targets in a myriad of ways (much like the first one), and the addition of new powers through Emily really feels like it opens up plenty of options in this bloody sandbox. A nice handful of her powers were on display during the demonstration, such as being able to mesmerize soldiers so that they ignore her walking by and a domino ability that causes all marks to suffer the same fate if one of them falls. One brutal act shown was an ability called Shadow Walk that essentially turns the game into The Darkness (and I'm not talking about the beloved British rock band) for a brief moment.
A special edition was even shown that comes with a replica of Corvo's mask for display or all the would-be assassins out there. The real kicker, however, is that preordering Dishonored 2 will even net you a copy of Dishonored: Definitive Edition. That's how you add value to your game.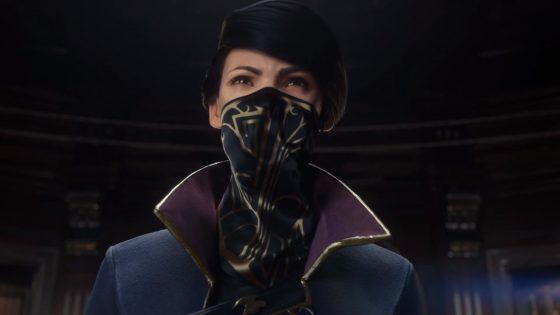 Compared to EA's so-so press conference, Bethesda did a solid job with the games shown and pacing of the show in general. The rumors turned out to be true for the most part, but there were enough surprises to keep fans happy and anxious for each game's release in the future.
Related:
Bethesda
,
DLC
,
Doom
,
E3
,
E3 2016
,
Expansion
,
Fallout 4
,
Fallout Shelter
,
Press Conference
,
The Elder Scrolls Online
,
The Elder Scrolls: Legends
,
Virtual Reality