This is the first time I've freelanced anything at E3 for MMOGames, but it's my fourth year at the show. I admit, I still get excited around E3 time, still get a bit starry eyed, but also get a little jaded as I come to terms with what E3 means to different press.
Let me get one thing out of the way: swag and hype. I love free stuff as much as the next guy, but I often feel like it kind of gets in the way of doing my job. I often come out of booths and interviews feeling pretty good about what I did, but occasionally I look at a freebie someone got and think, "Man, where did they get that? How did I miss that?" No worries this year, as I feel like the freebies are less plentiful. That may also be why I feel like there's less hype. I admit, due to appointments, I may have missed out on some juicy gossip, but when I've been out and about, the only big thing I've really noticed is that Star Wars: Battlefront has a ton of hype and everyone wants to try it. I admit, I'm in that category. It's an online game but I mostly keep hearing details about tech and graphics, two things I often really don't care about in my games. How do pilot an AT-AT? When can I be Vader? What kind of persistent records are kept? Those matter to me much more than having a "real" x-wing, and I've yet to find out my answers.
The Walking Dead by Overkill's gotten a lot of attention booth wise. I've seen their people all over the convention room floor, which means they probably have a large staff to handle people. I don't know if I should say they're overstaffed, but I passed by them several times, and they always had lines, though managed them quite well. I'll be handling VR games tomorrow, and Overkill's game seems to make use of it, so I'll probably check it out.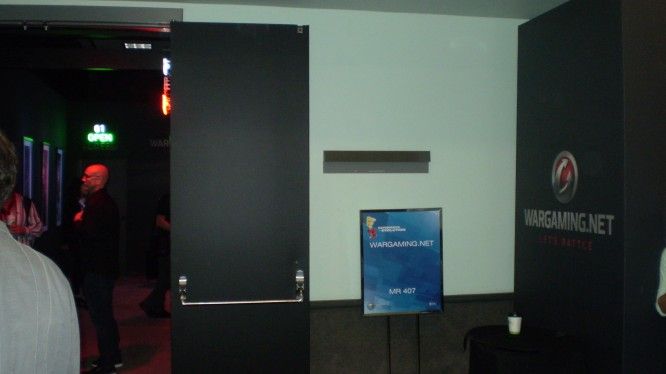 Wargaming actually doesn't have a huge, deafening presence for once. Their booth tends to be one of the biggest and loudest at any convention they're at, but this year, they only have a meeting room. This combined with less swag makes me wonder if the economy hit some of these developers this year. Richard Garriott talked a bit about budgeting in my interview earlier, so if Lord British is tightening his belt, I wonder if others are doing the same.
There's a lot more diversity this year in some ways though. We've still got the big, AAA game companies and indies, but VR's making itself known. There's more VR products than I can keep track of, and I keep wondering why they almost all look like the Oculus Rift. No matter, it's good to see VR entering the game.
MMO wise, I feel a bit hollow. For me, the biggest announcement has been the upcoming Star Wars: The Old Republic expansion. It almost sounds like World of Warcraft's Cataclysm all over again: a sweeping change to the game world. My question, though, is how far are they taking it? Will it actually change the world for the better, or bring about a huge problem they can't deal with? I'm already on the fence hearing that both the empire and republic are gone. I may actually resub to check things out though.
Other than that, I don't see anything big that excites me outside of online games. Gigantic in particular has been fun the one time I played it. It's not really a MOBA, but feels like Smite action with Heroes of the Storm's talents in battleground form. It's the closest a MOBA's been to recreating MMO combat in a positive way.
The Division could be interesting, but I worry it'll be delayed yet again, and if it's not, I worry the rogue system won't keep people accountable for their actions. I feel like the recent trailer killed a lot of MMO fans' interest since there are a lot of PvE only folks who may forget that the new zone is specifically for PvP opportunities.
Day one was rough though. Everything feels like it just got set up, which might be true. There was a lot of work being done on Sunday when I picked up my tickets. There was more confusion than usual with my contacts, and I don't recall demo people being as out of the loop this year as they had in previous years. In fact, in some ways, with the few unscheduled things I checked out, I practically had to beg some demo folks to give me tips or advice. I'm normally fine on my own, but without any kind of pre-game briefing, some games just felt like the usual murder simulators: go in, kill or die, repeat until the game ends.
Join us again tomorrow for someone else's thoughts on day 2 of E3 2015. Keep an eye on all our coverage of E3 including my interview with Lord British himself talking about the future of his MMO Shroud of the Avatar. E3 is really only just getting started, yet at the same time it's nearly over. With just a few short days left there will be a lot more content coming out on MMOGames well after everyone goes back home.
Related:
E3
,
E3 2015
,
First Impressions
,
Shroud of the Avatar
,
Virtual Reality