For the first time ever, what was supposed to be the EA E3 2016 press conference was not held at E3! Electronic Arts decided to have its own event, caller EA Play and hosted in both LA and London.
The event featured a myriad of updates and announcements on EA's upcoming projects, from Titanfall 2 to Mass Effect: Andromeda and the Star Wars franchise, complete with exciting trailers and unannounced projects, each of them equally impressive and rousing our curiosity. Get caught up with our round-up of EA's main news and announcements below!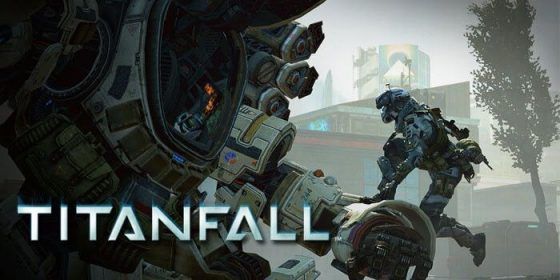 Titanfall 2
EA confirmed that there would be a multiplayer beta held before the game launches but no specific dates or platforms were announced yet. The beta is  "designed to help Respawn test various aspects of the game and its online infrastructure" according to the Titanfall 2 website. If you are interested to participate in the beta you can already sign up on the official website.
A new trailer showcasing the multiplayer gameplay of Titanfall 2 was released during EA's press conference. The trailer reveals more versatile Titans with different skills, but pilots also have acccess to new abilities such as teleports and gravity grenades.
Last but not least, in one of the most impressive features of the reveal, players will also be able to use a grappling hook to move around the environment as well as grab other pilots and pull them in for a kill. You can watch the multiplayer gameplay trailer below:
Titanfall 2 will feature an offline single-player campaign as well. The campaign will provide a rich narrative and explore the bond between man and machine, as it explores the story of a new aspiring pilot and the veteran Titan he is assigned to. EA released a trailer for the single-player gameplay as well that you can watch below:
Titanfall 2 will be launching on October 28 for PlayStation 4, Xbox One and PC.
Battlefield 1
The impressive new trailer released for Battlefield 1 showed the massive gameplay variety of the World War I shooter that will be featuring epic battles between 64 players. The game has everything, from axes, tanks, artillery and flamethrowers to horses, planes, Behemoths and zeppelins.
The diverse action in the trailed is consistent with lead designer Danny Berlin's earlier statement about the game having a massive freedom as World War I was a "time of new weapons" and it essentially means that combat will be extremely varied and nuanced, from fighting in the trenches and dodging tanks to melee combat and plane dogfights.
The presentation underlined the importance of adjusting tactics according to weather, which will be an unpredictable feature altering the course of battle, and showed impressive, intuitive destruction physics.
Battlefield 1 will be released on October 21 for PlayStation 4, Xbox One and PC. EA or Origin Access members as well as players who preorder the deluxe version of the game will already be able to play on October 18.
Players can try to get into the early access beta according to the press release, by registering as a Battlefield Insider. No details on the start date or duration of the early access beta have been shared yet.
Star Wars
There were many updates on the Star Wars universe, from existing content to new unannounced projects, with a great variety of interesting future prospects to look forward to for players and fans of the IP.
To start with, Star Wars: The Old Republic will be going forward with more story expansions and additional content. The mobile game Star Wars: Galaxy of Heroes will also continue to be expanded with new content.
Star Wars: Battlefront will be getting a new installment in the series, including content from the new films, which will be developed by Motive Studios. The new installment is slated for a 2017 launch but it was not specified if this will be a sequel or simply a new expansion.
An "unspecified project" going in "groundbreaking directions" and set to launch in 2018 will be developed by Visceral Games under the direction of Amy Hennig. The only details known at this time are that it will have "an original narrative with new characters" and based on the image below that was taken during the press conference, we imagine the game will be set early in the Star Wars timeline: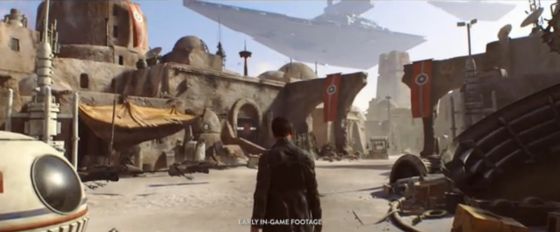 Respawn Entertainment is also working on an upcoming third-person action adventure game under the Star Wars franchise, with the action said to take place in "a different Star Wars era". No date or further information were disclosed at the time of the press conference.
Finally, it was revealed that DICE is developing a VR Star Wars: Battlefront unspecified project set to launch on PlayStation VR later this year, and Criterion Games will be assisting in development.
Mass Effect: Andromeda
More information about the story of Bioware's delayed action RPG, Mass Effect: Andromeda was also revealed during EA's press conference last night. The game was described as offering "more freedom than we've ever given players in a Bioware game".
The protagonist will be tasked with traveling millions of years into the future, arriving into a new galaxy called Andromeda. Everything in the Andromeda galaxy will be completely new, and players will find themselves in the role of aliens arriving in a new universe.
Players can choose between a male or female main character, with the protagonist featured in the trailer being female. Fans suspect that the new protagonist will go by the name Rider or Ryder, inspired by Sally Ride who was the first American woman in space and consistend with the previous main character's name deriving from Alan Shepard, the first American man in space.
The official E3 trailer is a video documentary mix between a gameplay trailer and a behind-the-scenes feature:
Mass Effect: Andromeda will be released in early 2017 for PlayStation 4, Xbox One and PC and it was stated that more information would follow in October.
Battlefield 1
,
Bioware
,
E3
,
E3 2016
,
EA
,
FPS
,
Mass Effect
,
MMORPG
,
Multiplayer
,
PC
,
Playstation 4
,
PlayStation VR
,
Press Conference
,
Respawn Entertainment
,
Sci-Fi
,
Star Wars
,
Star Wars Battlefront
,
Star Wars Galaxy of Heroes
,
Star Wars The Old Republic
,
Titanfall 2
,
VR
,
Xbox One