Day 3 of Heroes of the Dorm started off bright and early at 6 AM PST since we wanted coverage of each game from the best of 16 games the end of the tournament.
Already though, the bracket looks completely different than it did after the stream ended last weekend. Team Ambush from Harvard was disqualified on Wednesday the 24th after an investigation revealed that they brought an illegal participant to play on another player's battle net account and have been disqualified. In their place, Cal Berkley moved forward and played against Indiana Purdue offline for the Bo32 match before beating them in a 2-0 match.
Here's what happened in groups A and B for the tournament bracket:
Group A:
A repeat from last year, this match is expected to be exciting because of the history from last year's competition. Washington has been practicing over 12 hours a day during spring break and are hoping to capitalize on the home field advantage during the semi-finals in Seattle.
The first match on Tomb of the Spider Queen saw a draft that focused on poke from UW which included Lunara, Thrall, and Zagara while UCI preferred a more melee and direct engagement comp relying on Sonya, Muradin, and Greymane with Jaina in the back line. The match was extremely even before heroic abilities, but Washington managed to hit their power spike at level 10 just as their first web weaver wave came into the fight, allowing them to get impressive value and momentum out of the push. This allowed UW to pick up a boss in the top lane, an additional kill, and a second web weaver lane which firmly put momentum in UW's hands during the mid-game. Their strong emphasis on poke characters allowed UW to micro away from and pick apart the more melee heavy comp of UCI, and UCI did not take any talents to help close the distance (Leap on Sonya for instance would have allowed UCI to directly engage their opponents). UW took the victory with a four level advantage.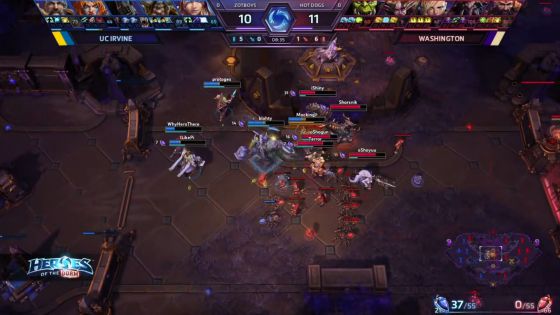 Game two returned to Towers of Doom with UCI attempting to come back into the series by first picking the Lost Vikings. UW countered by picking up Li Ming whose trait Critical Mass allows her to reset her cooldown abilities whenever a hero dies. Since the Lost Vikings are three easy to kill heroes, this was an easy counter pick. The rest of the draft stalled out after that surprising first pick as both teams struggled to figure out how to support and counter the Vikings play. UC Irvine passed up the opportunity to use Kharazim's natural synergy with the Vikings and decided instead to pick up Uther before wrapping up the draft with a Stitches. UW drafted an almost identical team to the first game, though they exchanged Lunara for Li Ming.
Despite their attempt to emphasize soak with the Vikings pick, UCI found themselves opposite of lane bullies Thrall and Zagara which marginalized how well they were able to soak. In fact, UW was able to gain an experience lead and knock over a couple keeps early in the game.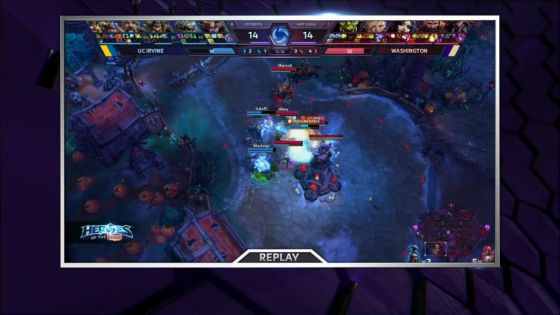 It did not help that the Stitches player was unable to consistently hit hooks that their team desperately needed to turn the game around. The game started to shift toward UCI's side in the late game as the Vikings were able to capitalize on multiple alter spawns, were able to reach level 20 before UW, took several key team fights, and even secured a boss kill. It was not enough however, and an out of position UCI Lunara allowed UW to capitalize on a gank before the final triple alter spawn to lead to the 2-0 victory for UW.
Louisiana State University vs Tennessee
LSU beat Assumption last week who was favored to win thanks to their own very experienced team, and this week the challenge only got harder. Up against Tennessee which sports Roflcopter –a well known professional player for Team Blaze-and Frumgor one of the highest ranking players in the world.
Game one on Tomb of the Spider Queen saw Zagara and Johanna banned first clearing the way for LSU to pick up Xul, Greymane, Rehgar, and a surprising Cho'gall. Tennesse countered with double support from Tassadar and Tyrande with a Muradin/Thrall as a front line.  Tennessee in the early game was easily able to leverage Tyrande's Hunter's Mark and Lunar flare in order to keep Cho'gall on the defensive and really mitigated his ability to do damage to Tennessee's structures. By the mid game though, all of the focus on Cho'Gall allowed LSU's Xul to walk in behind Tennessee with a damning Poison Nova turning the fight's momentum into LSU's favor and allowed them to get a second consecutive web weaver wave.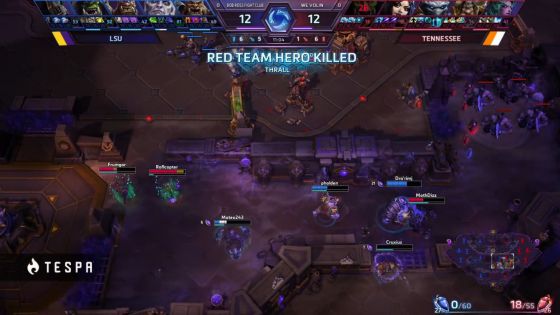 Tennessee turned the game around after capitalizing on an out of position Cho'gall by getting three unanswered kills on LSU and then managed to get a keep in the top lane which opened the way for a boss push onto the core a few minutes later. While the boss did not damage the core, it put Tennessee in the position they needed to take the last two keeps and dominate the rest of the battlefield.
Round two was played on Infernal Shrines where Tennessee built a team around stun locking their opponent: Xul for roots, Muradin and Uther for stuns with Jaina and Greymane to finish off whatever target came in front of them. LSU countered with serious control heroes Thrall, Zagara, ETC worked to isolate and break up Tennessee's death ball.
Tennessee's strategy worked in the early game, allowing them to pick up some easy kills during shrine fights and giving them enough of an experience lead to force LSU to forfeit the first two punishers. This experience lead continued through the mid game, making LSU extremely reluctant to engage for team fights since they were usually a talent tier down for each shrine fight. LSU finally caught a break after a successful defense of their top keep by landing a pair of perfectly executed mosh pits that resulted in a massive momentum shift. LSU capitalized on this before securing the punisher and riding it to victory.
Game three was played on Sky Temple saw LSU build a comp around lock down, with Stitches being brought on with Muradin and Tyrande acting as chain stuns for his hook target. Tennessee's comp was a little more standard, substituting Sonya for Thrall (who had been banned out).
LSU had an excellent showing with solid hook play in the early game, but by the mid game Tennessee had adapted by responding to the hooks properly and they quickly gained a three level advantage. The patience that LSU displayed in the earlier matches was gone by late game, and their attempts to force a fight did not go in their favor. Tennessee ground out the remainder of the fight calmly and eliminated LSU 2-1.
The bracket for group A after the Best of 16 Matches: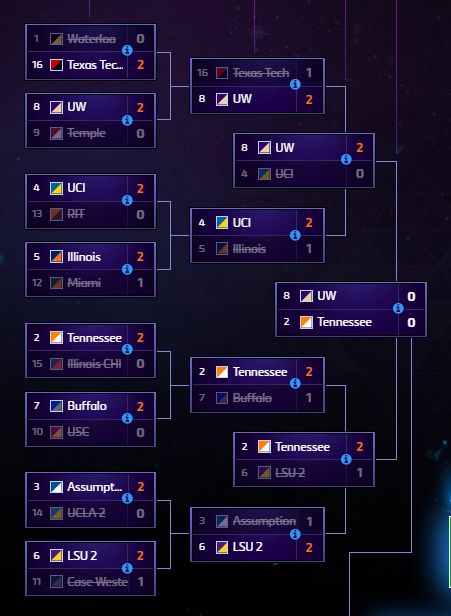 Group B:
Johns Hopkin's vs Boston College
In game one on Tomb of the Spider Queen, Johns Hopkins drafted a double support team that revolves around control with characters like ETC , Thrall, and Tyrande providing a massive potential for stunlocks lock. Boston college went for a stronger team that relied on vision and wave clear, drafting both Tassassdar and Zagara for vision and Johanna for wave clear. Early on, John's Hopkins was not able to properly clear waves with the comp they put together, and web weaver waves were able to do a massive amount of damage to Johns Hopkin's structures. This was especially detrimental since Boston College was able to complete three unanswered web weaver waves. Despite building a comp that favoring a team fighs, Johns Hopkins was not able to overcome Boston College in a direct confrontation. Boston College's Uther was able to easily counter ETC's mosh with perfectly timed cleanses and Divine Shields.
Boston College easily took this game.
Game two on Cursed Hollow contained an aggressive Illidan and Muradin backed up by Tassadar and Brightwing for Boston College. The addition of Li Ming allowed BC to focus down one hero with chained crowd control and easily proc Li Ming's Critical Mass trait. This formula allowed Boston College to be extremely dominant in the early game, allowing them to get a boss, the first curse, and a keep at the 7 minute mark.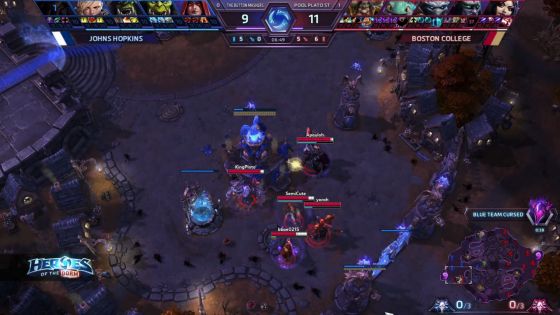 Johns Hopkins was unable to recover momentum and were shut out. Boston College advanced 2-0.
UT Arlington v Carleton University
Round one on Tomb of the Spider Queen saw a Cho'Gall from UT Arlington which forced Carleton to go Leoric and Kharazim in order to counter. In addition to being forced to respond to this draft choice, Carleton found themselves having to counter extremely well practiced lane rotations, which gave UT Arlington an early experience lead. This was beneficial to counter the extremely aggressive play from Carleton, who decided to take a series of bad team fights which pushed UT Arlington further and further ahead. Carelton could not overcome the isolating power of Thrall's sundering and Stitch's hook and succumbed to the four level lead of UT Arlington.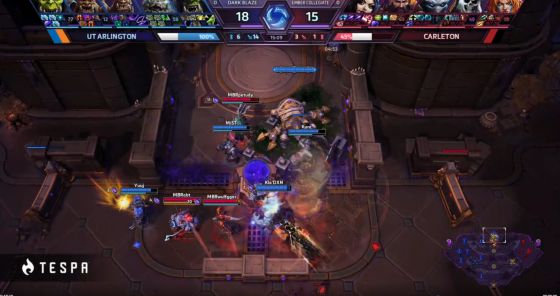 Like last week, Carleton opted for Towers of Doom as a comfort pick for them to attempt a comeback on. In addition, they decided to mimic Cloud9's Murky comp from the 2015 World Series: a late game comp that gets backed up by Leoric, Tassadar, Abathur, and Brightwing.
By contrast, UT Arlington drafted both Zagara and Xul, giving them an incredible amount of pushing power in all stages of the game which in turn gave them a strong experience lead up to level ten. In the mid game, the ability for Leoric and Murky to come back over and over again over the course of a single team fight allowed Carleton to apply pressure on the shrines for longer than UT Arlington could endure. Late game though was when Carleton hit Arlington's enrage timer and stun locks on Carleton's Murky completely mitigated Carleton's plan. Carleton learned what we did last year on ladder: what works for Cloud9 does not usually work out for the rest of us.
UT Arlington advanced 2-0.
Here's what the B Group looked like at the end of the day: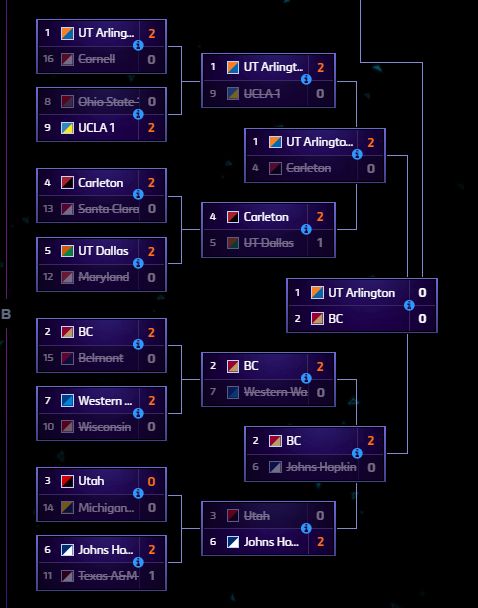 Be sure to check out what happened in groups C and D.
Related:
eSports
,
Heroes of the Dorm
,
Heroes of the Storm
,
Johns Hopkins
,
Louisiana State University
,
UC Irvine
,
University of Tennessee
,
University of Washington
,
UT Arlington