We first heard about Marvel Heroes earlier this year at Gamescom; when we arrived at the showroom, we didn't have any idea what we were going to see.
We quipped about the possibility of another DC Universe – a standard MMORPG template with superheroes and villains replacing elves and orcs – but seeing MH for the first time, and even having a brief chance to play it, we saw a game that looks to open the genre as much as it opened our minds for what's possible within it.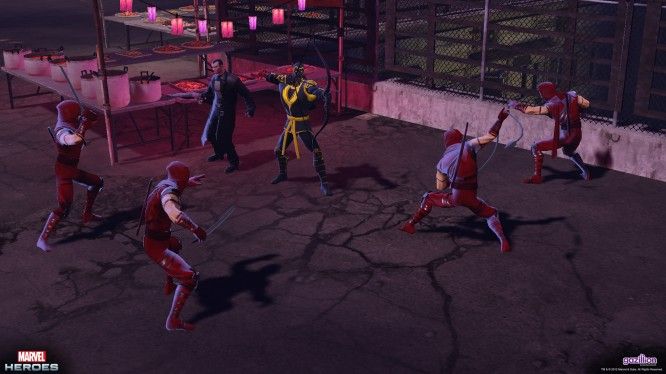 And when we learned that David Brevik, creator of Diablo and Diablo 2 was behind it (and, to our shock, also right behind us during the showing!) it all started to make sense. This wasn't an MMORPG at all; it was an action game in the same vein as Diablo, with MMORPG elements embedded throughout – situated right in the centre of the Marvel universe.
Last week, we had the chance to start playing in the Closed Beta. Though in its present state only a small percentage of the game content is available, we were able to get plenty of hands-on time with several of the playable heroes.
---
Iron-Man: Oh, yes. Tony Stark, my man, is one of the 10 playable heroes currently available – and for me, he was the obvious first choice. Why? Fricken laser beams shooting out my fricken hands – that's why. Before I started playing, I had an idea of what Iron-Man might be like in this style of game – call it a perfect world scenario – and naturally, as with most of the elements in Marvel Heroes, it was precisely as I imagined.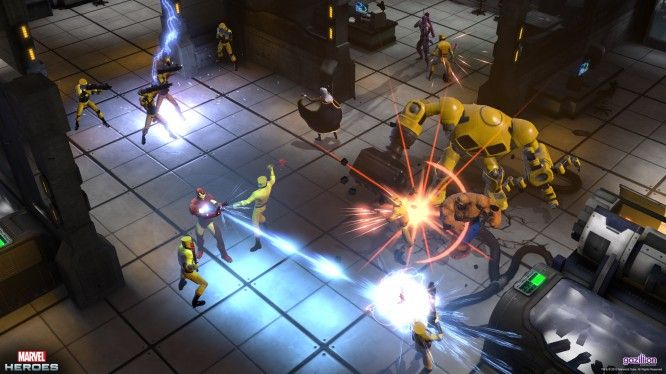 As the prologue chapter began and I was sent forth into a enormous complex full of recently escaped super-villains, I had little difficulty coming to terms with the gameplay style. As though a spiritual successor to Diablo 2, the control and combat mechanics responded exactly as I had hoped. Increasing my level, equipping new gear and upgrading my powers were all fluent and enjoyable – not overly difficult, and yet, complicated enough to keep the progression entertaining.
The Hulk: GAME IS FOR SMASHING! ALSO, HULK FINDS SHINY THINGS WHICH HE THEN SMASHES. HULK WAS NOT ANGRY AT GAME AS IT WAS FUN AND LOTS OF THINGS TO SMASH! SOME OTHERS SAY TO HULK: "HULK! WHY YOU KEEP SMASHING?!" HULK ROAR AT THEM LOUDLY AND SMASH A HOLE IN THE FLOOR. THEY NOT UNDERSTAND AND HULK THROWS A CAR AT THEM AND THEN THEY STOP ASKING WHY HULK SMASH. HULK HAPPY IN ANGRY WAY!
HULK THINK THAT OTHER SMASHY GAMES AREN'T SMASHY ENOUGH! THEY MAKE HULK MAD AND SHOUTING! HULK WILL SMASH THEM!
Deadpool: I suppose being deadpool, I am meant to break the fourth wall and say something humourous for our reader. Well sadly, I think superheroes are kinda lame and don't really know anything about this guy i'm playing, but I give him props for rocking the gun/knife combo.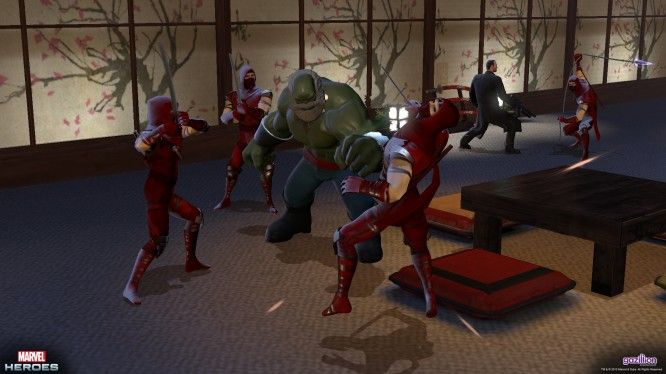 You could say i'm here to sing a different tune, to offer a perspective that isn't riddled with Marvel fanboyism, but the more I play – the more I realise there isn't anything I can really pick at. Marvel Heroes for the most part has taken me by complete surprise – I don't want to gouge my eyes out.
I guess you could say David Brevik just gets me, he has taken a universe and slotted it into his domain for a serving of delicious dungeon crawling action. You're not actually exploring dungeons mind you, but his style oozes throughout part of the game.
Iron-Man: Oh, Deadpool. If only you were a tiny bit cooler – I could have been playing you. I almost went with Deadpool, to be honest. After sampling Iron-Man, I used the overly awesome character selection menu (which allows you to change into any character you own on the spot) to give Deadpool a crack. I was greeted with a voiced tagline:
"I am Tony Montana, and I am here to kill your family."
Okay, okay. He didn't actually say that. I think. But there was a lot of background noise and I couldn't hear him properly – though he was definitely quoting Scarface, and it was definitely awesome.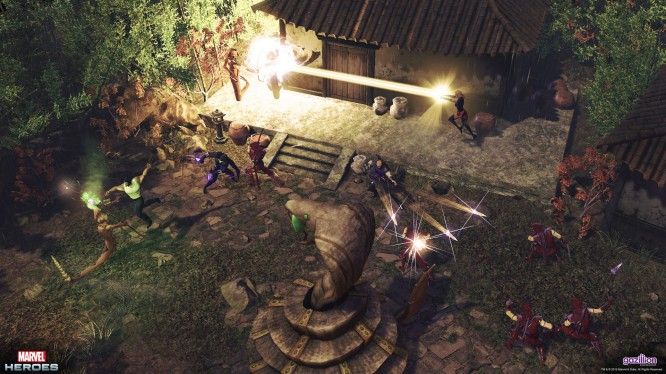 I think what I'm trying to say is this: unlike the phony Deadpool above, I'm a huge Deadpool fan, and switching to him, I immediately felt Deadpool. But enough about Deadpool. He can't fly. Iron-Man can fly. And flight in Marvel Heroes is about as awesome as flight gets – you hold the assigned key and immediately lift off, allowing you to soar through environments avoiding enemies and exploring at a hugely increased speed. You can't use it indoors… but that only helps to reinforce how much attention to detail Marvel Heroes offers. Anything to add on attention to detail, Banner?
The Hulk: RARGH! TALK TO HULK, NOT PUNY BANNER! BANNER CAN'T FLY LIKE STARK OR JUMP LIKE HULK OR TELEPORT LIKE RED MAN! EVERYONE IS ALWAYS SQUEAKING AT HULK: "PLEASE DON'T BREAK THIS, HULK" BUT THEY ONLY SAY IT TO HULK AND THAT MAKE HULK ANGRY.
DETAILS ARE GOOD BUT STORY BAD! OTHER PUNY HEROES KEEP LOSING TINY MAGIC TABLET OVER AND OVER AGAIN. WHY NOT GIVE TO HULK?
THE REST IS GOOD TOO. SMASHING AND ROARING AND JUMPING IS SASTI-… SATISCF-… GOOD! HULK FEELS LIKE HULK. OTHER PUNY HEROES FEEL LIKE HEROES. IT ALL FEELS AUTHNEITC-… GOOD, LIKE HEROES SHOULD!
Deadpool: Whether you're flying, jumping or dashing your way through the streets of Hell's Kitchen, there's a great blend of both open environments populated by players, which brings out the MMO in Marvel Heroes, and instanced missions, which capture the singleplayer and co-op experience helping to deliver the story. The story itself will either keep you wanting more, or just be another scene you quickly skip through before heading to the next battle.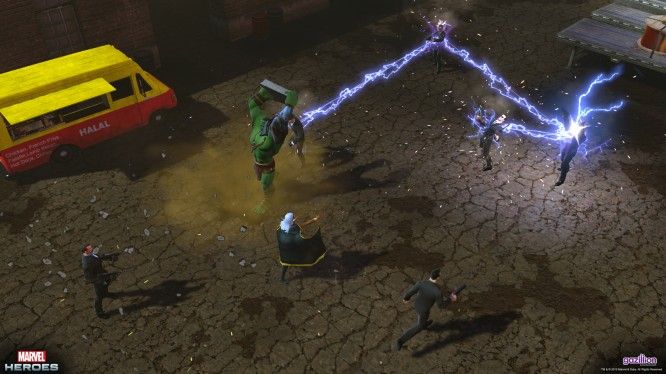 David and the team at Gazillion Entertainment have done a great job at bringing the world to life, and not just tacking on a quickly written story – there's plenty here for the Marvel fan to chew on. On the other hand, if you're not so interested in superheroes, there's just plenty of simple and fun gameplay that's not biased towards whether or not you wear your underpants on the inside.
Iron Man: Though it's only very early, and it's looking as though there'll be plenty more to come, the story thus far does not have the S.T.A.R.K seal of approval. While some moments are great, others are painfully terrible – one in particular, whereby a lawyer steps in to halt the progress of your mission, claiming that legal action will be taken if you don't hand over a certain artifact you just retrieved – completely ignoring the fact that you've likely just laid waste to an entire city, killing thousands and causing millions in damages – is worthy of a spectacular facepalm. Especially so, when your teammate is The Hulk…
That said, the cutscenes are masterfully well-drawn, utilising their unique comic-esque style well, and as Deadpool mentioned, does nothing if not complement the action-based gameplay – in that they're short, to the point, and have a handful of great superhero eye-candy.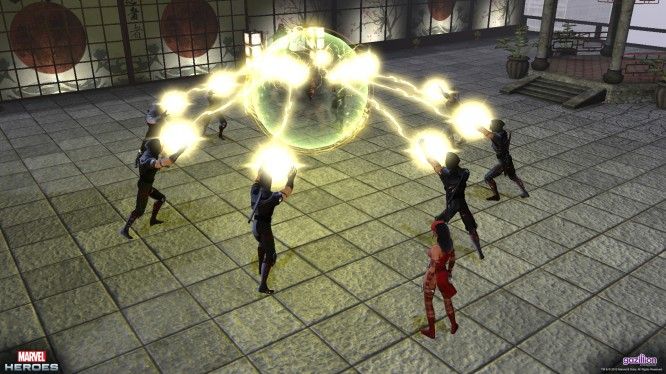 So far, we've only had a small taste of this delicious, Marvel pie – but we're unanimously aligned in appreciating its obvious level of quality and finesse. It's by far the highest quality free to play MMO we've ever played, and it's still in the early stages of beta testing. Assuming the pace continues, we're almost guaranteed that this one's going to make a big splash in the market – and should contain hundreds of hours of unique, pay-to-win-free online gaming.
We'll be back with another roundtable after the next content patch is released, and we're cleared to talk about it. Until then, head over to our Marvel Heroes Game Page for more content and information, or the Official Marvel Heroes Website to sign up for the beta and reserve your name.