The Latest MMO Alpha and Beta News
Check out below the latest news from the MMO Alpha and Beta world to find out what's been going on since last week!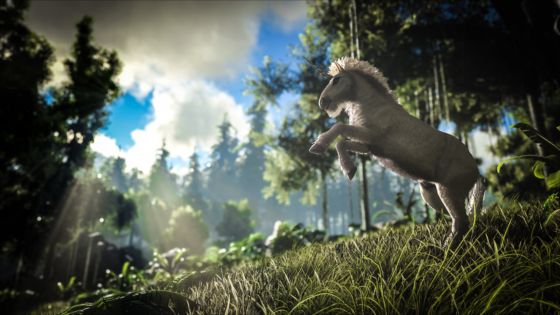 ARK: Survival Evolved is going underwater! The latest patch enables players to build underwater bases and breed aquatic creatures. This means it's time for another awesome armored laserdino – though it just got even cooler (if such a thing were possible) since it's available underwater. The patch also adds teleporters and several other ground creatures to tame, including the very rare Unicorn. We'd have a hard time deciding which of these to check out first, wouldn't you?
In other good news, Shroud of the Avatar is hosting another free test weekend starting now until Monday, April 10, so if you've been wanting to check out the latest developments directly in-game you are free to do so  within the restrictions of a free trial account.
It's now official, at last, in case anyone still had *any* doubt about it: Destiny 2 is also coming to PC this September 8, as officially confirmed by Bungie alongside the release of a brand new trailer for the game.
Ship of Heroes' Kickstarter has launched this week as promised, and if you are serious about getting in, this is the time to invest. All Kickstarter backers will automatically receive the initial download of the game for free at launch; the campaign tiers also offer various kinds of earlier access into the alpha and beta phases depending on the contribution.
The Elder Scrolls Online's Morrowind expansion is starting its closed beta on the PTS in just a couple of weeks, and players who previously participated in PTS tests will have priority for invites. ZeniMax is doing things "a bit differently" though and testers will have to agree to an NDA to be part of the CBT.
As part of this week's update, Conan Exiles is moving forward with its Exploit Hunters program: Funcom will be offering rewards ranging between $100-$500; the amount simply depends on the value of the info and how serious the reported exploit is. What is more, Update 24 also introduces a new challenge for adventurers: The Dregs are a mysterious dungeon in the form of a vast system of sewers forever shrouded in darkness, housing terrible remains of dark sorcerous experiments. Proceed at your own risk!
The Repopulation is going strong with updating players about its progress: the latest news tells us that the next new patch for the game will hit in about five weeks, with devs hard at work behind the scenes on the vital features such as UI and combat.
Paragon launched a new hero this week: meet Morigesh, a close-range caster that will heavily remind you of a voodoo priestess, marking her enemies with the help of a doll and attacking with swarms of bugs among other scary methods of assassination. Don't take our word for it though and watch the official hero overview if you dare.
The latest patch for AdventureQuest 3D applied a number of game improvements that will make the game much more enjoyable for all players. The most notable are the UI and combat improvements, but also the ability to form parties of up to 5 players, dungeon options for public or private instances, a waypoint system, as well as various cosmetic items.
It was time for a big update for The Black Death as well, and lo and behold, this week finally brought it upon us! Update V0.12, also known as The Long Night update, completely revamps the combat system and adds new player spawn areas and pillaging zones, as well as the beginning of the in-game housing feature that devs promise to expand on soon.
My.com has released more information about the Faerie Funland amusement park that is launching on live servers next week, April 12! If you're curious or want to prepare ahead, check out all the details on the dev blog before next week's Stardust update.
Post-apocalyptic sandbox MMO Edengrad is in early access on Steam as of this week, while also debuting a new game trailer to attract players to its alpha world.
Multiplayer shooter Escape from Tarkov is introducing a new "faction", or rather the option to belong to neither of the two main factions and remain independent in order to make things more complicated for the usual two sides of the conflict. The so-called Scavs are independent third-party scavengers that only fight for themselves. According to the devs, they will have gameplay and mechanics different to what is in place for the existing factions, and will be overall aiming to give players of both official opposing sides a harder time by being a wild card.
That about does it for this week's MMO Alpha and Beta List. Notice anything missing? Get in touch and we'll take a look!
Find links to everything new to the MMO Alpha and Beta List this week and much more in the list below. Look for this icon:

to see everything we added this week.
Pre-Alpha and Alpha
Games in Pre-Alpha and Alpha are games in early testing, are often under an NDA and require keys to access.
Early Access
Games that are in Early Access tend to require a purchase and/or access to Steam. Anybody can access games in Early Access but builds tends to be unstable as they are still under development.
Closed Beta
MMOs in Closed Beta are those which require a key to participate in, typically for a limited number of people and occurring prior to an Open Beta testing phase.
Open Beta
Open Beta is the phase in which everybody can take part at no cost, with no key required. These days, Open Beta tests tend to be a soft launch with no wipe.
Crowdfunding
MMO and MOBA related crowdfunding events taking place through Kickstarter, IndieGoGo, or open donations through a game's website.
Giveaways
We often have keys and items to give away that either offer access to a game in testing or grant rewards in games still in testing and of course we add these to our MMO Alpha and Beta list.

| | |
| --- | --- |
| Dragonbone Dynasty Open Beta Gift Pack | Giveaway |
| Swords of Divinity Open Beta Gift Pack | Giveaway |
| Empire: Revenant Beta Gift Pack | Giveaway |
| Lil' Conquest Gift Pack | Giveaway |
Related:
Alpha
,
Beta
,
Beta Data
,
Closed Beta
,
Crowdfunding
,
Early Access
,
In Development
,
MMORPG
,
MOBA
,
Open Beta
,
Pre-Alpha