The Latest MMO Alpha and Beta News
Check out below the latest news from the MMO Alpha and Beta world to find out what's been going on since last Friday!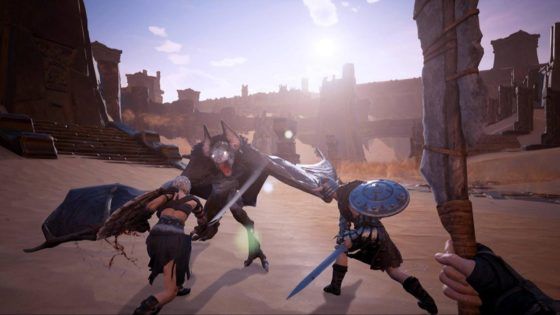 Funcom's team has been releasing quite a bit about Conan Exiles these past few weeks. The dev team will be hosting livestreams every 2 weeks until the game's launch in early access in February, with the first live dev stream kicking it off last Friday and showing us the game in action. If you want to know and see even more of Conan Exiles, you can also have a look at this IGN First feature, as well as the latest dev diary blog post that explores character creation and the firsts steps towards survival in the harsh Hyborian universe.
Pirate MMO Sea of Thieves will be setting sail into its technical alpha just next week, which means that players who already signed up for the Insider Program might be getting an exclusive look at what's going on ahead of al of us. But don't worry, we can already have a peek as well thanks to the official announcement which includes a trailer about it.
Revelation Online is launching its second closed beta test on December 20, which means that you have about 2 weeks to prepare for leveling up to 49, run dungeons and engage in PvP. Players who participated in the first closed beta test will be automatically re-invited and characters created in CBT1 carry over.
Superhero MMO Valiance Online seems to be ready to move into alpha phase, nailing down basic features like character creation, gameplay and content but also introducing a renewed website which will include SteamAPI, site-to-game communication, the implementation of the Super-Powered Individuals Data Archive, and comics presenting the game's lore. Last but not least, it has been announced that Valiance Online would be free-to-play, with special launch packs and exclusive rewards for those who supported the game early on.
Lawbreakers is preparing a dynamic 2017 as it announced a new map and a new "killer" role in the trailer shown off during the Game Awards.
Sandbox MMO Life is Feudal is starting its closed beta on December 14 and will include over 10,000 players in a persistent region encompassing about 21x21km, allowing them to test features such as free terraforming, crafting, building structures and engaging in combat.
Gigantic is now live in open beta for PC and Xbox One users via Steam and Xbox One Preview Program respectively, pffering a weeklty rotation of six heroes and three maps. The Motiga team will be updating the game and introducing new heroes, maps, guardians and creatures regularly.
Paragon's latest and very radical update, called Monolith, is currently live and introduces players to the new map and a much faster gameplay, in compliance with both player feedback and developers' plans, with more details explained in the Monolith update dev diary video.
Ubisoft is preparing the beginning of closed beta testing for its open world tactical shooter Ghost Recon: Wildlands, with registrations now open. Ghost Recon: Wildlands is going to be released on PC, Xbox One and PlayStation 4 on March 7, 2017.
That about does it for this week's MMO Alpha and Beta List. Notice anything missing? Get in touch and we'll take a look!
Find links to everything new to the MMO Alpha and Beta List this week and much more in the list below. Look for this icon:

to see everything we added this week.
Pre-Alpha and Alpha
Games in Pre-Alpha and Alpha are games in early testing, are often under an NDA and require keys to access.
Early Access
Games that are in Early Access tend to require a purchase and/or access to Steam. Anybody can access games in Early Access but builds tends to be unstable as they are still under development.
Closed Beta
MMOs in Closed Beta are those which require a key to participate in, typically for a limited number of people and occurring prior to an Open Beta testing phase.
Open Beta
Open Beta is the phase in which everybody can take part at no cost, with no key required. These days, Open Beta tests tend to be a soft launch with no wipe.
Crowdfunding
MMO and MOBA related crowdfunding events taking place through Kickstarter, IndieGoGo, or open donations through a game's website.
Giveaways
We often have keys and items to give away that either offer access to a game in testing or grant rewards in games still in testing and of course we add these to our MMO Alpha and Beta list.

| | |
| --- | --- |
| MU Legend Closed Beta Key | Giveaway |
| Erectus the Game Closed Beta Key | Giveaway |
| Empire: Revenant Beta Gift Pack | Giveaway |
| Dragonbone Dynasty Open Beta Gift Pack | Giveaway |
| Crystal Saga II Open Beta Gift Pack | Giveaway |
Related:
Alpha
,
Beta
,
Beta Data
,
Closed Beta
,
Crowdfunding
,
Early Access
,
In Development
,
MMORPG
,
MOBA
,
Open Beta
,
Pre-Alpha