The Latest MMO Alpha and Beta News
Check out the latest news from the MMO Alpha and Beta world below to see what's been going on since last week!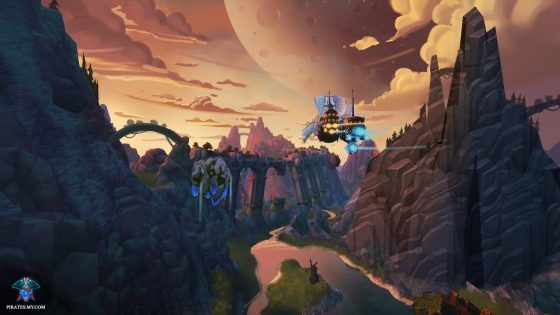 Cloud Pirates has started its early access phase and a bunch of information has been made available with the update, including a Q&A with the devs and an update on Brotherhood changes.
Also in its early access phase for a little over a week now, Funcom's Conan Exiles just deployed its first big patch. The team is otherwise working on changing server providers and bringing back official servers, both existing and new ones, as they had to be taken offline last weekend.
Revelation Online is now offering players the name reservation option, available as of today to both deluxe and regular founder pack owners. Early access for the game starts on February 27 while the open beta begins on March 6.
Shards Online is fast approaching its Steam launch that will grant backers early access to the game, and with it comes an NDA for the so-called experimental client of the game. There will be none for the regular game client, however.
The Exiled has almost reached its early access launch date as well. On February 23, the sandbox opens its doors to all players as anyone can play for free for seven days. Further game time will require buying the game ($19.99) and there are various other bonuses available to purchase such as skins, titles, pets or art and soundtrack. The announcement also includes a clear statement against going pay-to-win, as devs are not intending to add power-enhancing items to the shop.
Mu Legend is debuting its second closed beta test on February 21, and will allow players to try out the game's unique triple leveling system.
Several videos posted on the official forum show off Valiance Online in action for the delight of any player waiting for updates. The clips focus on various features such as UI, combat, leveling up and power selection, and have been recorded by devs while testing the game's alpha.
The pirates over in Sea of Thieves have been busy as well, as revealed by the latest video dev update. The next technical alpha phase should see even more players invited to test the game, and will add more content to test and enjoy alike. .
Project Gorgon just added an interesting feature that will allow players to track their activities in-game, which would be useful for proving a challenge has been completed within its set rules, which hopefully might boost player-created challenges according to the official website.
That about does it for this week's MMO Alpha and Beta List. Notice anything missing? Get in touch and we'll take a look!
Find links to everything new to the MMO Alpha and Beta List this week and much more in the list below. Look for this icon:

to see everything we added this week.
Pre-Alpha and Alpha
Games in Pre-Alpha and Alpha are games in early testing, are often under an NDA and require keys to access.
Early Access
Games that are in Early Access tend to require a purchase and/or access to Steam. Anybody can access games in Early Access but builds tends to be unstable as they are still under development.
Closed Beta
MMOs in Closed Beta are those which require a key to participate in, typically for a limited number of people and occurring prior to an Open Beta testing phase.
Open Beta
Open Beta is the phase in which everybody can take part at no cost, with no key required. These days, Open Beta tests tend to be a soft launch with no wipe.
Crowdfunding
MMO and MOBA related crowdfunding events taking place through Kickstarter, IndieGoGo, or open donations through a game's website.
Giveaways
We often have keys and items to give away that either offer access to a game in testing or grant rewards in games still in testing and of course we add these to our MMO Alpha and Beta list.

| | |
| --- | --- |
| MU Legend Closed Beta Key | Giveaway |
| Forge of Gods Promote Pack Giveaway | Giveaway |
| Empire: Revenant Beta Gift Pack | Giveaway |
| Dragonbone Dynasty Open Beta Gift Pack | Giveaway |
| Crystal Saga II Open Beta Gift Pack | Giveaway |
Related:
Alpha
,
Beta
,
Beta Data
,
Closed Beta
,
Crowdfunding
,
Early Access
,
In Development
,
MMORPG
,
MOBA
,
Open Beta
,
Pre-Alpha