The Latest MMO Alpha and Beta News
Check out below the latest news from the MMO Alpha and Beta world to find out what's been going on since last week!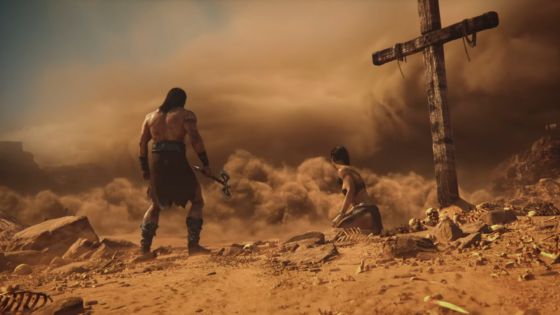 Conan Exiles has launched in Steam early access. There are about 100 official servers and hundreds more of player-hosted servers, seeing already 40.000 concurrent players. The game is expected to receive several updates in the near future while staying in early access for the rest of this year.
Cloud Pirates is also moving into Steam early access on February 9 with Update 1.1 "Gold Rush."
Revelation Online's ongoing third closed beta test will be extended for an additional week with player feedback stating the current test was too short to reach max level and play through the available end-level content. Players have until February 9 to enjoy what Nuanor currently has to offer.
After the Exile in the North update, Gigantic will be pushing live a second major update called Eternal Dawn on February 23 that introduces new weapons, a new hero and a website-based leaderboard for heroes.
Crowfall is adding a heap of new features and re-balancing updates during February, and it is increasing its development velocity according to the official post.
Life is Feudal is aiming for a late 2017 launch according to its latest press release. The recent partnership with gaming press relations firm Reverb Communications should see an increase in the popularity of the MMO leading up to its projected launch.
Mekria Online is a new PvP-oriented MMO that is seeking support through a Kickstarter campaign. Its alpha is planned for the second half of 2017.
That about does it for this week's MMO Alpha and Beta List. Notice anything missing? Get in touch and we'll take a look!
Find links to everything new to the MMO Alpha and Beta List this week and much more in the list below. Look for this icon:

to see everything we added this week.
Pre-Alpha and Alpha
Games in Pre-Alpha and Alpha are games in early testing, are often under an NDA and require keys to access.
Early Access
Games that are in Early Access tend to require a purchase and/or access to Steam. Anybody can access games in Early Access but builds tends to be unstable as they are still under development.
Closed Beta
MMOs in Closed Beta are those which require a key to participate in, typically for a limited number of people and occurring prior to an Open Beta testing phase.
Open Beta
Open Beta is the phase in which everybody can take part at no cost, with no key required. These days, Open Beta tests tend to be a soft launch with no wipe.
Crowdfunding
MMO and MOBA related crowdfunding events taking place through Kickstarter, IndieGoGo, or open donations through a game's website.
Giveaways
We often have keys and items to give away that either offer access to a game in testing or grant rewards in games still in testing and of course we add these to our MMO Alpha and Beta list.

| | |
| --- | --- |
| Forge of Gods Promote Pack Giveaway | Giveaway |
| Conquer Online Gift From The Wind Giveaway | Giveaway |
| Empire: Revenant Beta Gift Pack | Giveaway |
| Dragonbone Dynasty Open Beta Gift Pack | Giveaway |
| Crystal Saga II Open Beta Gift Pack | Giveaway |
Related:
Alpha
,
Beta
,
Beta Data
,
Closed Beta
,
Crowdfunding
,
Early Access
,
In Development
,
MMORPG
,
MOBA
,
Open Beta
,
Pre-Alpha