The Latest MMO Alpha and Beta News
Check out below the latest news from the MMO Alpha and Beta world to find out what's been going on since last week!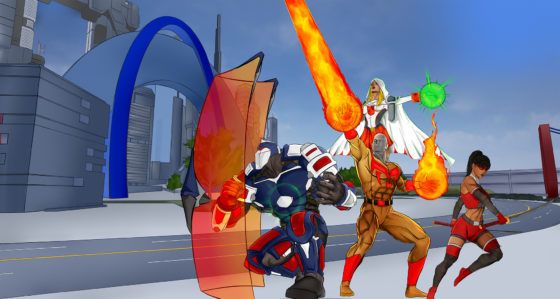 Upcoming superhero MMO Ship of Heroes now has a character creation demo on Youtube showing off its fully customizable face, body and hair styles while proving that it definitely brought the City of Heroes vibe into 2017. Although we are not sure how far along the game is, we hope to be hearing mroe about game access in the near future.
Conan Exiles has a new cinematic trailer and price tag for its incoming early access release happening next week, January 31. The standard edition of the game is priced at $29.55 while the collector's edition is $59.99 and will include a trove of Conan-themed treasures, from digital comics and illustrated ebook to artbook and soundtracks.
Survival sandbox game Hellion is going live on Steam Early Access on February 24, after Zero Gravity initially announcing a delay in its launch that was planned for January.
Albion Online has unveiled its all new Royal Continent that will go live with the Galahad update. According to the devs, it will offer a much richer experience with better progression to all players as it replaces the starter zone, the Royal Isles archipelago, with a full continent including various biomes and main cities spread around the metropolis hub.
Chronicles of Elyria is working on a playable demo for Pax East and adding talented members to its team as well, with Steve Hoelle taking on the role of Lead Programmer as of this week.
Crowfall offered a lengthy explanation of its death, resurrection and character swap mechanics on the official website. Some of the consequences will depend on the rules of the world, but death doesn't mean the end of a character, since its spirit will be able to move on.
Nexon has officially announced that its cross-genre MOBA Hyper Universe will also be published in the West in 2017, giving access to the title to NA, EU, Oceanic and Latin American players as well.
Aszes of Creation will allow players to subsidize their game subscription through the referral program, the twist being that the rewards will include 15% of what the referred player spends for the rest of their time with the game, effectively making the contribution of a dedicated player more important.
Snail Games has revealed one of its latest projects to be a zombie survival sandbox coop game called Moonlight. The game is set in post-zombie apocalypse China and the twist is that zombies will have a nocturnal activity cycle reminiscent of I Am Legend.
Project Gorgon has launched its new online store, where players who missed the crowdfunding campaigns can still support the game through one of the crowdfunding packages until the game's launch on Steam Earl Access. The only exception is the standard package including only a game key but no additional rewards, as the devs would like to encourage purchases of the standard game edition through Steam.
Team Neuronhaze posted some updates about Project Genom's development and although a clear timeline is not available yet, development is moving at full speed forward. Another important mention is that the game price will not be changed in any way for either Russian or international players according to the devs, since that was a concern raised due to the 18% "Google tax".
That about does it for this week's MMO Alpha and Beta List. Notice anything missing? Get in touch and we'll take a look!
Find links to everything new to the MMO Alpha and Beta List this week and much more in the list below. Look for this icon:

to see everything we added this week.
Pre-Alpha and Alpha
Games in Pre-Alpha and Alpha are games in early testing, are often under an NDA and require keys to access.
Early Access
Games that are in Early Access tend to require a purchase and/or access to Steam. Anybody can access games in Early Access but builds tends to be unstable as they are still under development.
Closed Beta
MMOs in Closed Beta are those which require a key to participate in, typically for a limited number of people and occurring prior to an Open Beta testing phase.
Open Beta
Open Beta is the phase in which everybody can take part at no cost, with no key required. These days, Open Beta tests tend to be a soft launch with no wipe.
Crowdfunding
MMO and MOBA related crowdfunding events taking place through Kickstarter, IndieGoGo, or open donations through a game's website.
Giveaways
We often have keys and items to give away that either offer access to a game in testing or grant rewards in games still in testing and of course we add these to our MMO Alpha and Beta list.

| | |
| --- | --- |
| MU Legend Closed Beta Key | Giveaway |
| Erectus the Game Closed Beta Key | Giveaway |
| Empire: Revenant Beta Gift Pack | Giveaway |
| Dragonbone Dynasty Open Beta Gift Pack | Giveaway |
| Crystal Saga II Open Beta Gift Pack | Giveaway |
Related:
Alpha
,
Beta
,
Beta Data
,
Closed Beta
,
Crowdfunding
,
Early Access
,
In Development
,
MMORPG
,
MOBA
,
Open Beta
,
Pre-Alpha