This Giveaway has ended, and the winners have been drawn and notified. Thank you!
Star Trek Online is a free-to-play sci-fi MMORPG set in the universe created by Gene Roddenberry. On the ground and in the stars, Star Trek Online delivers a complete and immersive game experience. In this massively multiplayer online game from Cryptic Studios, players can pioneer their own destiny as Captain of a Federation starship. You can become a Klingon Warlord and expand the Empire to the far reaches of the galaxy. They can even work to rebuild the Romulan legacy as a member of the Romulan Republic. Exploring the final frontier is demanding, however; space is vast, and your enemies are legion. To celebrate the launch of Star Trek Online: Season 12 – Reckoning, MMOGames is teaming up with Perfect World Entertainment and Cryptic Studios to bring you this Star Trek Online Elachi Ornash Battlecruiser Giveaway. Enter now for your chance to win a free unlock of this powerful T6 battlecruiser!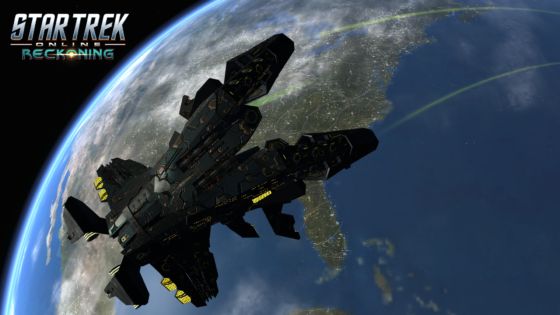 About the Tier 6 Elachi Ornash Battlecruiser
A tough and versatile design, the Tier 6 Ornash-class battlecruiser is a capable and deadly opponent – alone or as part of a unified force. It can swiftly deploy an array of support craft through the use of an Enhanced Elachi Subspace Transceiver, adding instant backup to the battle. This starship features a Lieutenant Command Tactical/Command Bridge Officer Station and a Lieutenant Universal/Command Bridge Officer Station.
What You Get From The Star Trek Online Elachi Ornash Battlecruiser Giveaway
1x Elachi Ornash Battlecruiser, a powerful T6 Battlecruiser for Star Trek Online
How To Redeem Your Star Trek Online Elachi Ornash Battlecruiser Giveaway Key
Install and launch the Arc client and install Star Trek Online, if you do not already play.
Select the Arc logo at the top left of the client.
Select "Redeem a Code" and enter the item code.
Enter the game and complete the tutorial.
Rewards can be found in game by going into the C-store and searching the "Promotions" tab.
Enter Via Gleam
Sign in with a selection of options within the Gleam widgets at the end of this post and complete one or more entries to enter. You can select all of them or just one, it's entirely up to you, though the more you choose, the more chances you have to win! This giveaway will end on Monday, February 6, 2017, at 08:00 GMT.
We will be in touch by email with the winners once the contest comes to an end.  If you have any issues, please contact us.
Star Trek Online Elachi Ornash Battlecruiser Giveaway

Related:
Cryptic Studios
,
Free to play
,
Game Keys
,
Giveaway
,
Perfect World Entertainment
,
Star Trek Online