Star Trek Online is a free-to-play sci-fi MMORPG set in the famous Star Trek universe created by Gene Roddenberry. In this massively multiplayer online game from Cryptic Studios, players can pioneer their own destiny as Captain of a Federation, Klingon, or Romulan ship. Embark on adventures throughout the Star Trek universe, and go where no one has gone before! The most recent update for Star Trek Online, Age of Discovery, has gone live, and to help players hit the ground running, MMOGames and Perfect World Entertainment have teamed up for a very special giveaway. Enter now for a chance to win the Engle-Class Mirror Escort Carrier.
The Engle-class Mirror Escort Carrier [T6] is retrofitted from a ship that crossed over from the 23rd century into present-day space. A fearsome Terran vessel, this starship's capabilities and integrated technologies emphasizes the Terran philosophy to not only crush the enemy, but make it hurt the entire way.
Note: These codes are only eligible for the PC version of Star Trek Online and can only be unlocked by Federation or Federation aligned characters.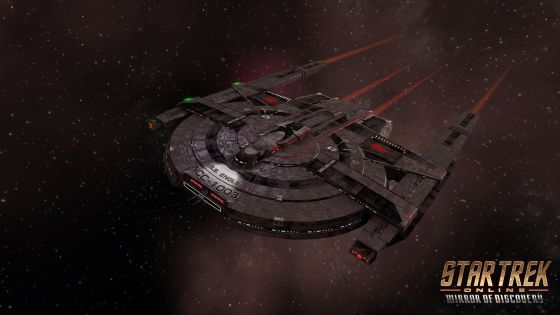 Ship Details:
Faction: Federation and Federation-aligned
Required Rank: Must complete the Tutorial
Fore Weapons: 5 (scales with level)
Aft Weapons: 2 (scales with level)
Hull Modifier: 1.15
Shield Modifier: 1.25
Device Slots: 2
Bridge Officer Stations: 1 Commander Tactical, 1 Lieutenant Engineering/Intelligence, 1 Lieutenant Commander Science, 1 Ensign Universal, 1 Lieutenant Commander Universal/Temporal Operative
Console Modifications: 5 Tactical, 2 Engineering, 4 Science (scales with level)
Base Turn Rate: 14 degrees per second
Impulse Modifier: 0.18
Inertia: 60
+10 Power to Weapons, +10 Power to Auxiliary
Can Load Dual Cannons
Console – Universal – Cascading Subatomic Disruptions
Experimental Weapon Slot, equipped with Graviton Implosion Projector
Hangar Bays: 1
Hangar Bay loaded with Mirror Universe Shuttlecraft
Starship Ability Package (Escort Carrier)
Precise Weapon Systems (+Accuracy)
Tactical Maneuvers (+Defense)
Quick Deployment (+All Damage)
Devastating Weaponry (+Critical Chance)
Superior Area Denial (Starship Trait)
How To Redeem Your Star Trek Online: Mirror of Discovery Engle-Class Mirror Escort Carrier
These codes are only eligible for the PC version of Star Trek Online and can only be unlocked by Federation or Federation aligned characters.
Install and launch the Arc client if you haven't already done so.
Select the gear logo at the top right of the client.
Select "Activate a Product" and enter the item code.
Enter the game and visit the C-Store.
Rewards can be found on the "Promotions" tab.
Enter Via Gleam
Sign in with a selection of options within the Gleam widgets at the end of this post and complete one or more entries to enter. You can select all of them or just one, it's entirely up to you, though the more you choose, the more chances you have to win! This giveaway will end on Friday, February 15, 2019.
The Winners From The Final Round Are Shown Below
Star Trek Online: Engle-Class Mirror Escort Carrier Giveaway

Related:
Giveaway
,
MMORPG
,
Perfect World Entertainment
,
Star Trek Online