The Latest MMO Alpha and Beta News
Check out below the latest news from the MMO Alpha and Beta world to find out what's been going on since last week!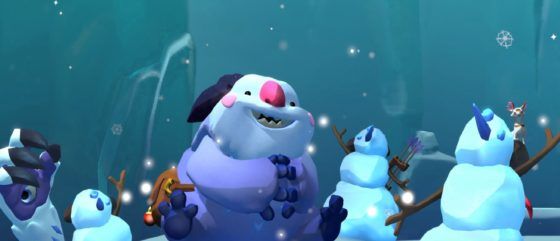 Gigantic's latest update, Exile in the North, just went live yesterday introducing an adorable new hero – Pakko the Jolly Brute. You can read more about the update in the latest official update notes or jump right into the game to throw some snowballs as Pakko, try out some of the gameplay changes or snag some of the new skins available with the update.
Wild Terra is hosting a special open test weekend between January 20-24! During this period, all players have free access to servers dedicated to PvP or Arena, a fast leveling event, daily treasure hunts and battles for extra rewards and prizes offered for bug reporting.
New details surfaced about For Honor's upcoming closed beta. Between January 26-29, PC and console players will participate in the War of Factions, earning rewards for the game's launch in the process. Ubisoft is now also offering an interactive, lore-based experience which awards a beta code upon completion, on the For Honor Scars website!
Indie PvP sandbox The Exiled is headed to Steam Early Access on February 23 after an intense round of alpha testing through the past few months. This means a live game online 24/7 for all players according to devs, with more details on the launch to be released soon.
In a twist of events, open-world sci-fi sandbox MMORPG The Repopulation is making a comeback after parting ways with its developer, Above & Beyond. The new owner is Idea Fabrik, the developer of the Hero Engine framework that the game was built on, and they intend to relaunch The Repopulation with a new content patch in Q1 2017, reassuring players that the game will certainly not be pay to win.
A new City of Heroes spiritual successor is now in development: Ship of Heroes is aiming to create a superhero MMO… set in space! You can read more about the game's concept and sci-fi/superhero genre mashup in MassivelyOP's interview with the CEO of Heroic Games or on Ship of Heroes' official website.
Revelation Online has started its third closed beta test phase with a heap of content for players to tackle, from leveling up to 69 to exploring three new dungeons or participating in 3v3 ranked arenas, faction wars, territory wars or deathmatches.
The second closed beta for MU Legend will be taking place between February 21-28, focusing on localization implementation of the game's five different languages as one of the main targets for feedback and improvement for this round of testing.
Conan Exiles devs have been addressing a large number of topics since last week. Posts on the official website detail the functioning of servers and mods, with more details on server wipes and their multiple rulesets offered via Reddit. A less technical dev blog took us through the importance of lore in the deadly but mysterious Hyborian game universe.
Upcoming MMO Lineage Eternal's unique but confusing multiple character system was explained by Steparu in a great blog post that clarifies all questions prospective players might have had about this feature in its current form.
Pirate-themed survival sandbox game New Dawn is a new addition to Kickstarter. Aiming for a November 2017 release if funding goes through, the game is set in the 19th century and will put players in the role of South American natives fighting off invading pirates.
Also new to the crowdfunding scene is Throne of Lies, described as a "3D online-multiplayer social deduction game of mischief and betrayal, inspired by medieval politics and Werewolf/Mafia". Groups of 7-15 players will track down the traitor among them, with features such as matchmaking, classes, and public execution aiming to set this online version apart from its tabletop counterparts.
That about does it for this week's MMO Alpha and Beta List. Notice anything missing? Get in touch and we'll take a look!
Find links to everything new to the MMO Alpha and Beta List this week and much more in the list below. Look for this icon:

to see everything we added this week.
Pre-Alpha and Alpha
Games in Pre-Alpha and Alpha are games in early testing, are often under an NDA and require keys to access.
Early Access
Games that are in Early Access tend to require a purchase and/or access to Steam. Anybody can access games in Early Access but builds tends to be unstable as they are still under development.
Closed Beta
MMOs in Closed Beta are those which require a key to participate in, typically for a limited number of people and occurring prior to an Open Beta testing phase.
Open Beta
Open Beta is the phase in which everybody can take part at no cost, with no key required. These days, Open Beta tests tend to be a soft launch with no wipe.
Crowdfunding
MMO and MOBA related crowdfunding events taking place through Kickstarter, IndieGoGo, or open donations through a game's website.
Giveaways
We often have keys and items to give away that either offer access to a game in testing or grant rewards in games still in testing and of course we add these to our MMO Alpha and Beta list.

| | |
| --- | --- |
| MU Legend Closed Beta Key | Giveaway |
| Erectus the Game Closed Beta Key | Giveaway |
| Empire: Revenant Beta Gift Pack | Giveaway |
| Dragonbone Dynasty Open Beta Gift Pack | Giveaway |
| Crystal Saga II Open Beta Gift Pack | Giveaway |
Related:
Alpha
,
Beta
,
Beta Data
,
Closed Beta
,
Crowdfunding
,
Early Access
,
In Development
,
MMORPG
,
MOBA
,
Open Beta
,
Pre-Alpha