Black Desert Online isn't a game known for extravagant holidays. Instead, it's generally identified by its beautiful visuals, amazing character creator, and insane grind. That's not to say that there aren't fun, or profitable, events, but they usually consist of incentivizing players to grind even more or to simply login each day.
Well, this holiday season Black Desert Online has truly stepped up its game for Halloween, which began on October 20 and will end on November 9. There are lots of new quests, free cosmetic items, rare loot, and the entire world has received a spooky, visual update. Of course, with all things BDO, it has its ups and downs.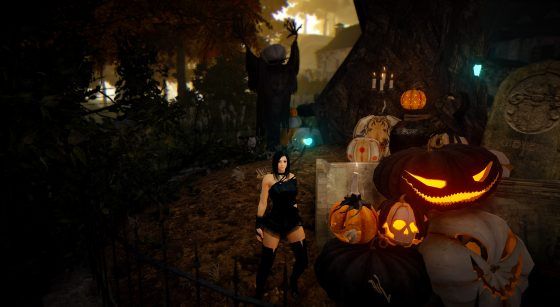 A Plethora of Quests
Currently, there are eight Halloween quests available and three of them are repeatable. One of them is simply to login for two hours each day, which can be completed by just standing around. The others consist of giving candy to orphans, which we'll touch on later, and slaying Pumpkin Ghosts in order to receive Undamaged Pumpkins. After obtaining five Undamaged Pumpkins, Amadeo Alejandro will present you with a Jack-O-Lantern Mask, which is probably the coolest free cosmetic available in the event.
The other five quests are fairly straight forward and incredibly easy to complete with a higher level character. They involve going to some low-level area and slaying a ton of beetles, imps or wolves for items that drop quite frequently. Most of these quests will literally require more travel time than actual work, but each will also give you an exclusive cosmetic item such as a headband or hat.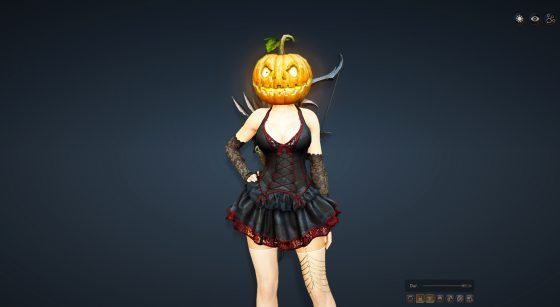 The Bane of My Existence
'Candies for Children' is probably the most frustrating repeatable quest I've ever dealt with in an MMO. It's a level 20 quest that can be completed once a day and requires bringing 3x [Event] Halloween Candy to Lara, the general vendor in Heidel. It's not that this quest is exceptionally difficult or even monotonous, but it's entirely based on RNG and that generally doesn't make for a good time.
According to the quest information, candies can drop off of any mob in the game… or none. I've found the latter to be more accurate. Since starting the event, I've been able to complete the quest 5/7 times. That means on average, I've found about 2 candies per day. Obviously, my play time hasn't been the same each day, but even during the weekend I never found more than four candies per day while consistently grinding.
The most rage-inducing thing about this, however, is that it's not a global issue. There are players in the game that had enough candies drop on the first day to complete the event for its entire duration. I've seen screenshots with players who had hundreds of candies.
Currently, I have 0 in my inventory but not for lack of trying. I've gone through the forums, asked guildmates and friends. Everyone has a different suggestion, but this simply seems to be a factor of RNG not being on my side. The problem isn't just mine, either. Server Chat is full of other players who are barely completing their required amount each day.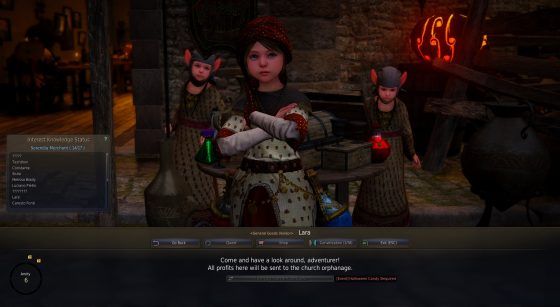 This is a problem that could be easily overlooked if it just provided a small bonus or some minor cosmetic item, but it is literally the most important part of the Halloween event. Completing the quest each day rewards players with an [Event] Halloween Candy Basket that can be combined with the [Event] Halloween Cookie to create the [Event] Halloween Gift Box.
This sounds more complicated than it actually is and only takes a couple of seconds once you have the required items. The [Event] Halloween Gift Box will give the player a random item ranging from Cron Stones to Ogre Rings. More often than not, you'll end up with Memory Fragments or Sharp Black Crystal Shards, but those are at least a few free million silver and I've seen many people receive boss armor drops.
Pearl Items
In addition to all the free events, there are a handful of new cosmetic items in the Pearl Shop. There are a few costumes available for every class and a couple that are class specific. Additionally, there are some very cute pets that are exclusive for Halloween.
The major push from Kakao Games is the Halloween Item Bundle, which includes a Blood Suit, Drifty Ghosphy pet, Skeletal Horse Equipment, Halloween Interior Set, Jack-O-Lantern Mask, and 375 Pearls. It's discounted by 54% (or $45 instead of $98), but it's really only worth it if you want most of the items included.
The Halloween pets include: Drifty Ghosphy, Cursed Looney, Helter-Skelter Ceros, Cushy Mallowmerz, Witch Hat Charlotte, and Neurotic Cabby. If you're after the entire collection, a Halloween Pet Pack is available. Unfortunately, if you want specific ones, only the Drifty, Ceros, and Cushy can be purchased individually, but you can appearance change them with a coupon.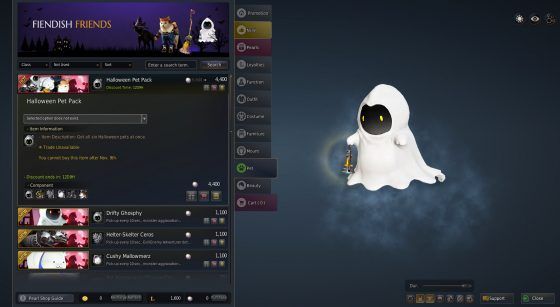 The way Pearl Shop items are being handled is also hit-or-miss. While you can purchase any of the outfits on the Marketplace, pets can only be obtained directly from the Pearl Shop. This means that there's no way to get the new pets without spending cash. This doesn't really make much sense because Pearl items sold on the Marketplace still had to be bought with real money at some point. Kakao wouldn't be losing money if they made the pets available, and strictly free players, or those on a budget, should have equal opportunity if they've got enough silver.
Ambiance
The visual updates for the event were incredibly well done and placed in a way that feel authentic. The Black Desert developers have been very careful about not doing events that would break the game's immersion. Many MMOs go over the top with Halloween and Christmas event decorations, quests, and items. It's refreshing to see a game that manages to meaningfully implement an event while also not making it feel out of place.
Furthermore, if you would like to do some real-life decorating, Kakao is offering prizes for the best pumpkin carvings. Simply post your Black Desert themed creations on their social media platforms for a chance to win Halloween bundles or t-shirts.
Entry for the Pumpkin Carving Contest ends on October 31, but the main event will run until November 9.
Related:
Black Desert Online
,
Event (In Game)
,
Halloween
,
Kakao Games
,
MMORPG