Just in case there was ever any confusion, Christmas is 100% about pure consumerism. And Wildstar gets that, which is why this year's Winterfest celebrates all the the faux-spirit and corporate-driven traditions that make you hate how much you love Christmas. So if you've got some time in-between raid runs or that hearty dose of dailies, you should head toward your corresponding capital city to partake in all the festivities! There's a dungeon to run that'll give you flashbacks to that time you left buying your gifts until christmas eve, a bunch of daily quests to run through for some cold hard cash, and, of course, a tantalizing amount of wardrobe items, flairs, and decorations to collect. Though the event started on the 16th, it runs until the first of January, meaning you have plenty of time to join in on the fun. Let's get shopping!
How Does Winterfest Work?
That's a good question, I'm glad you asked. If you take a break from your intrepid planet exploring and head back to the capital city for your faction, you'll find it festively decorated for the season. Each city also has a new area you can enter that acts as the hub for all things Winterfest. From here, you can take on the new Holi-dailies, easy to beat quests that you can play each day for a small sum of the new festival currency, protocoins. You can also head up to the Supermall-in-the-Sky, a brand new dungeon to run solo or with a group! Once you've earned enough currency, be sure to hit up the festival vendors so that you can buy some sweet costumes, some flairs for your mount, or decorations!
Even better, Winterfest content is aimed to be enjoyed by everyone regardless of level. The quests range from levels 11-15, so even if you're brand new to Wildstar you'll be able to jump into the fun after only an hour or two of leveling!
Supermall-in-the-Sky
Carbine have unveiled a cute new dungeon to run to help you get in the spirit of Winterfest and hopefully earn some nice loot along the way. Though Supermall can technically be completed alone, it's worth mentioning I had a hard time hitting some of the timed bonus objectives, but that could also just be the rum and eggnog. I'll have to drink more to study its effects on my abilities to play games.
Though Supermall is technically a dungeon, you're not going to have to worry all that much about super tough boss—well sort of. It's a rather lighthearted romp through a shopping center complete with challenge rooms that will test your dexterity in various ways. One task pitted me against a group of exploding robots while I had to collect battery packs to recharge depleted toys. Another more infuriating challenge had me navigating several rooms full of meandering bots that shocked me if I got too close causing confusion and scrambling my movement keys. If it wasn't for Christmas cheer, I would've quit right there.
Each of these challenges has timed bonus objectives for you to complete which I found really difficult to hit as a solo player. Most of the objectives revolve around completing the challenges within a certain time frame, but you shouldn't feel all that bad if you miss one or two along the way.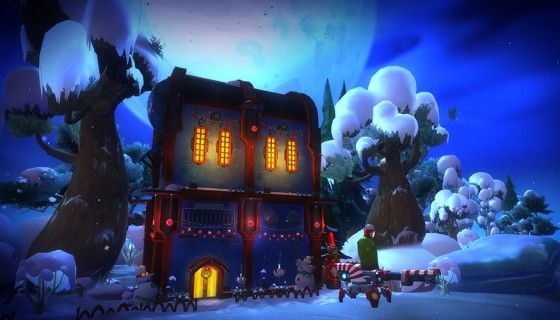 The dungeon culminates in a grueling final showdown against one of the ProtoStar employees and his pesky minions. I know I said I was rusty, but I had an insanely tough time bringing this guy down. I know, I probably suck, but i had to try well over five times before I was finally victorious. The big thing to remember is saving your stuns for his whirlwind attack, which can do a ton of damage if it isn't immediately disrupted. For my trouble, I got a bunch of cosmetic items including a nifty bow I could put on my head. Sadly, it had a cooldown of several minutes before disappearing.
The great thing about the Supermall is that each challenge is randomized, so you should feel free to run it as many times as you can stomach!
Public Events
Once you're done ravaging the Supermall, you could head over to the gardens for the public event that appears there every so often. This one can be pretty tricky, especially if a ton of people show up for it. By tossing snowballs at people riding snow-trons, you can unseat them and take their place. You get some abilities to help stave off the snowy onslaught, but eventually you'll get taken down and need to unseat someone else.
Holi-Dailies
Like I mentioned above, there's a bunch of quests you can complete every day for a chance as the event cash you can spend on various items. There's 8 different quests, but not all of them are active every day so you'll want to check in at least once every 24 hours.
The quests themselves aren't anything terribly exciting, but they're also not a drag to complete. With a little time and some careful planning, you can easily rush through them in a few minutes, leaving you plenty of time to get back to your regular schedule.
Commercial Caroling is a quest I'd caution just avoiding altogether as it requires you to either have a bunch of alts or interact with all your housing plot neighbors. You'll need them because each of the item you purchase for the quest is a different color and you need to interact with several of them in order to complete the quest.
Home is Where the Eggnog Is
Be sure to pop by the housing vendor on your housing plot to take a gander at the new items for sale which aren't available from the event vendor located in the city. It's nothing terribly exciting, but if you've always dreamed of living in Who-ville, where it's Christmas all year round, this might be worth checking out.
Mount Up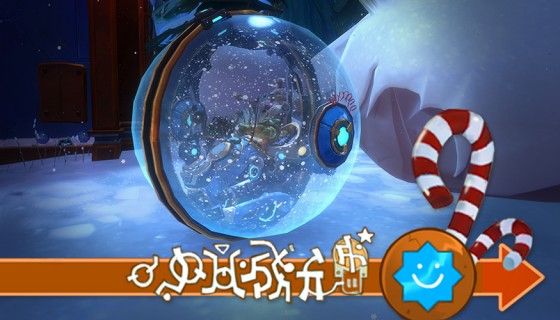 In addition to the free items you can purchase with enough event currency stored up, the cash shop also got some nifty things that might be worth picking up if you have some spare NCoin or Omnibits hanging around and aren't sure what to do with them.
The Twelve Days of Winterfest
Starting on December 18th and ending on the 29th, NCsoft will be giving away a bunch of super exclusive items each day. The best part is, you don't have to do anything but log in once per day in order to be entered in for the contest!
Each of the twelve days means one extra person per giveaway will win leading up to 12 winners on the final day. So while the odds might not really be in your favor, if all it takes is logging in once a day you really don't have any excuse. On the final day, 12 people will be winning a huge stack of in-game prizes that would be amazing to have, especially the "Papa" Phineas Costume.
Until Next Year
And that just about warps up Winterfest! It might not be the most exciting winter event happening in an MMORPG, but there's enough going on that it absolutely warrants taking a few minutes each day to engage with it. And, even if the quests aren't all that exciting, the rewards are fun enough that you'll regret not taking the time to grind them out once it's gone.
So what are you doing sitting around here for, go log into Wildstar and check out Winterfest! Oh, you don't play Wildstar? Well you do now.
Related:
Event (In Game)
,
Wildstar
,
Winter Event