For new players, World of Warcraft's 12 classes and 36 specialization can get a little daunting to pick from. Here at MMOGames, we have created a guide to help beginners pick what classes they want to explore the world of Azeroth with, in a single and easy to understand guide. These guides are designed for ABSOLUTE beginners to the game and as such will be not go into great detail about classes and specs that some of the more seasoned players might want. So here is our World of Warcraft Beginners Guide: Classes and Specializations Part One.
Short Glossary
Melee Damage: Classes that specialize in close quarters combat.
Ranged Damage: Classes that specialize in damage from a distance.
Area of Effect (AoE) and Single target: Dealing damage or healing to either a wide area or a single target.
Sustained damage vs Burst damage: Sustained damage relates to doing steady damage over a larger amount of time while burst damage relates to doing a high amount of damage but in a very short time window. While sustained is better on longer fights with less target switching, burst tends to be better when sudden high damage is needed to quickly defeat an additional foe.
Crowd Control: Controlling the movement or abilities of enemy players and Monsters.
Maneuverability: How well your character can move in combat or cast spells in combat.
Survivability: Being able to withstand or evade attacks.
Solo Ability: Power when out of group content.
Class Types
Tank: Defend allies by forcing enemies to attack them, Can absorb heavy damage buy deal much less than a damage dealing spec.
Damage Dealer (DPS): Attack enemies with powerful spells and abilities. Deal high damage at the cost of taking more damage and having very limited healing.
Healer: Replace missing health of yourself and your allies and reduce damage taken. Usually have the lowest damage of any of the specs, powerful in groups, less so by themselves.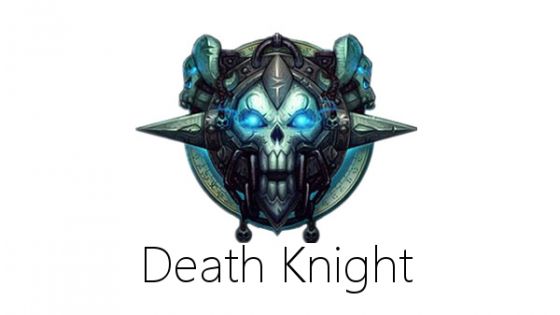 Class Difficulty: 1
Resources: Runic Power, Runes
Armour Type: Plate
Races: All except Pandarens
Roles: Tank, Melee Damage
Once proud warriors of the Horde and Alliance, the Death Knights of Acherus were raised from the dead to fight for the Lich King in his assault against the living. Before they could be used as weapons, with the aid of the Highlord of the paladins Tirion Fordring, they broke free of his control and rejoined their factions to defend the world they call home. They are cold and unrelenting killers that blight the land they walk on.
Death Knights are one of the easier classes to play whose power is based around building Runic Power by spending 6 recharging runes to cast their unholy blights. One of the more simple classes to play well but still requires skill in harder content.
Hero Class: This class starts at level 57 but requires you to finish a scenario in order to play other content.
Frost
Type: Melee Damage Dealer
Weapons used: One handed Swords, Axes and Maces
Strength: Single Target damage
Weakness: Low Movement and weaker AoE than unholy
Frost is a whirling ball of frozen death, devastating opponents with powerful attacks that affect single and groups of enemies. Frost has powerful single target attacks and good AoE. although still behind holy, and it is perhaps the easiest of all melee classes to play well.
Blood
Type: Tank
Weapons used: Two-handed Swords/Axes/Maces, Polearms
Strength: High self-healing and absorption
Weakness: Low incoming damage reduction
Primary Stat: Strength
Blood absorbs the damage of an enemy and strikes back with the power of blood magics. By spending runes and earning runic power, blood death knights are able to heal themselves as well as passively reduce damage. Can be powerful when in smaller groups or alone, but in higher end content they lack the passive damage reduction of other classes.
Unholy
Type: Melee Damage
Weapons used: Two-handed Swords/Axes/Maces, Polearms
Strength: Master of all trades, jack of none.
Weakness: Low movement, little else.
Primary Stat: Strength
Unholy Death Knights are the masters of disease and agony, able to control undead ghouls and infect the bodies of their enemies. Unholy is able to deal high burst, sustained and AoE damage with almost any talent set. By infecting others with diseases they are able to empower their controlled undead hordes and spread their infections to groups of enemies with ease. At the time of writing, Unholy death knights are the most powerful spec in the game, albeit with weak movement skills.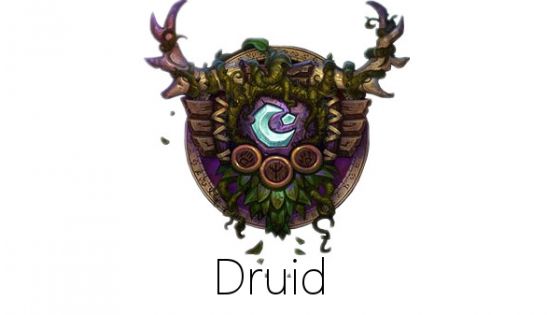 Class Difficulty: 3
Resources: Mana, Rage, Energy, Eclipse
Armour Type: Leather
Races: Night Elves, Trolls, Worgen, Tauren
Roles: Tank, Healer, Damage
Primary Stat: Strength/Stamina
Taught by the demigod Cenarius, Malfurion Stormrage learned to use the power of nature itself to heal and combat the forces that seek to undo all creation. Eventually teaching the Worgen as well as, to the anger of many, the Trolls and Tauren of the Horde, Druids seek to protect and learn of the world itself.
Druids are able to use the powers and creatures of the natural world to channel powerful spells to damage, heal or transform themselves into the beings of Azeroth's wilds. Easily the most diverse of all the classes in WoW, Druids are the only class to have 4 specializations to pick from. One of the harder classes to pick up and master, Druids are also able to perform tasks granted to other specializations via their talent trees.
Guardian
Type: Tank
Weapons: Polearms, Staffs, Daggers, Fist weapons, Maces
Strength: High health and increased healing taken
Weakness: Lower passive damage reduction
Primary Stat: Agility/Stamina
Guardian druids are able to transform into powerful bear forms in order to control and absorb damage from enemy attacks. By building up their rage from damaging their opponents, they are able to unleash back the damage to their foes or protect themselves.
Feral
Type: Melee Damage
Weapons: Polearms, Staffs, Daggers, Fist weapons, Maces
Strength: High single target damage
Weakness: Low AoE damage
Primary Stat: Agility
Druids that are masters of the powerful cat form. Feral druids hide in the shadows before rending and tearing their enemies flesh. They spend their slowly regenerating energy building combo points on an enemy before using them on devastating attacks.
Restoration
Type: Healing
Weapons: Polearms, Staffs, Daggers, Fist weapons, Maces
Strength: Movement and strong healing over time spells
Weakness: Weaker burst healing
Primary Stat: Intellect
Masters of nature, Restoration druids use the energy of the earth itself to heal their allies in combat. Masters of the slow healing over time spells, Resto druids are able to heal on the move and to a wide range of players at once at the cost of some of the more powerful heals of others of their specialization.
Balance
Type: Ranged Damage
Weapons: Polearms, Staffs, Daggers, Fist weapons, Maces
Strength: Good mix of AoE and Single target
Weakness: Low Raid utility
Primary Stat: Intellect
Able to take the form of the powerful owl beast Moonkins, balance druids use the cycles of the moon and the sun to blast opponents with powerful spells building up Eclipse to deliver devastating attacks that further empower their spells. One of the more difficult ranged classes to learn.

Class Difficulty: 1
Resources: Focus
Armour Type: Mail
Races: All
Roles: Damage
As long as there have been mortal beings there have been hunters. Masters of tracking and killing, hunters use their own skill and traps as well as the power of their animal companions to take down their quarry.
Masters of ranged, and now melee with the newly updated survival spec, hunters offer a powerful mix of damage and survivability. They are able to move about with ease and damage their opponent as well as use their pets to tank and damage for them. Hunters are by far the most beginner friendly class in WoW history.
Beast Mastery
Type: Ranged Damage
Weapons: Guns, Crossbows, Bows
Strength: High AoE and solo ability
Weakness: Damage reliant on AI-powered pets
Primary Stat: Agility
Beast Mastery hunters (BM hunters) use their pets to deal damage and control their enemies. While doing a good amount of damage with their ranged weapons, BM hunters rely heavily on their pets to do the bulk of the fighting for them. This means that their pets are the most powerful companions of any class in the game beating out even the Demonology warlock but at the cost of losing a bulk of their damage should anything kill the animal. BM Hunters have a good range of single-target and AoE abilities and possibly the highest solo ability of any non-tanking spec in the game. But be warned, pets can be tricky to control due to bad pathing and AI, and they can, if the player does not keep an eye on them, charge into packs of enemies or simply run out of range and despawn.
Marksman
Type: Ranged Damage
Weapons: Guns, Crossbows, Bows
Strength: Strong single target and AoE damage
Weakness: Weaker solo ability, reliant on chance buffs
Primary Stat: Agility
The snipers of Warcraft, Marksmen hunters (MM hunters) work by building up debuffs to unleash burst damage to a target from range. Although MM hunters are given a pet, the bulk of their damage comes in the form of their various devastating ranged attacks. By building focus with a select few spells the hunter can spend it on more powerful enemies. MM hunters can also disable their pet entirely, sacrificing some solo ability and healing in order to deal more damage personally, also enabling the player to not have to babysit the little AI-powered idiot.
Survival
Type: Melee Damage
Weapons: Polearms, Staffs
Strength: High single target
Weakness: Low AoE
Primary Stat: Agility
Survival hunters (SV Hunters) are the new Melee spec added in 7.0 for hunters, they use powerful flanking melee strikes from both themselves and their pets to counter enemies as well as now being the only spec of hunters able to drop traps. SV hunters have the best crowd control of any melee spec and also have incredible single target burst damage ability but at the cost to their AoE. Playing a SV hunter, unlike the other 2 specs, is actually quite difficult at first and suffers the most if played by an unskilled hand.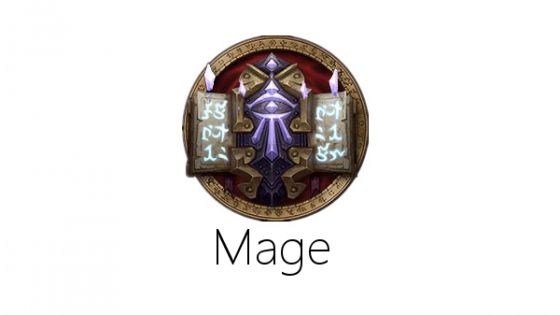 Class Difficulty: 2
Resources: Mana
Armour Type: Cloth
Races: Human, Draenei, Worgen, Gnome, Dwarf, Night Elf, Orc, Troll, Goblin, Blood Elf, Undead.
Roles: Ranged Damage
Since the titans, there have been mages. Powerful beings able to craft order from chaos. The arcane, power source of the titans was taught to the mortal races long ago. A deep and complex form of cosmic mathematics, the craft of the arcane can be used to do and create great things, as well as destroy. Prone to destruction if left unchecked, Magic in the form used by mages can be the most beautiful and terrifying thing in all creation, with its users responsible for acts like levitating an entire city to defend a continent to being abused to the point that it almost brought damnation to the very world itself. Though the risk is great, the likes of the Kirin Tor, and the remains of the Blue Dragonflight with it's leader Kalecgos, work tirelessly to keep order in the arcane and keep its myriad of spells aimed firmly at the enemies of Azeroth.
The original glass cannons, The mage sacrifices nearly all forms of healing and survival for powerful damaging abilities. Although frost, with its powerful crowd control abilities, does has some survival abilities. Most of the time a mage is at the whims of their ability to control and kite monsters when playing alone. While they are hard to learn, mastering a mage can lead to unbeatable damage in group play. Mages regularly topped the overall damage lists in past expansions, but at the same time they can be easily countered if played wrong.
Arcane
Type: Ranged DPS
Weapons: Offhand items, Staff, Wand, Dagger, One-handed Swords
Strength: Single target burst
Weakness: Survivability and AoE
Primary Stat: Intellect
Arcane mages excel more than perhaps any other at single target burst damage. By building up arcane charges that increase the damage and cost of their spells, they have the option to either play steady, limiting damage to conserve mana or simply go all out rapidly depleting their mana reserves to increase their damage to a staggering degree. Through this careful use of their arcane abilities and judgement on when to conserve or burn mana, the Arcane mage can be a powerful tool when steady or high burst damage is needed at different times. Arcane mages pay for this, however, with much weaker AoE of the mage specs and perhaps the worst survivability of any class in the game with zero self heals and only a rapidly broken shield to protect them.
Frost
Type: Ranged DPS
Weapons: Offhand items, Staff, Wand, Dagger, One-handed Swords
Strength: Crowd Control and Burst
Weakness: AoE and Sustained damage
Primary Stat: Intellect
Frost mages have by far the greatest survivability and crowd control of any other mage. Focusing on slowing and freezing their enemies, frost mages deliver quick bursts of high critical damage by freezing opponents and relying on random buffs to occur. Frost mages deal in high burst damage but at the cost of larger amounts of AoE and lower sustained damage if your luck is poor. Still, when playing alone, no other mage spec can top the frost mage in regards to control.
Fire
Type: Ranged DPS
Weapons: Offhand items, Staff, Wand, Dagger, One-handed Swords
Strength: Burst damage and AoE
Weakness: Survivability and poor AoE with spread enemies
Primary Stat: Intellect
Fire mages work by setting the world on fire. Using single target spells to build up rolling damage on their targets, fire mages are then able to spread the effects of that damage to multiple targets. Good at both sustained and burst AoE and single target damage, fire can pack a powerful punch to large stacked groups of enemies, but they lack in power when they find their quarry spread over a Distance. While scaling well with their gear, they lack a punch with weaker items are worn.

Class Difficulty: 3
Resources: Chi, Mana, Combo
Armour Type: leather
Races: All
Roles: Melee Damage, Tank, Healer
When the Mogu enslaved the Pandaren millennia ago, banning all forms of weapons to avoid their slaves from rising up against their captors, one Pandaren sought a way to break free from his chains. Learning the art of unarmed fighting and hiding it as a dance, Kang soon taught his method to other Pandaren, teaching them to fight back against those who would enslave them. Although sacrificing himself to free his people from a life of bondage, his way of peace would spread through Pandaria stopping the former slaves from seeking revenge and bringing balance to his people. With the mists vanishing from its shores, the Pandarens seek to teach the races of Azeroth the ways of Kang and of the monk.
Easily the most mobile class in the game (besides the Demon Hunter), Monks excel in movement, rapid attacks and defense. One of the harder classes to learn and play, Monks require a deep knowledge of their skill set in order to play at peak performance. Although when mastered, they are powerful beings indeed.
Windwalker
Type: Melee Damage
Weapons: Fist Weapons, Swords, Axes
Strength: Movement and Sustained damage
Weakness: Skill ceiling
Primary Stat: Agility
Windwalker monks build combo points by spending chi on their tiger fist ability. Although easy at a glance, in order to be played to the most of their ability, they require the knowledge to switch between spells and abilities almost in a rhythmic rotation. Nothing else in the game, with the possible exception of the demon hunter, can touch them on their ability to move freely around the map.
Brewmaster
Type: Tank
Weapons: Staffs, Polearms
Strength: Movement
Weakness: Low Passive damage reduction and high skill ceiling
Primary Stat: Agility/Stamina
Rather than avoiding damage in a way that other tanks would, Brewmasters absorb some of the incoming damage causing a portion of it apply as a damage over time spell on themselves, which they can then purge off themselves of at cost. Brewmaster Monks are one of, if not the hardest, tanks to learn in the game but can also be the most fun as well. A well-skilled Brewmaster can be a powerful thing indeed.
Mistweaver
Type: Healer
Weapons: Staff
Strength: Movement, jack of all trades
Weakness: Master of none, mana heavy if played at peak
Primary Stat: Intellect
Mistweavers are a dual role healer able to switch between single target and multi-target heals, but they struggle to cope with both at the same time due to the large mana costs involved. Due to the monk's powerful movement abilities, Mistweavers are able to move around and relocate much quicker than any other healer, proving to be powerful in movement intensive fights.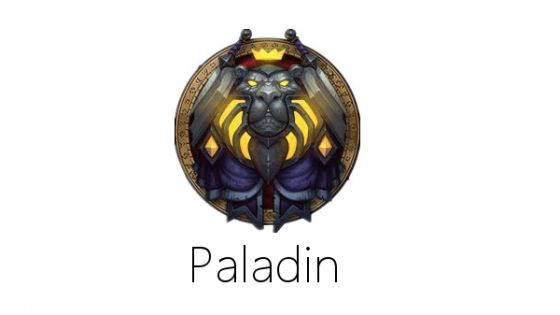 Class Difficulty: 1
Resources: Mana, Holy Power
Armour Type: Plate
Races: Human, Dwarf, Draenei, Blood elf, Tauren.
Roles: Melee Damage, Healer, Tank
When the Horde armies invaded Azeroth, a group of human warriors and priests bound together in order to use the light to combat their new demonic foe. Using their magics to bring strength and power to themselves and their allies, Paladins use the holy light to guide their hands and their blades. Although Humans and Dwarfs look to the holy light for their power, the paladins of the Draenei and blood elves gain their might from the legendary beings of light, the Naaru. But more recently, the noble Tauren looked to An'she, the sun, to power them in ways similar to how the earth mother always had. From this small band of Tauren, the newest paladins, the Sunwalkers emerged.
Paladins are one of the most versatile of all the classes, able to both damage, heal and survive at the same time. Clad in the game's strongest armor and equipped with powerful defensive shields, they are formidable in battle and incredibly hard to kill. Paladins are one of the easier classes to play, with strong self-healing and damage when questing, although getting the most out of your paladin will take time.
Retribution
Type: Melee Damage
Weapons: Two handed Sword/Maces/Axes, Polearms
Strength: High Burst Damage and group buffs
Weakness: Reliant on luck and low sustained damage
Primary Stat: Strength
Retribution paladins use the power of the light to smash their enemies. Using spells to build holy power within themselves, they then unleash that power with a series of powerful attacks that use their resource to work and by using the spell Judgement to increase the damage these attacks cause. With the aid of their shields, they are able to survive attacks that would kill almost any other class. They are also one of the few classes that can buff others, as well as themselves, increasing damage, regeneration or shielding others. They have powerful burst damage but are sometimes unreliable in sustained damage and have some of the weakest movement abilities.
Protection
Type: Tank
Weapons: Shields, One handed Swords/Maces/Axes
Strength: Extreme passive damage reduction, easy to play
Weakness: Simplistic play style
Primary Stat: Strength/Stamina
Protection paladins use the power of the light to reduce all incoming damage. Able to use powerful damage reducing spells as well as block a considerable portion of incoming melee damage with their shield, paladins take perhaps the least pure damage of all the tanking classes but at the cost of much of its old self-healing. By far the easiest of all the tank classes to play, protection suffers from being on the boring end at higher level of play, but it is also one of the most powerful as well.
Holy
Type: Healer
Weapons: Shields, Offhand, One-handed Sword/Maces/Axes
Strength: Highest single target healing
Weakness: Weak group healing
Primary Stat: Intellect
Holy paladins are powerful single target healers able to deliver huge amounts of healing in a very short time. Default tank healers in raids, paladins have one of the widest arrangement of tools in regards to healing and reducing damage taken by their targets. The Holy Paladin, however, suffers from a lack of group healing and movement abilities. They have some of the highest survivability of any healer.
Stay tuned for our World of Warcraft Beginners Guide: Classes and Specializations Part Two!
Related:
Blizzard Entertainment
,
Guide
,
MMORPG
,
World of Warcraft