Recently I have seen a lot of questions regarding the new Allied Races. No matter which forum I visit, there are multiple posts with all types of questions. So let's take this WoW Wednesday to hopefully answer all your questions regarding the new Allied Races in World of Warcraft.
Let's start off with the basics: Horde and Alliance will both be getting 3 new races. Each faction will have to recruit these specific races through a series of quests that will explain why these races decided to join your faction. Upon completion, you will be able to either race change or create a brand new character of that race, which starts at level 20. If you level one of these races from 20 to level 110, you will unlock a set of Heritage armor that you can only transmog on that specific Allied Race, regardless of armor type.
So if, for example, you level a Lightforged Draenei from level 20 to level 110, you will unlock their Heritage armor and even though the Lightforged Draenei Heritage armor looks like plate you can still transmog it as a Mage, as long as your Mage is a Lightforged Draenei and you've unlocked the armor. Now let's go over the specific Allied Races starting with the Horde.
Highmountain Tauren – Horde
Highmountain Tauren can already be seen in Highmountain. These Tauren have massive horns and tribal painting, both of which are customizable.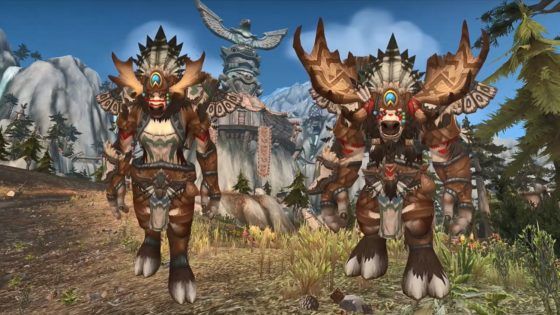 Playable Classes
Warrior
Hunter
Shaman
Monk
Druid (Note: They keep their Highmountain horns in their bear and cat forms, get a new eagle flight form and a moose travel form.)
Racials
Pride of Ironhorn – Mining skill increased by 15 and allows you to mine faster
Mountaineer – Increase your Versatility by 1%
Rugged Tenacity – Reduces damage taken by 330
Waste Not, Want Not – You have a chance to loot additional meat and fish
Bull Rush – Charges forward for 1 sec, knocking enemies down for 1.5 sec. 2-minute cooldown
The Highmountain Tauren also receive a moose racial mount named Highmountain Thunderhoof.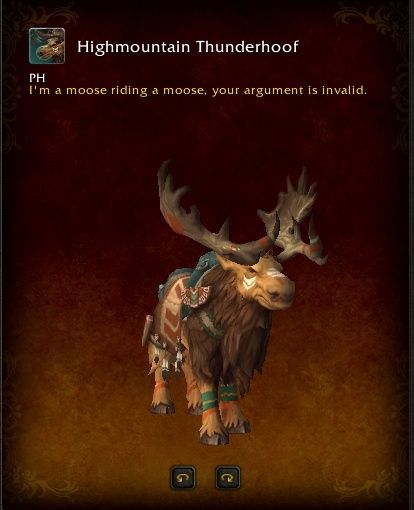 Nightborne – Horde
Most should be familiar with the Nightborne after questing in Suramar and doing the Nighthold Raid.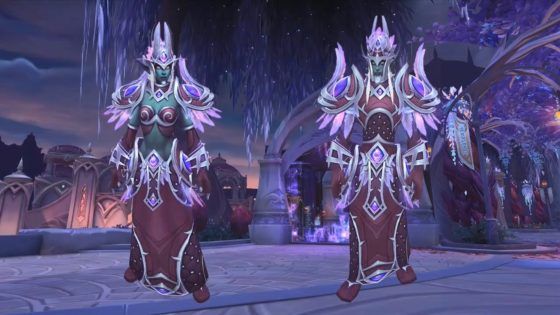 Playable Classes
Hunter
Mage
Monk
Priest
Rogue
Warlock
Warrior
Racials
Ancient History – Inscription skill increased by 15
Arcane Affinity – Increases magical damage 1%
Cantrips – Conjure up an Eldritch Grimoire, allowing you mail access for 1.5 minutes
Dispel Illusions – Draw upon your arcane sight, piercing illusions and invisibility within 15 yards
Magical Resistance – Reduces magical damage taken by 1%
Masquerade – Shroud yourself in illusion, taking on the appearance of another Nightborne
The Nightborne receives a racial mount named Nightborne Manasaber.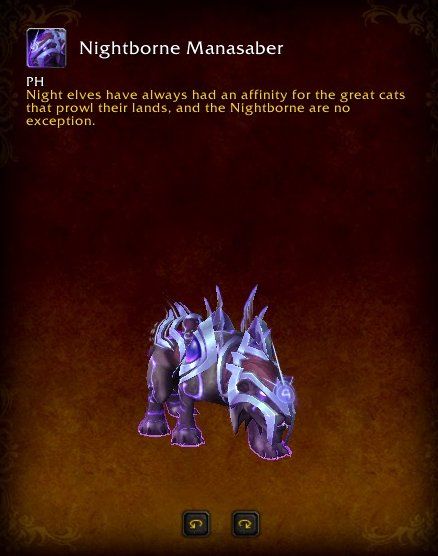 Lightforged Draenei – Alliance
This Allied Race can currently be seen fighting demons on Argus.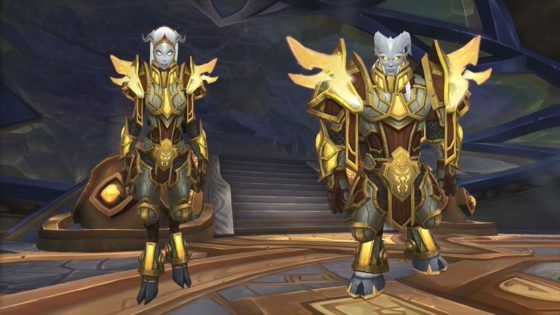 Playable Classes
Hunter
Mage
Paladin
Priest
Warrior
Racials
Light's Judgement – Call down a strike of Holy energy dealing 5,150 Holy damage to enemies within 5 yards after 3 sec 40 yd range, 5-minute cooldown
Forge of Light – Summon a forge of light, enabling Blacksmithing. Blacksmithing skill increased by 10
Demonbane – Experience gains from killing demons increased by 20%
Holy Resistance – Reduce Holy damage taken by 1%
Final Verdict – When you die the Light avenges you, dealing 1,162 Holy damage to enemies within 8 yards and healing allies for 1,383
Lightforged Draenei receives a racial mount named Lightforged Felcrusher.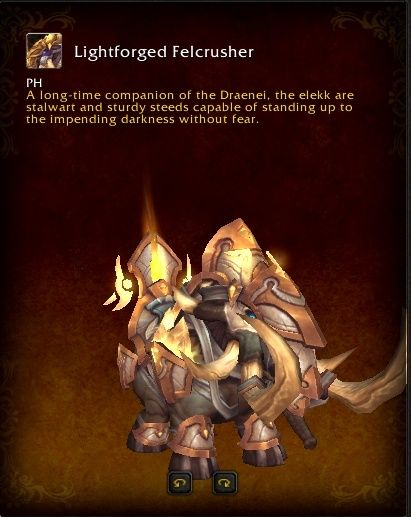 Void Elves – Alliance
Void Elves are new to World of Warcraft. Currently, the only one we have seen is Alleria Windrunner.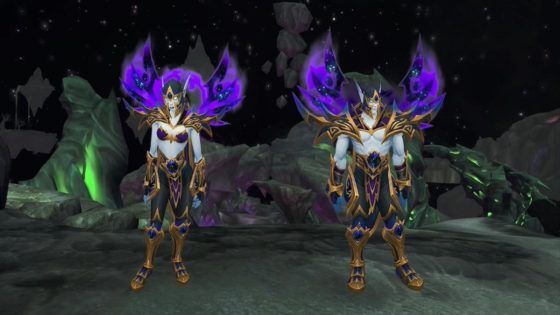 Playable Classes
Hunter
Mage
Monk
Priest
Rogue
Warlock
Warrior
Racials
Chill of Night – Reduces Arcane and Shadow damage taken by 1%
Entropic Embrace – Your abilities have a chance to empower you with the essence of the Void
Ethereal Connection – Reduces the cost of Void Storage and Transmogrification by 50% (Best racial ever)
Preternatural Calm – Your spell casts are not delayed by taking damage
Spatial Rift – Rip a rift in space and time. Reactivate this ability to teleport through the rift
Void Elves get possibly the coolest racial mount named Starcursed Voidstrider.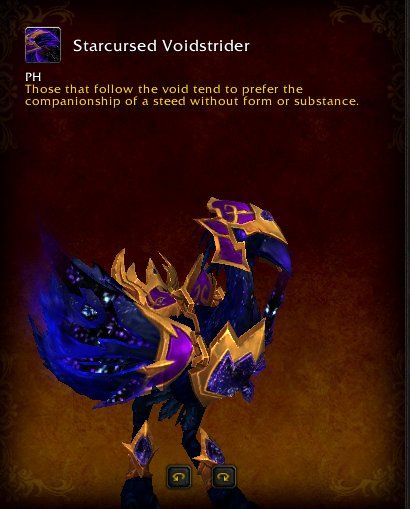 Zandalari Trolls – Horde / Dark Iron Dwarves – Alliance
Sadly we don't know anything about either of these Allied Races at the moment. Hopefully, we find out more about these two races soon. It's hard to contain my excitement when it comes to straight back Trolls. The only thing datamined on the Dark Iron Dwarves were their racial names:
Dungeon Delver
Fireblood
Forged in Flames
Mass Production
Mole Machine
Most of what we know about these Allied Races have come from the current PTR build giving us all of this information on all but two of the Allied Races, leaving many to believe that we will be receiving Allied Races in Patch 7.3.5 instead of having to wait until Battle for Azeroth, but leaving the Zandalari Trolls and Dark Iron Dwarves for the expansion. I think it would be best to release at least the first four Allied Races in the upcoming patch. It will give a lot of extra content for players to get involved in. Patch 7.3.5 is also changing how leveling works in Azeroth, making every zone scale and what better time to release these new races that need to be leveled!
Final Words
I am personally pretty excited about these new Allied Races. I'm beyond happy that Blizzard decided to give us multiple races instead of just one at a time, and they even announced that more will come in the future! I love the idea of the Heritage Armor, even though they are making you level all over again to get it. I already have every class at or close to max level, but I will still be more than happy to level these races for that beautiful Heritage Armor.
If I have left anything out of this week's WoW Wednesday, or if you have any questions about the new Allied Races in World of Warcraft, please feel free to let me know in the comments down below.
Related:
Blizzard Entertainment
,
Column
,
MMORPG
,
Races
,
World of Warcraft
,
WoW Wednesday