The Xbox E3 2016 press conference wasn't quite the insane hype train it usually is, but that doesn't mean it didn't have some fantastic moments. The big theme across the entire event was cross platform play. From Gears of War 4 co-op across Xbox One and Windows 10 to a friendly update to Minecraft that allows friends to meet up no matter which platform they're on. We've picked out the multiplayer highlights for you and put them below. Unfortunately, many of the multiplayer games shown were just videos with no one presenting them. In those cases we've simply included the trailer. Keep an eye out on MMOGames for more information on those games later.
Gears of War 4
The big news from Gears of War 4 was that the co-op and horde mode would both be cross platform allowing players on Xbox play with those on PC. This was the first title announced and one that shaped the cross platform, play the way you want to play theme for the rest of the press conference.
Xbox Live Social Features
Playing into the theme of play the way you want Xbox Live is adding new social features. They include clubs which allow like-minded people to gather and talk with each other, Looking for Group which is exactly what it sounds like, a tool to find people to play with, and finally for the more competitive types there's Arena. Arena will allow players to take part in tournaments from Xbox Live that are hosted by some of the biggest names in the industry.
Minecraft
It wouldn't be an Xbox press conference without the presence of Minecraft. Last year we were wowed with Minecraft on the Hololense but this year it was all about making Minecraft a little more friendly. With the Friendly Update you can bring your friends into Realms, where they can build with you even while you aren't online. And of course, it's cross platform. They showed off what it would look like on Surface, Gear VR, and more. That wasn't all Mojang had up their sleeves though, coming this Fall Minecraft is introducing add-ons. They finished up with a tease saying they would be announcing more at Minecon.
Gwent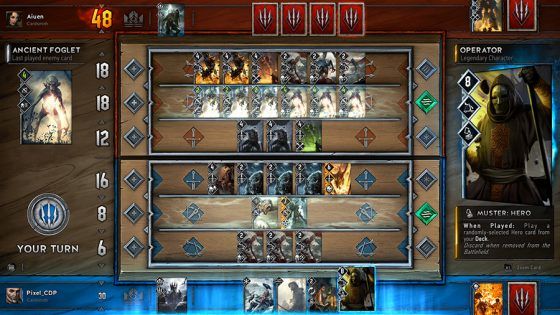 Fans of The Witcher 3 have been begging CD Projekt Red for Gwent to be a standalone game and it turns out they have been secretly working on it for months now! It will primarily be multiplayer but you will also be able to play single player campaigns. It's another title that will allow cross platform play. Perhaps the best news of all is that the multiplayer closed beta is starting this September and you can already register to take part on the official Gwent website.
Project Scorpio
The press conference then ended with perhaps the most exciting announcement of them all, the reveal of the next part of the Xbox family, Project Scorpio. It is set to be the most powerful console ever built, ready for VR, and 4k capable. The current projected launch date for Project Scorpio is the holiday season of 2017.
Related:
Gears of War 4
,
Gwent
,
Minecraft
,
Project Scorpio
,
Recore
,
Samsung Gear VR
,
The Division
,
The Witcher 3
,
Tournament
,
Update
,
Virtual Reality
,
Xbox One