Yep, you read that right. Dino-ween. A dinosaur-themed Halloween event is coming to ARK: Survival Evolved as the lush jungles of the survival sandbox transform for the Fear Evolved 2 event.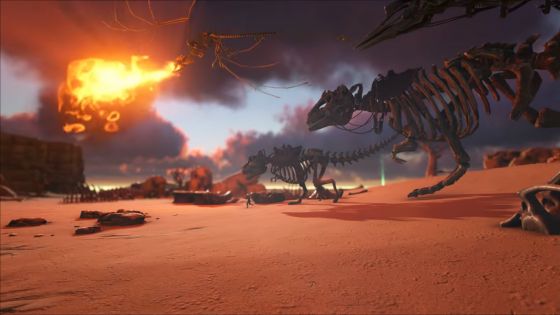 Fear Evolved 2 brings shorter days and longer nights to the game of ARK, along with other changes to the landscape such as pumpkin patches, graves and scarecrows. Not to mention the gigantic Skelesaurs, Dodo-Rexes and Zombie Dodos roaming the land.
In addition to huge skeletal dinosaurs stomping about, players can further get in to the season by collecting loot drops like witch hats, Dodo-Rex helmets and clown masks. Players of the Scorched Earth expansion will also have the extra "treat" of the DodoWyvern and VampireEyes creatures to contend with.
ARK turns up the spoopy starting today, October 28th through November 1st. Those who want to join in on the fun can take advantage of a 50% discount on the base game and 30% discount on the Scorched Earth expansion on Steam.
A trailer showing off the event's shenanigans can be viewed below.
Our Thoughts
You know what? There's something completely amazing about an event this thematic. Usually ARK doesn't seem like the sort of game that would indulge in such unashamed silliness, but we love the fact that it does. After all, being able to watch huge skeletal dinos roam the earth is certainly something different!
Your Thoughts
How do you feel about the Fear Evolved 2 event? Is this something you'll be joining in on, or does the whole thing seem a little too silly? Give us your thoughts below.
Source: press release
Articles Related to ARK: Survival Evolved
Custom ARKs and New Dinos Arrive in ARK: Survival Evolved v248
ARK: Survival Evolved Mounted Weapon Use Coming in v248
ARK: Survival Evolved Free Update Adds New Map, Creatures
Related:
ARK: Survival Evolved
,
News
,
Seasonal Event
,
Survival