Studio Wildcard is seeking to make ARK: Survival Evolved the most "content-rich hunk of dino-tainment available" according to its recent press release. To that point, ARK patch 255 will be adding more creatures and a few new TEK tier structures to the sandbox MMO.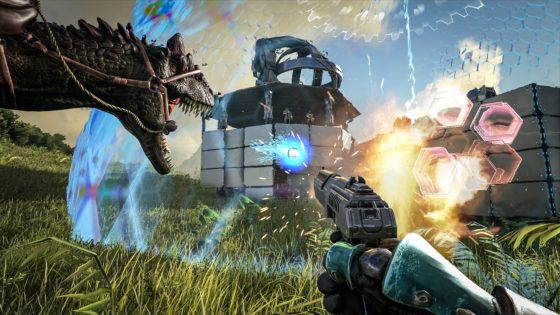 The new creatures include Electrophorus Beluadomito, an electrically-charged type of knifefish; Microraptor Gnarilongus, an incredibly aggressive hunter; Ammonitina Multiamicus, an undersea nautilus whose harvested resources can prove to be extremely valuable; and Thylacoleo Furtimorsus, AKA the marsupial lion, a feline creature that climbs trees and leaps down on its prey.
Patch 255 will also bring about some new TEK structures for the end game, including a TEK Forcefield that creates an impenetrable shield and futuristic TEK Autodoors. New Explorer Notes, a couple of new cosmetic options, and a host of server improvements are also being introduced.
The new update is now live for the Steam version of ARK: Survival Evolved. You can check out the features of the patch in the video below.
Our Thoughts
As if things weren't precarious enough in ARK, now we have to worry about prehistoric cats landing on us from the trees? At least they can't get through the TEK Forcefield. Overall, this new update does look like a lot of fun and we're excited to try it out!
Your Thoughts
How do you feel about ARK patch 255? Are you eager to hunt down the new creatures, or are you already planning on crafting the new TEK buildings? Let us know in the comments.
Source: press release
Articles Related to ARK: Survival Evolved
Free Survival Evolved Update Adding ARK TEK Tier Gear
Custom ARKs and New Dinos Arrive in ARK: Survival Evolved v248
ARK: Survival Evolved Free Update Adds New Map, Creatures
Related:
ARK: Survival Evolved
,
News
,
Sandbox MMO
,
Update