The first round of Early Access testing for Armored Warfare goes live tonight, lasting until June 3rd, and more than 1 million gamers have signed up to be a part of the event. Senior Producer Joshua Morris has given us a preview of what to expect.
First thing to remember is that "stuff will break." This is a very early test for Armored Warfare and with many things still not being final, that's okay. The more broken things found early on, the smoother the live game will run. As such, players are reminded that game servers may go down, login servers may go down, you may experience latency, there are no client optimizations just yet so lower end machines will struggle, vehicles might not be balanced, some parts of the UI might not work, basically – Armored Warfare is in an early testing stage and is not the finished product. This testing process allows Obsidian Entertainment to optimize the game based on the playerbase's direct feedback.
"We would like you to think of yourselves as testers, your feedback is very important and will impact the final product. Please use the forums to report any issues you discover or suggestions you may have."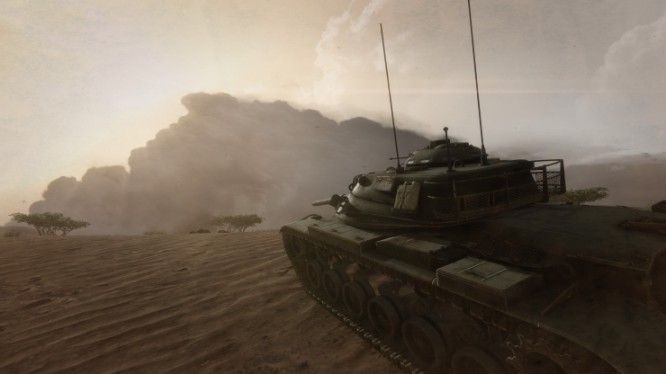 Testing times will be 8pm – 11pm ET on weekdays and 7pm – midnight ET on weekends for the US server, and 6pm – 9pm CEST on weekdays and 5pm – 10pm CEST on weekends for the EU server. Players can participate on both servers if they wish to though progress is separate.
So what can players expect from this first round of Armored Warfare's Early Access testing?
38 vehicles from multiple countries of tiers 1 to 6 (including 11 MBT's, 4 light tanks, 5 tank destroyers, 13 AFV's and 5 SPG's)

4 PvP maps (Cold Strike, Port Storm, River Point and Ghost Field)

Updated artillery system (including new point of view, counter-battery indicator and incoming artillery warning)

Commander and crew skills

Multiple tank upgrades (including smoke grenades and ERA)

Two tank dealers (Sofie Wolfli and Marat Shishkin)

Wide range of shells to use against your opponents

A clan ("battalion") system and a platoon system

Achievement system (for excellent performance in combat)
Register here now to be in with the chance to be selected to join Early Access for Armored Warfare or purchase one of the game's Founder's Packs.
Source: Armored Warfare Producer's Letter, Press release
Related:
Armored Warfare
,
Early Access
,
Event (In Game)
,
News
,
Obsidian Entertainment
,
Shooter
,
Vehicle Combat
,
Video