Today marks the official start of Battlerite Season One, which basically means the game's PvP brawling is getting super serious. Or it's not. In either case, there's new rewards to earn for devotees of the MOBA-style combat pit and even a new entry to the roster.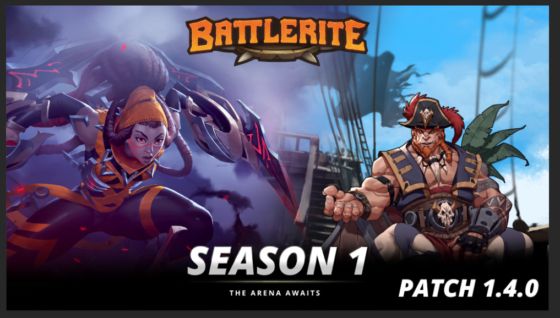 With the launch of season one, Battlerite has decided to change its weekly quest rewards system for Sponsor Rewards. Available at account level five, players can sign up with an in-game sponsor faction to earn rewards by completing daily quests. Players can have up to three total sponsors at a time, but only one sponsor can be set active and earn that sponsor's rewards, which can include season-specific rewards, game currency and new Champions.
Speaking of new Champions, Battlerite's latest update has also introduced the Shadowblade Assassin Jamila, who brings with her a variety of suitably swift melee skills, stunning strikes, and even an ability that has her counter incoming damage only to disappear and strike again with enhanced power.
Naturally, season one also has leaderboards for players to climb, a new pre-game lobby to help teams coordinate their Champion choices, and improvements to the game's ranking and matchmaking algorithms. All of the updates can be pored over in the patch notes.
Our Thoughts
Well of course an online PvP brawler game was going to get a competitive/ranked mode. That's pretty much expected for this type of title. That all said, we're sure that fans of Battlerite are glad to see a proper competitive season come to their arena of choice. Good luck to those looking to climb the ranks!
Source: press release
Articles Related to Battlerite
Battlerite Launches Free to Play
Battlerite Extols the Virtues of Backstabbing
Battlerite Game Page
Related:
Battlerite
,
Competitive Mode
,
MOBA
,
News
,
PvP
,
Update