In a recent update, the skill tree for Blade & Soul was revealed. Players will have access to a variety of different abilities, dependent on each class, which can vary depending on a specific style of play.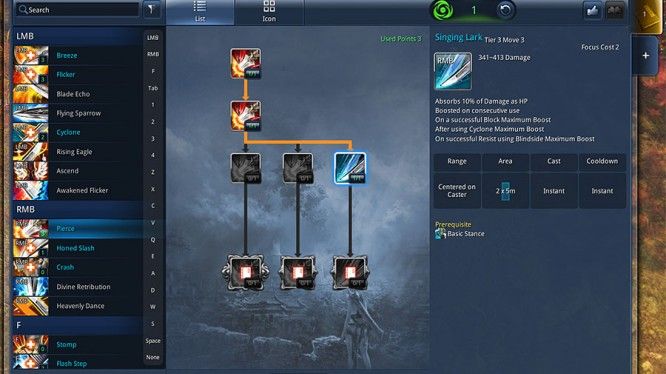 Initially, players will received a Martial Tome that explains a few secret abilities of the Hongmoon Clan, but as players progress they will unlock more abilities and skill points to customize their play style. Veterans of the MMORPG genre are no stranger to skill trees, and it appears that the choices in Blade & Soul will significantly impact skill outcomes. However, skills can be changed at any time while out of combat because martial artists are experts at adapting to any situation.
Like most RPGs, there will be some builds designed for damage and others for survivability. While it's ultimately up to the player to choose their style, the game will also provide some recommended builds along the way. Finally, there are also hints about secret spells that players will be able to unlock through a series of challenges.
"While a martial artist can train, level up, and increase their ability in most skills, there are rumors of secret techniques to unlock—the ultimate mastery of a skill. These are the kinds of legends and stories whispered about in hushed tones in local taverns, the kind of fables that all martial artists believe they can aspire to, but that only a few may ever attain. Discovering secret techniques is the utmost challenge for anyone hoping to master their skills, and the ultimate in martial prowess."
The Beta for Blade & Soul begins on October 1 with priority for players who have purchased founders packs.
Source: NCSoft
Related:
Beta
,
Blade & Soul
,
Martial Arts
,
MMORPG
,
PvP
,
Skills