One of the pain points for some players of Bless Online is a lack of regular, open contact with the devs. To that point, a new series of Bless Online update videos has officially launched, the first of which touching on subjects like dungeon rewards and PvP balance.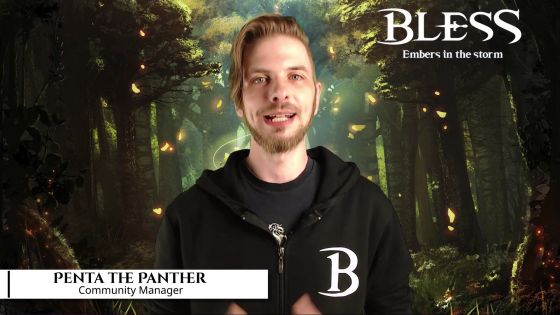 The first video is hosted by community manager Penta the Panther and will be the primary form of regular communication between the Western team of Bless Online and its playerbase. Videos will release bi-weekly every Friday, though the first one has decided to arrive a bit sooner.
One of the first topics touched on in this video were concerns regarding factional PvP balance after server consolidations. According to Penta, the devs did bear this in mind when arranging which servers would merge and, as far as they can see, their plans have worked out. Regardless, the team will continue to monitor faction balance and make changes as necessary.
Another topic brought up rewards for doing activities such as Royal Quests and dungeons. The video brought up updates in v1.4.0.0 that increased the drop rates in Normal mode Patala Ruins and Migra Turris, along with improved Gold rewards for completing Royal Quests.
The complete video can be seen in the embed below.
Our Thoughts
We hope that fans of Bless Online will find these new videos informative and helpful overall and will help establish the wanted connection between players and the team. Though this opening video didn't exactly blow minds with its information, it's still good to see regular communications from the devs.
Source: YouTube
Related:
Bless Online
,
MMORPG
,
News
,
Update
,
Video