The malignant yet sparkly enemy from Star Trek: The Next Generation is making its return to Star Trek Online as The Crystalline Entity event sees players taking on the giant hungry snowflake for rewards.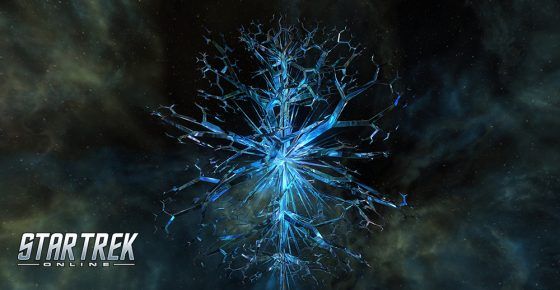 Captains between levels 50 and 60 can queue up for a 10-player team to battle the Crystalline Entity in the "Crystalline Cataclysm" event. Defeating the Entity will net you one Crystal Shard every 20 hours, and earning 14 Shards will unlock an Event Reputation project which will provide a reward of 50,000 Dilithium Ore, 250 Marks of the player's choice and the Crystalline Energy Torpedo Launcher. An additional bonus project can be unlocked after the Reputation project is complete for even more rewards at the cost of 1 Shard.
The event runs from September 29th to October 20th and is accessed by queuing up for either the Normal or Advanced versions of the encounter. Full details of the event can be seen here.
Our Thoughts
Break the Entity in to millions of pieces and use it for personal gain! Sounds like a good time to us! All kidding aside, the Crystalline Entity event sounds like it will provide some very rich rewards, and we hope that players will enjoy!
Your Thoughts
Will you be taking on the Crystalline Entity? Is there another event in Star Trek Online you hope will return? Give us your thoughts in our comments area below.
Source: Official site
Articles Related to Star Trek Online
Star Trek Online Triple Faction Pack Giveaway Part 2
Star Trek Online Console Versions Go Live
Star Trek Online – Agents of Yesterday Review
Related:
Event (In Game)
,
Free to play
,
News
,
Star Trek Online