Fifteen years is a long time for any anniversary, especially for MMOs. So it is with the Dark age of Camelot 15th anniversary, and an announcement from the devs details how the team will be marking the occasion.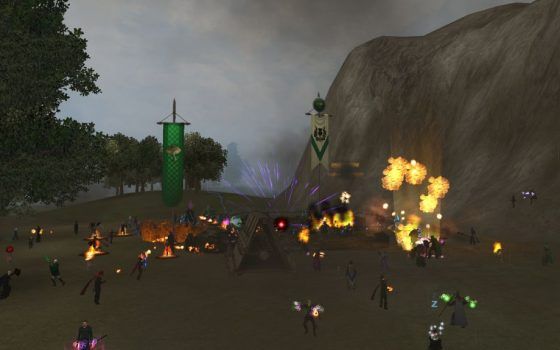 The entire month of October will be dedicated to celebrating the 15 year milestone. A new King's RvR Tournament will be held, giving players a chance to have a statue of their character erected in their realm's capital city. Three winning categories will be awarded in this year's tournament: Solo Kills, Keeps Captured and a Skill index score that combines several RvR metrics. Nine winners in total will be decided, with the top players in each category for each realm earning the prize.
All active accounts will also receive special in-game goodies to commemorate the anniversary such as a housing trophy, and in-game contests through the entire month will issue other prizes. The game will also be releasing version 1.122 in two parts, with part A releasing before October and bringing a revamped Returning Player experience and adjustments to the Darkness Falls and Otherworlds Campaign and part B bringing RvR changes after October.
Details on the celebration can be read on the announcement page.
Our Thoughts
Our sincerest congratulations to the team at Broadsword for the achievement. Fifteen years is a huge watermark for any MMO, and we hope that the game continues to provide lots of RvR enjoyment for its players for years to come. In the meantime, we're looking forward to the celebration!
Your Thoughts
Are you still a player of DAoC? How long have you been with the game? Will you be returning during the celebration? Tell us in the comments section below.
Source: Official site
Articles Related to Dark Age of Camelot
Dark Age of Camelot Otherworlds Campaign Brings New Content
Backer Survey: Camelot Unchained
20 Old MMORPGs That You Can Still Play
Related:
Anniversary
,
Dark Age of Camelot
,
Event (In Game)
,
News