Friendship is a great thing, and not just in a real life. Gaming with friends is amazing, but Destiny is making it even more worthwhile and fun with its new Refer-a-Friend program. Offering a bunch of unique quests and exclusive bonuses to existing players and the people that they introduce to the game, the Refer-a-Friend program brings friendship to a new level.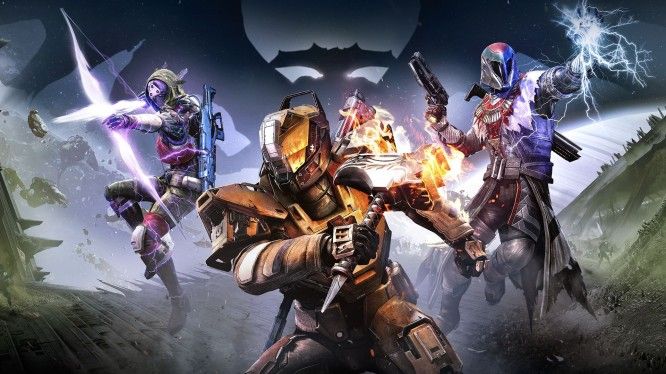 The program is only available in the PlayStation 4 and Xbox One versions of Destiny: The Taken King. Destiny is usually played with three players, but the Refer-a-Friend program is specifically designed for two people to team up and play with each other.
You start off by inviting someone to Destiny. You can't just invite a person on your console's friend list to join you though, you have to refer a friend who hasn't played the game yet. The program splits people into two classifications: the "Veterans" are the players who have already played Destiny's The Taken King expansion, whereas the "Referees" are the people who haven't. A Referee who buys The Taken King will have the status for seven days after the first time they play it.
Veterans can invite people via the Refer-a-Friend tab by creating a referral on Bungie's website. You can't have a Referee on Xbox One if you're on PlayStation 4 though, which is a shame. Once the Referee has received the invitation and has followed the link, the two Bungie accounts will link. Shortly after, the first quest of the program, titled "A Tale of Two Guardians" will appear for both players at the Speaker located in the Tower. You have to play in the same team to make progress on the quests, and the activities offer the following rewards:
Three new elemental legendary swords called Infinite Edge
A legendary Sparrow, the EV-34 Vector Infinite
A pair of two-person emotes, Duo Dance and High Five
A blue and gray shader, Infinite Link
An emblem called Sign of the Infinite
You can learn more about Refer-a-Friend in the program's trailer displayed below!
Our Thoughts
We think this is a great initiative to stimulate new players to buy The Taken King expansion, but it might be a bit late as some players who already did just that weeks, or even months, ago cannot get all the exclusive goodies that others are getting now. Hopefully Bungie will figure out a way to give these players something extra too.
Source: Polygon
Related:
Bungie
,
Destiny
,
Feature
,
MMORPG
,
News
,
The Taken King