A new video by J.C. Baillie of Novaquark Studios demonstrates the tech of his company's sandbox MMO with a new Dual Universe God Mode video.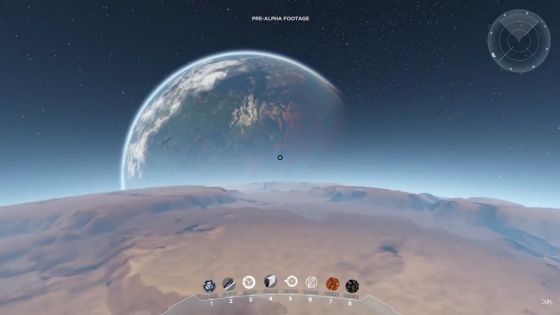 The pre-alpha footage of the game showed off several tech abilities in Dual Universe, including a brief demonstration of modifying the game world, entering and exiting planets seamlessly, a day/night cycle and structures possible in the game.
The entire tour was enabled in a developer God Mode so that Baillie could provide demonstrations on systems in the game. The video starts off on a planet's surface, which then changes to moving from one planet to another in a seamless, load screen-free way. He even showcased a running day and night cycle by advancing time, though whether planets will rotate around a sun has not been decided as of yet.
The video then showcases the space station that's been seen in other screenshots for the title, providing a sense of scale to the immense structure. Baillie stressed that despite the size of the station, it showcases a piece of work that players can come together and make themselves in the game. "We don't know how long it would take for players to build such a huge structure," says Baillie. "The thing is, technically, it's possible."
The complete God Mode video tour can be seen below.
Our Thoughts
The things that are possible in Dual Universe are proving to be quite exciting. The space station, for example, looks like an incredible endeavor but also looks like the kind of project that could galvanize a playerbase and create a sense of community…as well as create an opportunity for other players to attack the project and create conflict. The possibilities of Dual Universe are looking immense.
Your Thoughts
What sort of things are you looking forward to doing in Dual Universe? Did the video tour influence your decision to support the game, or are you waiting on more gameplay information? Tell us what you think below.
Source: YouTube
Articles Related to Dual Universe
Novaquark Launches Dual Universe Kickstarter
Dual Universe Voxel Construction Showcased in Video
Dual Universe Interview Posted, Community Portal Opens
Related:
Dual Universe
,
News
,
Sandbox
,
Video