Just because it's a closed beta doesn't mean there won't be some manner of end game content. After all, most people burn through early access MMOs to cap as it stands now, so the fact that there will be MapleStory 2 closed beta dungeons is probably not really surprising news.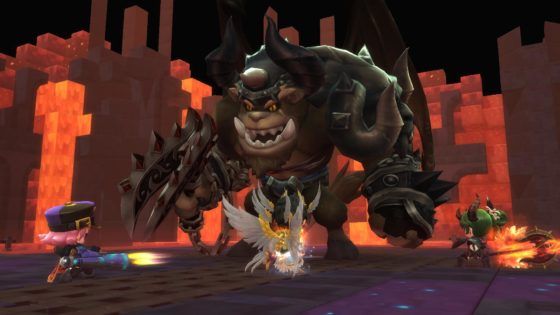 For starters, CBT 2 of MapleStory 2 will have some new level 50 four-player hard mode dungeons. One of these is the fight against Pyrros Fard in the Fire Dragon Raid, a 10-person raid in CBT 1 that was deemed too simple that has been tuned for a four-person encounter. The other hard mode four-person dungeon is a fight against a Balrog in the new Temple of the Immortals.
As for raid-level content, CBT 2 will add a new 10-player version of the Shadow Altar level 30 standard dungeon, which has ramped up the power level of the boss Devorak to require the additional personnel to take down.
The next closed beta will also introduce a solo wave survival dungeon where players can pit themselves against 30 waves of enemies, and new underground Treasure Dungeons where players can dive in for additional loot like items to level up Legendary-tier equipment.
If you're the sort who prefers the original MapleStory, there's something for your game, too. Namely, a lineup of updates through the summer months that will add the new playable character Ark, a new region, adjustments to the 5th job and a lot more. Patch notes for what's out now and coming soon are found here.
Our Thoughts
While it's nice that the devs are testing some new max level encounters for the second closed beta of MapleStory 2, we definitely hope they don't simply just rehash lower level content with pumped-up health pools on enemies and call it raid tier. We'd like more original encounters, please!
Sources: official site, press release
Articles Related to MapleStory 2
MapleStory 2 Reveals Content Coming in CBT 2
MapleStory M Expands its Western Launch
Battle Royale Mode is Coming to MapleStory 2
Related:
Closed Beta
,
MapleStory 2
,
MMO
,
News