Echo of Soul, the upcoming free to play fantasy MMORPG, have revealed some exciting details about the game's PvE combat. We here at MMOGames have been eagerly awaiting further news on this gorgeous looking title from Aeria Games and key members behind Lineage II, and we are overjoyed to tell you a little more about it today.
With no dedicated healer class available in Echo of Soul, PvE content already sounds like it could be quite a fun challenge, but players can expect PvE combat to increase in difficulty as the game progresses through a great variety of single and multiplayer content – with Party and Infinite Dungeon play modes as well as Solo Dungeon mode for players who like to challenge themselves.
Solo Dungeon Play will require players to form strategies to battle through dungeons alone. There will be environmental traps that you will need to watch out for but bosses will only drop loot relevant to your class so they will be a fantastic way to gear up. There are leaderboards to keep track of the players with the fastest clear times and titles granted to players who kill specific bosses before anybody else.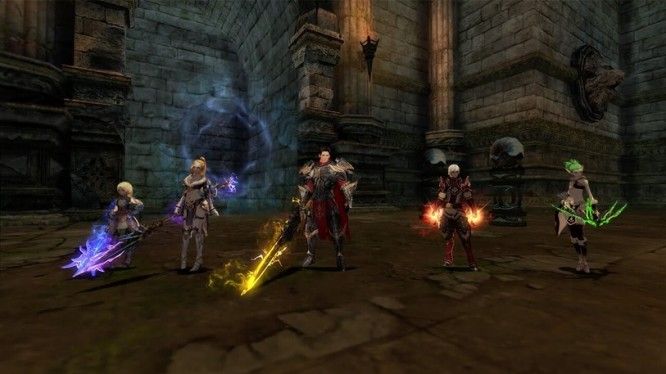 However, Echo of Soul is an MMORPG, and as such comes with some great looking group challenges as well. Party Dungeon Mode sees players join groups of 5 to work together to overcome the challenges they will face without a Healer to safeguard them, so strategies within group combat will be an absolute must. Whereas, Infinite Dungeon Mode grants Soulkeepers the opportunity to "hone their skills, obtain useful materials, and revisit former foes.With randomly generated terrain and monsters, and multiple difficulty levels, Infinite Dungeon Mode offers a new challenge each and every time."
There will be something for all kinds of PvE players in Echo of Soul, as well as great PvP content, and you can level up in both! We greatly look forward to the game's launch coming this May and you can read more about Echo of Soul's PvE content on their website.
Source: Press release
Related:
Aeria Games
,
Beta
,
Echo of Soul
,
MMORPG
,
News
,
PvE