The Elder Scrolls Online: Tamriel Unlimited becomes available on console in June and beginning March 17 for PC/Mac players.
What is that? For a period of time people have been wondering how Bethesda Softworks® and ZeniMax® Media were going to address the subscription issues for Playstation 4 and Xbox One players. Today they have announced the launch of The Elder Scrolls Online: Tamriel Unlimited. The Elder Scrolls Online is going Buy To Play.
Playstation 4 and Xbox One players can get into Tamriel from June 9th.
From the news release
The Elder Scrolls Online: Tamriel Unlimited includes all the great gameplay from the original PC/Mac game, plus all the updates and content additions, including the exciting new Justice and Champion systems.  All existing PC/Mac game accounts, open or closed, will be updated to the Tamriel Unlimited edition in March and former players will be invited back to the game at that time to experience all that is new in the world. New players will make a one-time purchase of the game and play, without restrictions, for as long as they like – without game subscription fees. Tamriel Unlimited will be supported with special, optional downloadable content available for purchase and an in-game Crown Store for convenience and customization items. Regular updates and new gameplay will be offered to all players to enjoy free of additional charges.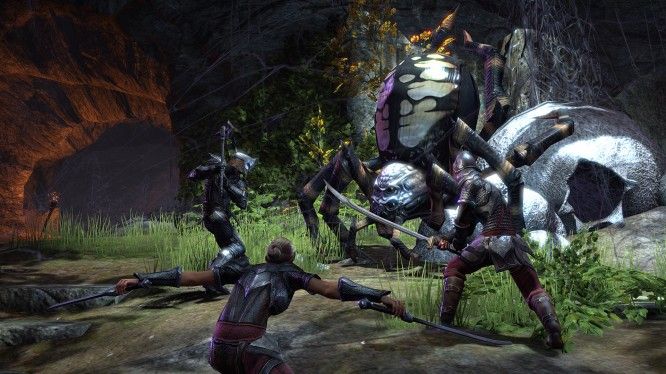 Game Director Matt Firor went on to say
"Our fans are our biggest inspiration, and we've listened to their feedback on the entertainment experience they want. We know that Elder Scrolls fans want choice when it comes to how they play and how they pay, and that is what they will get. We have made numerous changes to the game over the past year, and are confident this is a game that Elder Scrolls fans will love to play. Players can explore Tamriel with friends, battle creatures, craft, fish, steal, or siege. The choice is theirs. The game offers hundreds of hours of gameplay with unlimited adventures with one single game purchase. We can't wait for everyone, whether they've played before or will be experiencing it for the first time, to begin adventuring in The Elder Scrolls Online: Tamriel Unlimited."
So if you haven't had the pleasure of taking on one of the three TESO factions or falling in love with Razum-Dar (He is simple Khajit, very friendly) you will be able to take part in The Elder Scrolls Online without subscription fees.
UPDATE: From the Official FAQ, there will be a premium subscription option still available to supporters.
If you have time remaining on your game subscription at the launch of The Elder Scrolls Online: Tamriel Unlimited, you'll automatically be enrolled as an ESO Plus premium member for the remainder of your game subscription period. You'll get all the benefits of membership during that time, including your full allotment of crowns (the new digital currency used in our Crown Store). If you already have recurring payment set up, you won't need to do anything if you wish to continue on as an ESO Plus member; it'll all happen automatically. If you do not wish to keep recurring payments, you may change this option in your account page.

So, what do you get as an ESO Plus member? Let's go over the benefits:

An allotment of crowns to spend in the new in-game Crown Store based on your membership period (more below)
Access to all of ESO's downloadable content (or DLC) game packs for the duration of your membership
A 10% bonus to XP and gold gain, crafting research, and inspiration

Memberships to ESO Plus can be purchased in 30-, 90-, and 180-day durations starting at $14.99 for a 30-day period. When you sign up for ESO Plus, you'll receive your full allotment of crowns right away (1500 for 30 days, 4500 for 90 days, or 9000 for 180 days). If you purchase a recurring membership, you'll receive a full allotment of crowns at the start of each 30-/90-/180-day membership period. You can spend crowns in the in-game Crown Store to get unique mounts, special vanity pets, a variety of fun costumes for your character, and convenience items like health potions and soul gems.
Related:
B2P
,
MMORPG
,
News
,
Update
,
Zenimax