Through the most unlikely of means, a pilot has discovered some Elite Dangerous alien ruins, further igniting ideas that the Thargoids are going to return to the sandbox game.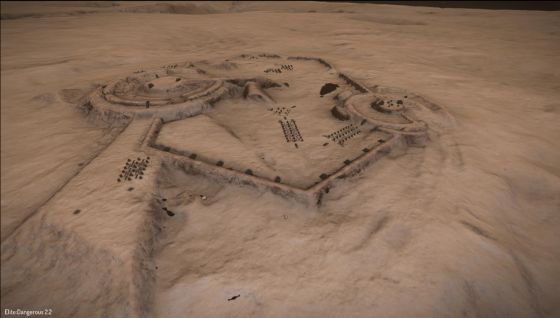 The discovery began when a player by the name of xdeath noticed some familiar star clusters and a planet during the closing moments of a trailer for The Guardians expansion, which showed an alien tower rising from a planet's surface. By triangulating the position of the nebulae, xdeath was able to pinpoint the planet and flew towards "the most interesting looking area" according to a post he made on Reddit.
With this information and the system's location – SYNUEFE XR-H D11-102 – another pilot by the name of Commander Josh Hawkins flew towards the ruins and documented his findings in video format, which can be seen below.
Our Thoughts
This is a remarkable discovery indeed, though what purpose the discovered relics and structures serve is still a complete mystery. Despite this new find, there are more questions than there are answers currently. All said, this is completely intriguing stuff, and we hope that the players of Elite Dangerous are able to puzzle out what purpose these ruins serve, if any.
Your Thoughts
What do you think of the discovered ruins? Do you have any theories on what they are or once were? Share your thoughts with us below.
Source: PC Gamer
Articles Related to Elite: Dangerous
Alien Threat in Elite Dangerous Possibly Coming Soon
Elite Dangerous: Guardians Release Date Announced
Elite Dangerous Engineers Feature Removed After AI Harasses Players
Related:
Aliens
,
Elite: Dangerous
,
MMO
,
News
,
Sandbox