The EverQuest 18th anniversary is in full swing as the game is offering up an epic celebration that retraces much of the long-lived MMORPG's history. In doing so, the devs are also handing out similarly epic gifts like a heroic character.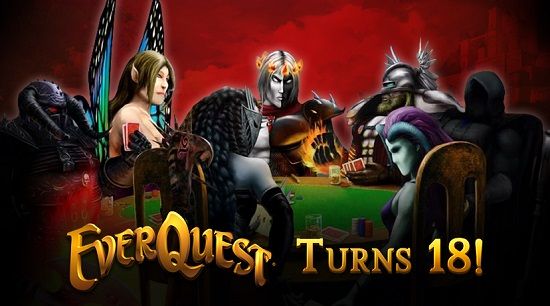 From now until March 31st, returning players who log in to EverQuest will be granted a completely free level 85 Heroic character. For those who are perhaps new arrivals to the game, the gift is also offered if you sign up for the game's All Access Membership.
Outside of the giveaway, a large number of events will be running in-game for the next couple of months. All servers will be able to enjoy bonus XP until the end of March, and new events will be offered like an anniversary quest, two newly-completed Player Designed Missions, and new wares on sale from Jubilant Merchants.
EverQuest will also be dishing out anniversary content from previous years during the celebration. Events from the 14th through the 17th anniversary are now live on the normal servers, including every Player Designed Missions like the Hate's Fury Raid. The Gnome Race event is also making a return on all servers, with server-wide messages alerting players to the start of each race. Starting on April 10th, anniversary events from the game's 5th through 13th celebrations will be making a comeback, such as the return of Fabled NPCs.
The 18th anniversary of EverQuest runs through until Wednesday, May 10th. Information about all of the events can be read on the official site.
Our Thoughts
Happy 18th to one of the true grandaddies of the MMORPG genre! Everything being offered for this year's anniversary sounds pretty amazing while also being a great nod to the game's storied past. We hope that EverQuest players have a great time and enjoy their new level 85s!
Your Thoughts
Are you joining in the EverQuest 18th anniversary celebration? What are some of your fondest memories from the game? How do you feel about EverQuest in its current state? Share your thoughts with us below.
Sources: official site 1, 2
Articles Related to EverQuest
EverQuest 2: Kunark Ascending Review
With EverQuest Next Dead, What's the Next PvE Sandbox MMO?
EverQuest Goes Back to Basics with a Progression Server
Related:
Anniversary
,
Event (In Game)
,
Everquest
,
MMORPG
,
News