Free-to-play games have been growing in popularity in the gaming community for quite some time now. The reason behind this is most likely that they're easy to get into, quite addictive and they allow you to get the most out of your gaming experience without having to pay for it.
In July's Top 20 Core PC Games, published by Newzoo and Overwolf , the success of F2P titles is quite notable. The two games that saw the biggest gains in July are games that emphasize user experimentation and modification: Garry's Mod and Team Fortress 2. Garry's Mod climbed four spots to #9 and Team Fortress 2 climbed a whopping 8 places to #10 on the list. This major jump is most likely due to the update Gun Mettle, which was released at the beginning of July. Keep in mind, this data is based purely on the NA and EU region, so any activity outside of these regions are discarded for this ranking.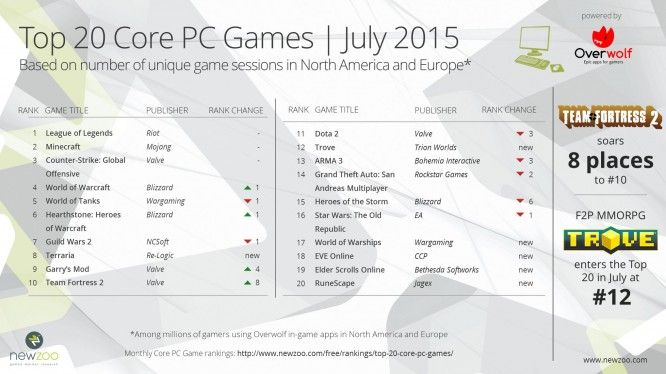 A new-comer at #8 is Terraria, the action-adventure sandbox by Re-Logic. Entering the list at #8 is quite the feat, but not entirely surprising, as Terraria is quite literally the epitome of what gamers are looking for these days for a number of reasons. It's a game with a team behind it that's very vocal with its passionate community, it has a 2D voxel environment similar to Minecraft and it's relatively cheap compared to other major studio titles. Add to this the major update it received not too long ago, and the growing popularity comes to no surprise to anyone.
Another succesful new-comer is Trove, the voxel MMORPG by Trion Worlds. Its gameplay, like Terraria, is quite similar to Minecraft. It features everything MMOs are supposed to contain, it combines RPG tropes with the flexibility of voxel world building and wraps it in a F2P package, making it irresistible for almost any gamer.
As for the top 3 ranks, they have been stable for quite some time now, and it doesn't seem like they're going to be changing anytime soon. World of Warcraft however has gained a spot and is now at #4, most likely due to the announcement of the upcoming expansion. Hearthstone: Heroes of Warcraft also gains a spot in the ranking, causing Guild Wars 2 to fall to #7. Not all of Blizzard's titles have had success however, as Heroes of the Storm falls 6 places to #15.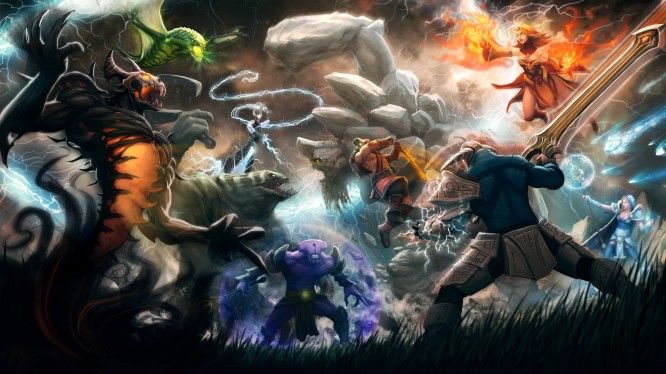 The instability among MOBAs is quite apparent over-all. League of Legends is still upholding the top spot, but Heroes of the Storm as well as Dota 2 have both dropped in the rankings. Especially strange is the Dota 2 rank drop, as The International was quite the happening in the eSports world at the time the data for this list was acquired.
Source: Newzoo Top 20 Core PC Games
Related:
F2P
,
News
,
Newzoo