Edge Case Games has released confirmation that Fractured Space maintenance mode is on the horizon, as the online space combat title just was not drawing in the sort of players to make it worth updating any longer.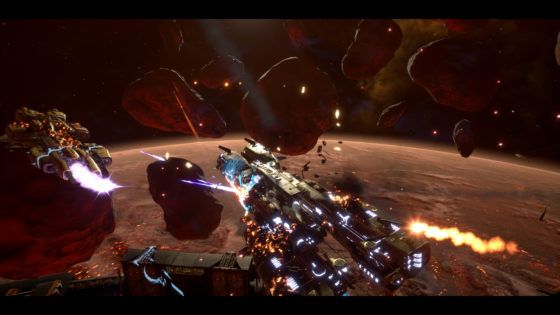 The game's upcoming Infection update will be the last piece of new content for Fractured Space. After that Edge Case Games will halt development and look to other projects in order to "cement its future."
Once Infection goes live, Fractured Space's servers will remain online and running "for the forseeable future" in order to let fans continue playing. Incidentally, the new update will only cost 1 Credit to purchase and all DLC purchase options will be taken offline.
Platinum will also be automatically exchanged for in-game Credits, with 550 Credits offered for every 1 Platinum players hold in their accounts. The in-game store's offerings will change to reflect the dissolving currency, with every item in the store now available for purchase with Credits.
"It's been an amazing and emotional journey," remarked Edge Case's CEO James Brooksby. "Edge Case Games would not be anywhere without its incredible players – you have been awesome. We thank you for all your support and some fantastic memories we will hold dear for the rest of our lives."
Our Thoughts
We can't really feign surprise here, but it is still a shame that this happened to Fractured Space all the same. Still, we hope that the game's fans do take some solace in the fact that the server's lights will keep blinking and wish the folks at Edge Case Games the best of luck in their future projects.
Source: press release
Related:
Fractured Space
,
Maintenance Mode
,
Multiplayer
,
News
,
Shutdown
,
Sunset
,
Vehicular Combat