It's been the hot topic for Guild Wars 2 for the past week or so, and on Friday ArenaNet's Mike O'Brien issued an official statement regarding the recently released Mount Adoption License and the subsequent backlash against its lockbox-like design.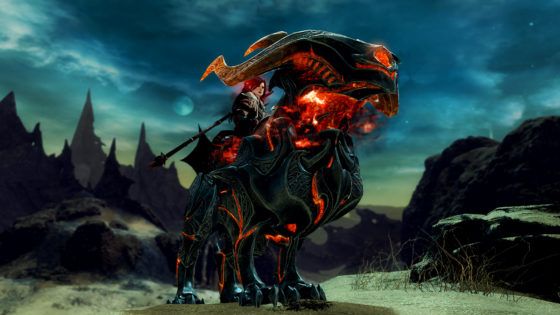 According to O'Brien, the intention of the Mount Adoption License was to provide a new mount skin at a reduced cost versus paying a la carte while also supporting variety "to suit a wide range of player tastes while offering a lower price per skin". The License also has a built-in progressive mechanic, with every License increasing the chance to get mount skins you have yet to unlock.
That said, O'Brien admitted that the item did not arrive at the right time, particularly with the ongoing conversations about loot boxes across the entire gaming spectrum.
"At a time when there's a lot of debate about random boxes in gaming, we should have anticipated that a new system with a random element would cause alarm.

"We released mount skins with three different purchase models, but with the majority of skins released so far through the Adoption License. It's easy to perceive this as intentionally channeling you toward randomization."
The Mount Adoption License item will remain on the Gem Store in order to not devalue it to those who have bought in, but it will also not have any additional skins added to it, with further mount skins hitting the Gem Store on an individual purchase basis or as part of themed skin packs.
"Microtransactions can be polarizing, and we've received both positive and negative feedback on the license," reads the post. "We appreciate the thoughtful feedback many of you have provided, and that you hold us to high standards for monetization."
Our Thoughts
This seems about as good of a middle-ground solution as can be expected. Considering our own Guild Wars 2 columnist's thoughts on the matter, this does appear to at least address some of those concerns, but we'd love to hear your thoughts on this response.
Source: official forums
Articles Related to Guild Wars 2
The Tyrian Chronicle: The Guild Wars 2 Mount Skin Controversy
Player Gets a Gift for Finding the First Guild Wars 2 Griffon
Play of the Fortnight: Overwatch Loot Boxes – Are They Bad?
Related:
Guild Wars 2
,
Loot Boxes
,
MMORPG
,
News