Prepare for Springtime, cute things, and all of the cringe-inducing egg puns your brain can handle. Hearthstone Noblegarden has been revealed by the devs of the CCG and they'd like to egg-splain how the Warcraft holiday will be celebrated in the Tavern.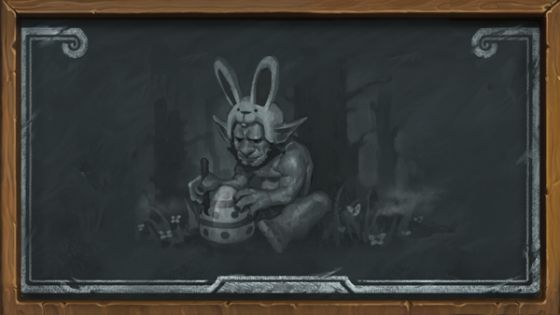 In addition to season-appropriate emotes from the game's heroes and decorations dressing up the Tavern, Noblegarden in Hearthstone will let players into a unique Tavern Brawl for the duration of the Spring holiday known as Everybunny Get In Here.
In this Brawl, players will have an egg spawn at the start of each turn and use special dye cards and Noblegarden cards to decorate the egg, with each dye applying a different kind of buff. On the next turn, that egg will hatch into either a cute monster to attack your opponent with, or a cute bunny if you decided to not dye the egg. These special pre-made decks will also have 10 random Class cards as well so you're not sat there painting eggs.
Noblegarden will run from Wednesday, May 9th through Sunday, May 13th. Everyone who logs in during that time will get a free golden Eggnapper and golden Devilsaur Egg.
Our Thoughts
This event's Tavern Brawl really does sound like one of the more interesting ones that Hearthstone has put forth yet. That said, we're curious how much fun painting eggs and hoping to work out the right combinations will be. At any rate, it sounds like an adorably good time and we hope fans of the CCG enjoy.
Source: official site
Articles Related to Hearthstone
Hearthstone Game Director Ben Brode Leaves Blizzard
Hearthstone Executive Producer Leaves Blizzard
Hearthstone Elaborates on The Witchwood's Monster Hunts
Related:
Event (In Game)
,
Hearthstone
,
News
,
Online CCG
,
Seasonal Event